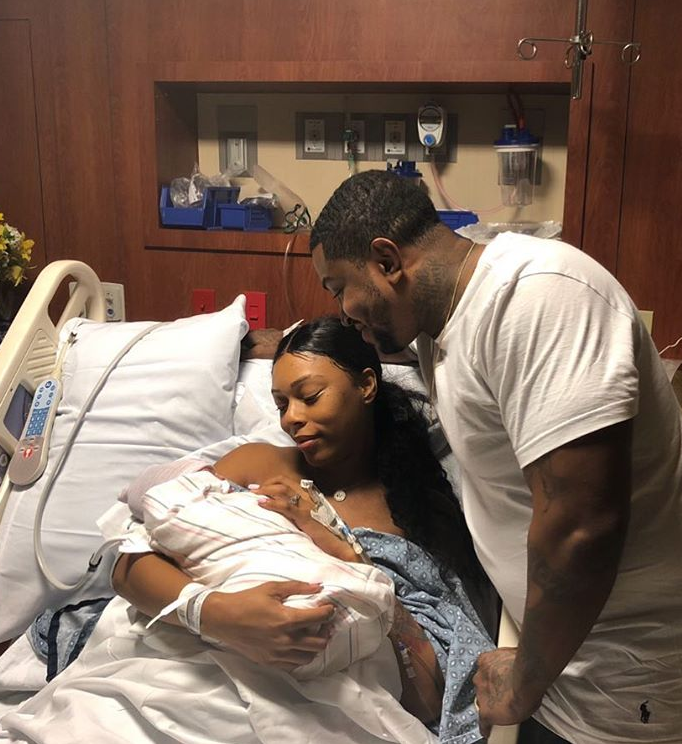 Baby bits! Lil Scrappy and Bambi are now the proud parents of a baby boy. FInd out his name, plus see the super pregnancy reveal from Russell Westbrook and his wife Nina Westbrook inside...
New baby alert!
Lil Scrappy and his wife Bambi just welcomed their first child together. Congrats!
It feels like Bam has been pregnant forever, but now, the baby is here and they are over the moon.
The "Love & Hip Hop: Atlanta" stars took to Instagram to announce their son had made his arrival. Breland (dubbed "The Prince" by his grandmother Momma Dee) was born September 21st weighing in at 8 pounds, 3 ounces and 21 inches long. Aww!
When Bambi first went into labor, Scrappy hopped on Instagram to share a video of Bambi being wheeled into the hospital:
Luckily for Bam, it was an easy delivery where she only had to push three times before Baby Breland made his grand entrance into the world. He'll join his big sister Emani, Scrappy's daughter he shares with former "LAHH: ATL" star Erica Dixon.
"Still feels like I'm dreaming #Breland is just everything thanks for all of the prayers," Bambi captioned a picture of herself holding Baby Breland with his pops.
The Down South rapper also posted a cute baby arrival announcement, writing, "Thanks to the big God and my wife and family the young Prince #Breland is here . Happy Gday you g man , I'm so happy and blessed from this experience, thanks to my wife @adizthebam for pushing thru like a champ only 3 pushes."
And he made his arrival on Scrappy's mom Momma Dee's birthday:
The Prince has arrived 8 pounds 3 ounces and 21 inches and on Grandma Birthday

— Momma Dee (@ThaRealMommaDee) September 22, 2018
Congrats to the couple!
In other baby news...
What's better than one baby? Twins!
Before hitting the court for the NBA's preseason set to kick-off next week, OKC Thunder player Russell Westbrook and his wife Nina Westbrook revealed some exciting news. They're expecting twins! And they're both girls! Aww...
The Westbrook household is about to go from a trio to to quintuple as they gear up to welcome two new babies, who will be the younger siblings of their 1-year-old big brother, Noah Westbrook.
"Being a Dad is more important for me than anything else," the NBA baller said in a cute, family YouTube video. "Family is always the most important thing for me. Regardless of you know what I do or how I do it, but it's important that Noah knows I'm his Dad first and a basketball player or anything else after."
In the clip, the couple talked about Nina's boutique, The Little Ark, that offers stylish and clever gifts, as well as fun classes and events for babies, kids, and their parents in Oklahoma City.
They then talked about how their son likes to terrorize the new family dog, and that's when Nina announced they are expecting two bundles of joy. Following her announcement, Russell confirmed its twin girls they are expecting.
Watch Russell glow up while talking about growing his family above.
And here's a recent picture of mom flossing her bump below:
Now, the Westbrooks are just counting down for when the twins make their arrival. 
BONUS:
"Insecure" star Sarunas Jackson posted a cute video canoodling with his 3-month-old daughter Zen, whom he shares with his "Insecure" co-star Dominique Perry.
Folks are going back and forth in the comments section trying to figure out if this is his first time meeting the baby since someone in the background is seemingly giving an update on her personality. The person in the background could have been speaking to someone else, but who knows. Cute baby, nonetheless.
By the way, a new episode of "Insecure" premieres tomorrow at 10:30pm EST on HBO.
Photos: Bambi's IG