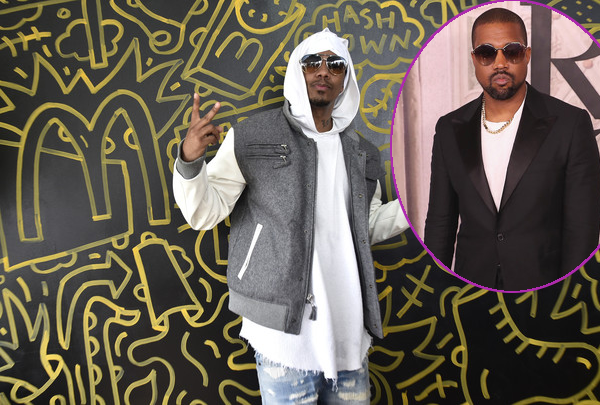 Nick Cannon responds to Kanye West and he's not taking any of 'Ye's sh*t. Get into his funny response, plus see Will Smith perform his first stand-up comedy routine at Dave Chappelle's star-studded show inside...
What was said?
It didn't take Nick Cannon long to offer up a response to Kanye West's four-video Instagram rant where he went off on Nick, Drake, and model Tyson Beckford for speaking on his wife Kim Kardashian West.
Yeezy hopped on Instagram recently to issue a warning to the "Wild 'N Out" honcho to keep Kim's name out his mouth, especially when referencing her extracurricular activities, because it wasn't sitting right with his spirit.
Well, Nick isn't one to be pushed around by the Chi-town rapper. He started off welcoming the PABLO rapper back from the "sunken place," since 'Ye confirmed he was no longer lost. Then he proceeded to explain that he never said anything disrespectful towards his wife.
"First off, let me say welcome back 'Ye from the sunken place," Nick said in a video posted to his Instagram page. "It's a beautiful thing. Glad you back with us brother. Nothing but love and respect for you. You know I've always had that. But I honestly gotta say this my dude. I've never said anything disrespectful or harmful to your — in my opinion — to your marriage or your union. I salute it. Keep it going."
After stroking Kanye's ego, he then proceeded to tell him that he's going to say whatever he wants, when he wants, and there's nothing he can do about it.
"But you not going to tell me what I can or can't say. I'm a solid individual. Somebody ask me a question, I'm going to answer it to the best of my ability. I'm gonna give my opinion. Ain't no harm, no foul. I know if it got your spirit feelin' weird, holler at me. You know where I'm at. A man's spirit is free but pride binds it at time. If you gotta let it loose, let it loose."
Oop. In the caption, Nick wrote, "@Kanyewest holla at me!! Let's get your Spirit right!"
Check it:
In another video (following Kanye's way of communication), Nick invited Kanye to return to "Wild 'N Out" for their 200th episode. He said nothing is off limits: Mariah Carey jokes, Kim K jokes, everything is fair game. He also welcomed 'Ye to give him a call rather than communicate through IG videos.
The kicker? Nick put a tea emoji (which we think is in reference to Ye once being in the sunken place like in Jordan Peele's movie Get Out) after welcoming Kanye back.
Check it:
HA!
In comedy news...
Will Smith just crossed off something new on his bucket list! The actor/rapper performed his first stand-up comedy routine, opening up for EMMY winning comedian Dave Chappelle during his star-studded show at the Peppermint Club in LA. And he had his wife Jada Pinkett Smith, daughter Willow Smith, and mother-in-law Adrienne Banfield-Jones in the audience cheering him on.
During his routine, he shared with the audience that his 50th birthday was coming up and he has always wanted to do stand-up. He had cameras rolling as he was filming the his routine for a show called "The Bucket List."
The "Fresh Prince Of Bel-Air" alum cracked jokes about losing control of his house as his wife's "Red Table Talk" Facebook show has turned the garage into a control booth. He even cracked a joke about his ex-wife Sheree Fletcher being booked for the first episode.
Will also joked about his son Jaden Smith creating a song titled "Icon" and not letting him rap on the track
"He looked at me like I was the second-best rapper in the house!," he said. Ha!
After his stand-up routine, Will rocked the mic with an original rap. Check it:
Bars.
By the way, Will turns 50 in just a few days, celebrating his birthday on September 25th.
Several celebs were in the mix, including LA Lakers baller LeBron James (who recently announced he's starring in a Space Jam sequel), EMMY winner Katt Williams (and he had his gold trophy with him), "Grown-ish" actor Luka Sabbat (who is rumored to be dating Kourtney Kardashian) and rapper Vic Mensa:
Do y'all think he's going to respond to Kevin Hart fact checking him in a recent interview? In case you missed, get the juicy deets HERE.
Do we really believe Luka is dating Kourtney, or...PR stunt?
Interesting look Vic has going on here.
Also, Dave Chappelle will be honored by Harvard University (along with Colin Kaepernick and several others) with the W.E.B. Du Bois Medal, set to go down October 11th.
BONUS:
Comedian Lil Duval just started the #KanyeWestChallenge. Let the foolywang commence!
Photos: Getty/MEGA/Backgrid/Splash