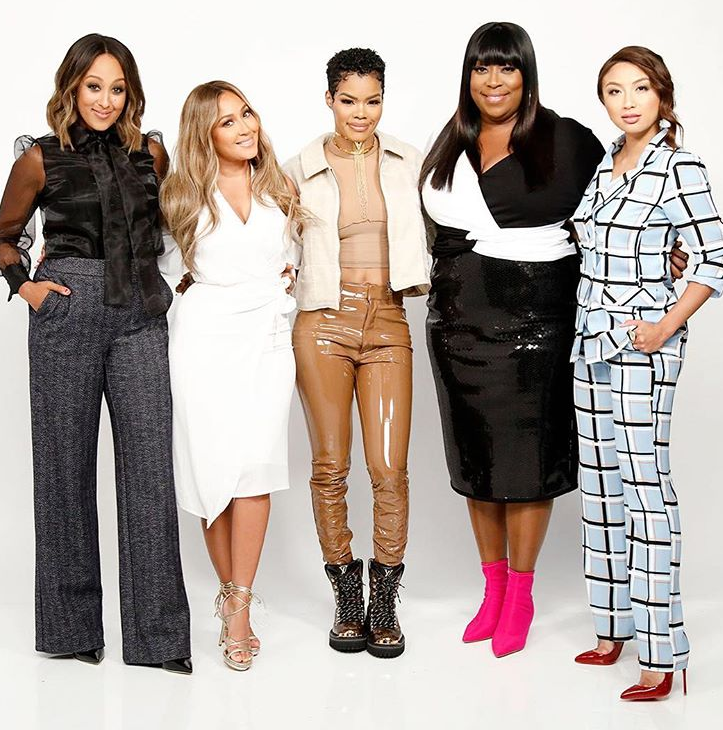 Tamera Mowry Housley is kicking off this season of "The Real" with a bang. See the awkward exchange between Tamera and co-host Jeannie Mai, plus the clip of her defending her husband Adam Housley, saying he's not racist. Also, get the tea on why Teyana Taylor and Jeremih had a falling out inside...
Season 5 of daytime talk show "The Real" just kicked off and co-host Tamera Mowry Housley is back with a new attitude. Chick is giving her opinion like never before.
During a recent "Girl Chat" segment, the ladies were discussing the story about Sesame Street characters Bert & Ernie being gay. Long-time Sesame Street writer Mark Saltzman said that he wrote Bert and Ernie's relationship to be that of a "loving couple." Soon after, Sesame Street released a statement saying Bert & Ernie are "best friends" and they "do not have a sexual orientation."
The ladies were discussing if it really mattered to the target audience if Bert & Ernie were gay or not, and that's when things got heated between Tamara and Jeannie Mai. Tamera gave her opinion, saying she didn't care who the characters were or what they are as long as they are teaching her kids good habits. When Jeannie started talking in disagreement, Tamera chimed in mid-sentence and Jeannie asked her to let her finish. That's when Tamera felt some type of way, and it got eyeroll-shady after that.
Check it:
Peep more of the exchange below starting at the 1-minute mark:
Oop!
It's all love between Tamera and Jeannie though. They came out hugging and laughing on today's show: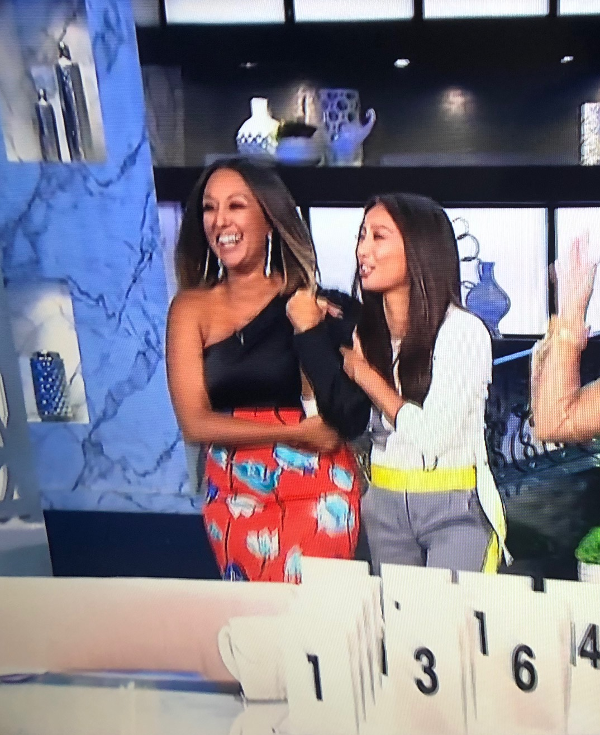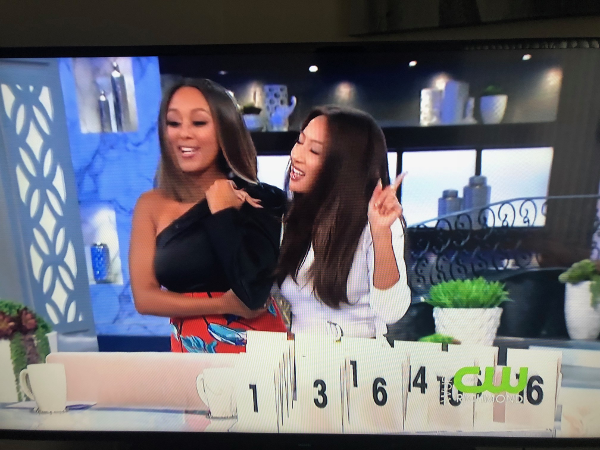 Like we said, Tamera has seemingly turned a new leaf this season with her outspokenness. The other day, she came to the defense of her husband Adam Housley, letting everyone know he's NOT a racist. Just because he worked for FOX News (which is notoriously known as the alt-right network), she said that doesn't make him a racist. By the way, Adam left the network last month. His controversial views on the meaning of the 4th of July still sit badly with some people though. 
The comment came as the ladies were discussing Les Moonves being ousted at CBS following sexual misconduct allegations and his wife Julie Chen's decision to leave her show, "The Talk."
"There are some people who think that my husband is racist because he worked for a certain channel," Tamera said. "I'm gonna look in that camera right there and let everybody know my husband is not a racist."
Peep the clip below:
Well, folks aren't here for it. Peep a few comments below:

Media personality/hotep "activist" (chile....) Tariq Nasheed pulled up old tweets posted by Adam that he views as racist. Peep the dragging below:
1. Tamera Mowry is out here "splainin' for Her Husband Adam Housley, trying to deny accusations of him being racist. They are claiming he is being called racist because he used to be Fox News reporter. But its deeper than that. He has a history a spewing suspected racist rhetoric pic.twitter.com/RAn2GZZYgK

— Tariq Nasheed (@tariqnasheed) September 19, 2018
2. A lot of suspected white supremacists will codify their racist views, so they will not appear to overtly racist. For example Housley has a history of being silent about state sanctioned anti Black violence, but he will focus his criticism on "Black people rioting and looting" pic.twitter.com/6moO5bIITR

— Tariq Nasheed (@tariqnasheed) September 19, 2018
3. Remember during the Mike Brown & Freddie Gray protests, all the white supremacists were giving a pass to the state sanctioned unconstitutional racial murders of Black ppl, but had everything to say about the "rioters and looters"? Adam Housley was one of those kind of people pic.twitter.com/KQvppqGXmO

— Tariq Nasheed (@tariqnasheed) September 19, 2018
4. Not only did Adam Housley deny that George Zimmerman's attack on Trayvon Martin was racial (which we now know Zimmerman is a blatant anti Black racist), Housley implied that the REAL racist were the Black ppl who opposed Zimmerman in the aftermath, for "personal gain" pic.twitter.com/ep6CMzpE1E

— Tariq Nasheed (@tariqnasheed) September 19, 2018
5. Housley seems to be a big Zimmerman defender. And Housley tried to justify an innocent Black child being murdered by saying he wished Trayvon went home that night. Trayvon was trying to go home until an anti Black racist murdered him. pic.twitter.com/n7tYkasxzf

— Tariq Nasheed (@tariqnasheed) September 19, 2018
6. Housley is also pushing that white genocide in South Africa propaganda . Notice how he keeps mentioning Mandela? Unfortunately, Mandela allowed the white supremacists in SA to maintain all of the land and resources while the Black masses there were made to suffer in silence pic.twitter.com/ta5wlS7rs5

— Tariq Nasheed (@tariqnasheed) September 19, 2018
Adam hopped on Twitter yesterday and decided to pop back. Again, he said he's NOT a racist and he's sick of people running with that narrative. Peep the tweets below: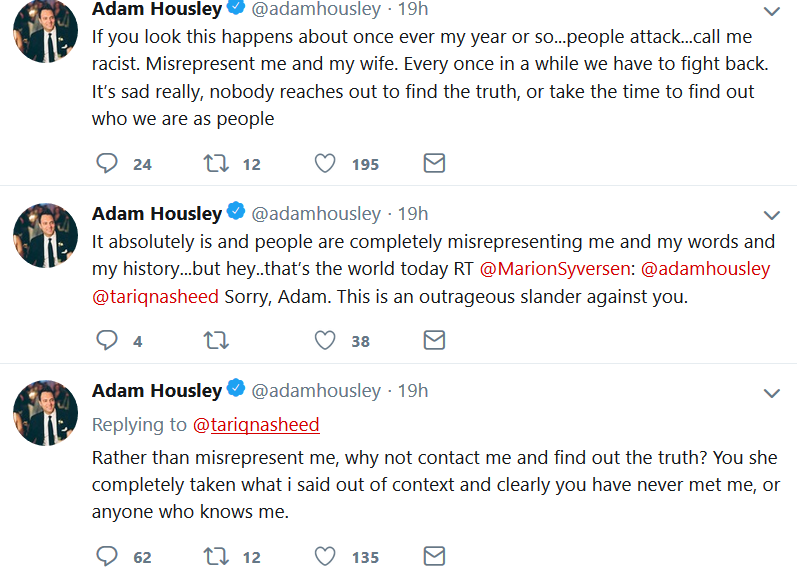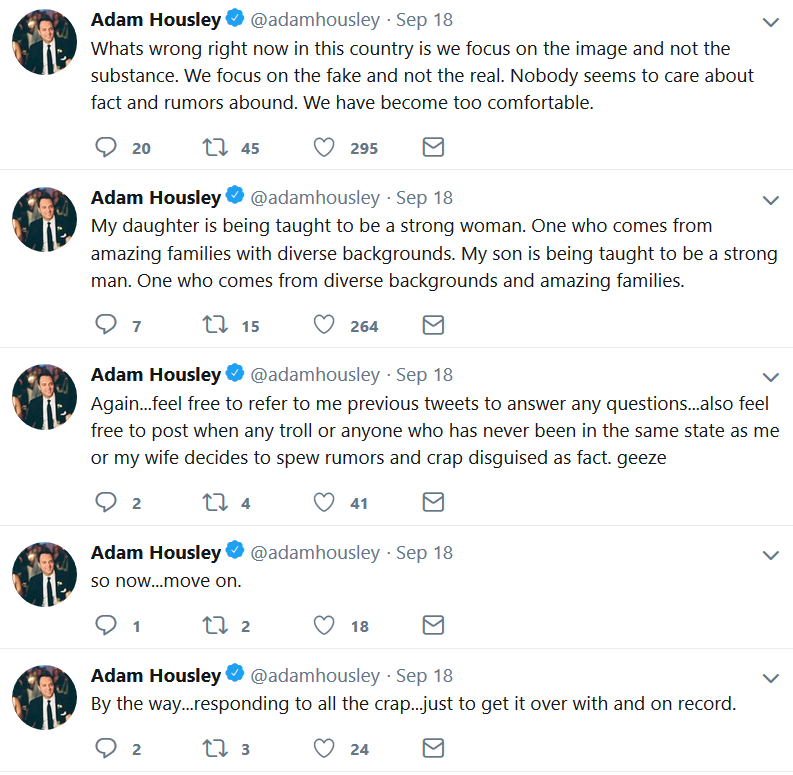 Teaching children they simply come from diverse background isn't necessarily the same as teaching them about being black (as well).  Unless you are intentionally doing both. Let's not act brand new here.  Ignoring or sugarcoating race doesn't magically make racial issues disappear.
Looks like this is going to be an interesting season on "The Real."
Also on the show...
Today in #GirlChat@TeyanaTaylor sets the record straight on her tour. pic.twitter.com/1Y1ZPXWuy8

— The Real (@TheRealDaytime) September 17, 2018
Teyana Taylor kept it all the way real about her falling out with her former tour mate Jeremih.
As you know, Teyana and Jeremih were out on their"Later That Night" tour together. Some ish went down between the two, which resulted in the "3Way" singer hijacking the tour, giving the "Oui" singer the boot. She renamed it to the KTSE Tour and kept the energy going to finish all the dates that were on the schedule, sans Jeremih.
During an appearance on "The Real," Teyana said that Jeremih should have never crossed her when he called her his opening act after they mutually agreed they would be co-headlining the tour. Teyana also said Jeremih didn't put in HALF of the work she put in to promote the concert and then had the nerve to try and "play her" publicly.
"I was doing everything, she explained. "The promotion. I did my own promo videos. I just took it very seriously and I was very, very excited about it. And he did little to no promo. So, we got there and the concerts were sold out. But when we got there, his name was on everything. My name wasn't even on the ticket."
What?! Yeah, we can see why she was upset.
"But I was trying to explain to him was that's natural because I'm the only person that's promoting it. And he was like, 'I got it to where I don't got to get on Instagram to promote.' And I said 'Well, then baby it ain't going to be sold out.' Social media is everything. I'm working my behind off."
She continued, "Then, you call me your opener during one of your shows, but then go on radio and say, 'I got love for her' and make it seem like you're taking the high road. It's like no, because if you had love for me, you would have never tried to play me live."
Well there you have it. Peep the clip above.
Photos: The Real's IG