Foxy Brown is blasting fashion designer LaQuan Smith after it was rumored she skipped out on performing for his New York Fashion Week afterparty. And she has receipts. More inside...
A few weeks ago, Foxy Brown was scheduled to hit the stage to perform at LaQuan Smith's NYFW afterparty. But, it never happened. Word on the curb was that Foxy stiffed promoters out of $10,0000 as she was given $5K before the show and she was to get the rest after she performed, but she never made it on stage. At the time, it was reported the NYC rapper showed up hella late, grabbed the $5,000 check she was owed to perform and walked right out of the venue.
Now, Brooklyn's Don Diva is speaking out about the "Fashion Week Fairtytale" and she's rapping to a totally different beat.
Foxy made claims it's LaQuan's fault she never hit the stage because his people sent her two left shoes/boots to perform in. She said she was there ON TIME, however, had to wait outside for over two hours to get the correct boot. She also said she never took the $5,000 she was owed because the check they gave her had been "cancelled."
She hopped on Instagram to drag the fashion designer, writing:
THESE PICS ARE IN THE VENUE, AFTER WAITING OUTSIDE IN THE TRUCK, FOR OVER 2 HRS, FOR THE CORRECT SIDE BOOT TO ARRIVE!

We were handed a handwritten, undated, check that had been CANCELLED!

Not only did I arrive at CHELSEA PIERS on time, MIC in hand, but arrived at the after party as well, prepared to rock!

I've allowed you to bask & twirl in this fraudulent press, purposely silenced, as we meticulously prepare for FIERCE LITIGATION.
Foxy must have had her dictionary by her side because she gave him a T.I.-esque bashing:
LIES @laquan_smith Messy AF!

I'm appalled even addressing this fictitious, "FASHION WEEK FAIRYTALE" you've concocted to the media!

As our upper echelon, BLACK SUPER HERO OF FASHION, I'm embarrassed for YOU, knowing, after literally begging us to perform; (you'd deliberately orchestrate erroneous bullshit), in a scandalous attempt to bring discord into MY INCREDIBLE COMEBACK!

22 YEARS, as HIP HOP's FASHION WEEK FRONT ROW AMBASSADOR, (GALLIANO, GUCCI, DIOR, FENDI, JEREMY SCOTT, VERSACE, MC QUEEN, etc...., I LIVE THIS!

Scroll to your WELCOME BACK videopraising FASHION's KING BITCH in one breath, and the next, tried disgracing my name.

Couldn't possibly have thought, I'd excuse this nasty violation!
In another IG post, she shared a picture of the "infamous boot" that she said didn't arrive until three hours later. She also mentioned (again) that she never took the rest of the money that was owed and issued a warning to TV talkshow host Wendy Williams. She continued:
The INFAMOUS "2 LEFT BOOTS" We were given by @laquan_smith's people!

Who ALL APOLOGIZED TO MY TEAM profusely! (On Camera)

AND, the flyer I HAD DONE to announce this epic performance.

THIS RIGHT BOOT (pictured), DIDN'T ARRIVE TIL' 3 HOURS LATER!

AND, your BACK END funds never left your account BELOVED.

Lies! @wendyshow Tread Lightly!!
Check it: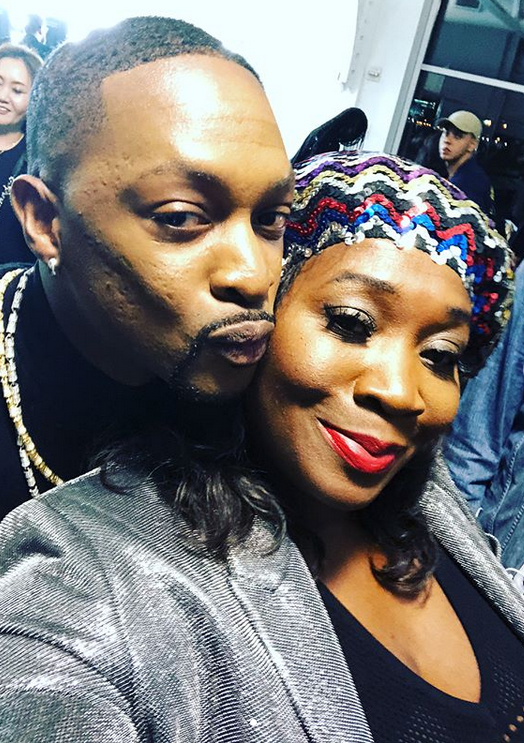 Foxy gave a shout out to "Page Six TV" co-host Bevy Smith (pictured above with LaQuan) for coming to her defense about the two left shoes fiasco. During a post-NYFW episode Bevy said she saw Foxy and she appeared to be in good spirits.
"She [Foxy] was very excited about the fact that she had the new single out with Nicki [Minaj]. She was in a good mood," Bevy shared.
Bevy, who did not attend the party, but saw Foxy backstage before the shindig, continued,
"She had a wardrobe mishap . . . [a designer] sent her two shoes for the same foot. She was in 6-[inch] heel boots that would lace up to the knee . . . so she was kind of hobbling around, but we were talking and laughing."
There are rumors that Foxy was NOT in the right state of mind to perform with one source telling Page Six she was requesting vodka and "falling all over people" drunk.
Foxy's assistant BdotDillenger also came to the "Ill Na Na" rapper's defense, posting on Instagram:
Promoters have been threatening to sue Foxy if she doesn't give the money back. By the way, Foxy's publicist Lizzie Grubmanreportedly resigned days after the NYFW afterparty.
This is a mess!
Photos: Getty/Bevy's IG