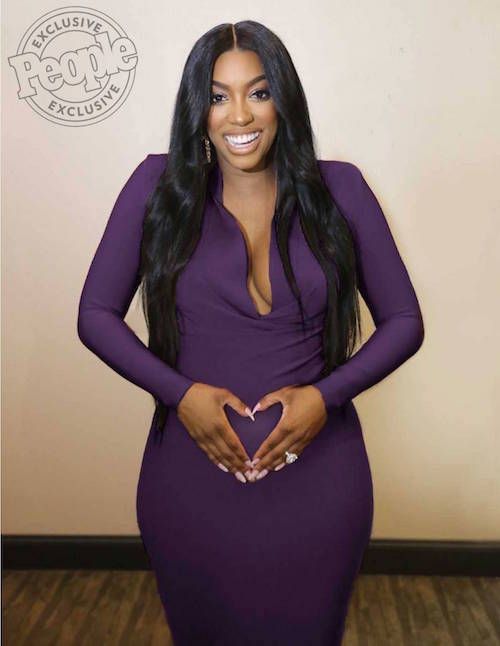 Just in time for the upcoming season of "Real Housewives of Atlanta," Porsha Williams finally confirms that she's pregnant!  Deets inside...
If Kenya Mooredoes return to this upcoming season of "RHOA," she won't be the only one sporting a baby bump.  Her arch nemesis has big pregnancy news as well!  "RHOA" star and Dish Nation co-host Porsha Williams previously shot down rumors that she and her new bae Dennis McKinley were expecting....but now the truth is out.  The 37-year-old is pregnant, and dishing about it all. 
She's got new pics showing off her baby bump, and she looks happy as pie.  As she should be since she's been quite vocal about wanting a baby for a while now.  The reality star got her wish, 6 years after a miscarriage.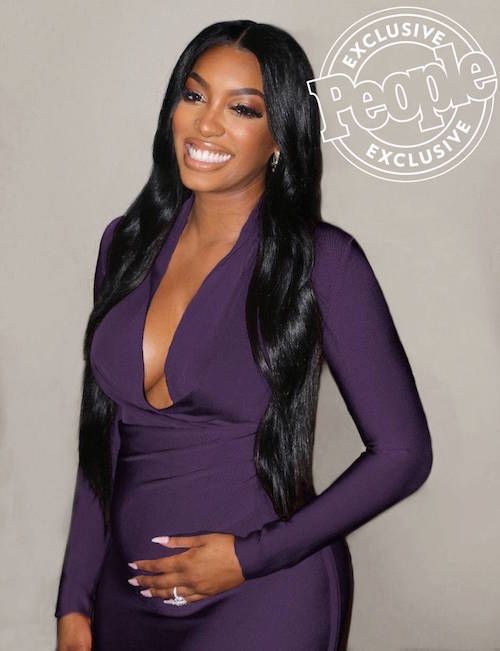 Porsha dished to People magazine about why her extreme happiness was met with fear when she first found out she was pregnant:
"When I found out I was pregnant, I was excited [but] I had mixed feelings. The other feeling that I had beside excitement was fear," the Real Housewives of Atlanta star, who suffered a miscarriage six years ago, reveals to PEOPLE in an interview for the newest issue, out Friday.

"I've had a miscarriage before in my past, which I've also been open about because I suffer with fibroids and had to have a myomectomy," continues Williams, 37. "So just the fear of, 'Is the baby going to be okay? Will I make it full term?' All those questions that you ask if you've had a miscarriage before."
Understandable.  Folks have been buzzing that she's with child when suspicious pics of her and her new boyfriend were posted to her Instagram account about a month ago, showing what looked like a small baby bump.
When folks pointed it out and unconfirmed rumors on various outlets said they indeed got word that she is pregnant, Porsha hinted in the comments section that it wasn't true.  Sounds like she was trying her best to throw everyone off.  That hardcore partying on a recent  "RHOA" girls' trip to Tokyo also helped folks believe she wasn't pregnant.
The hot auntie (to her little sister Lauren's baby girl) said she can finally see herself as "mommy" after that first doctor appointment:
"Going into the first appointment and being able to see baby and hear baby and know that baby is fine, then I can really wrap my mind around actually becoming a mommy."
As for names, she and Dennis don't yet know the sex of the baby, but they've def ruled out some names for both genders:
"One of the names that we got rid of that he liked was Napoleon. [I was like], 'I don't know about that one for a boy!' " she tells PEOPLE. "One of the names that he has absolutely settled on — I'm not settled on it yet — is PJ. PJ stands for Porsha Jr. He wants to name our daughter Porsha Jr."

"I'm not really sure because I think she's going to be mad, like, 'Really, Mom?' And then I'm going to have to try to explain it and he's probably going to deny that it was all his idea."
She also says Dennis, an Atlanta businessman, shed more tears than her ever since they learned they were becoming parents:
"The thought of me getting that blessing after praying for it for so long and getting that blessing with someone who is just as excited as me — it's Dennis' first child, just like me — and it's something we've both always wanted … It's like a dream come true."

"I believe he's probably shed more tears during the process than me," Williams tells PEOPLE of McKinley, whom she has known for years but only began dating this past year. "It's just the sweetest moment of my life right now."

 
The twosome are also working on being a good couple with a strong foundation.  What she's not talking about, though, is marriage.  She's been there, done that.
"The pregnancy came from the left, but it definitely has brought us closer together because you realize when it sets in that you are actually bringing a life to this world, that you have become family overnight.  So now a lot of the things that we had talked about are a reality, and we work really hard at wanting to be a good couple and build a strong foundation for our new family that we're going to have. "
Sounds like the divorcé turned independent woman is living all her dreams right now. 
Congrats to the couple!
Photos: Kendrick Rahmings