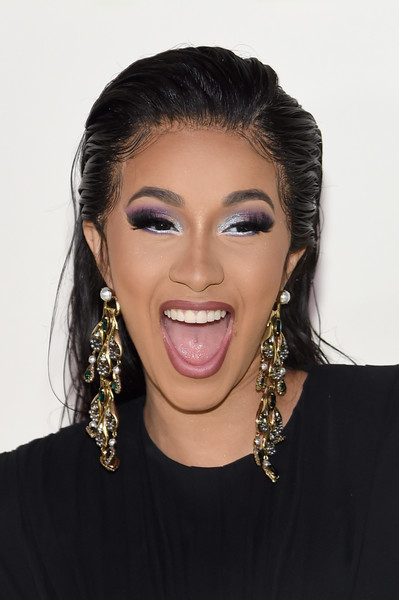 Cardi B just racked up eight American Music Awards nominations. And Drake ties with her. Find out which categories, plus her latest social media posts defending her crown inside...
Cardi B's debut album, Invasion of Privacy, and features are raking in awards for the NYC raptress.
Topping the list of nominees, the "Be Careful" rapper has been nominated for eight awards, tying with Drake.
The new mom has been nominated for Favorite New Artist of the Year, Favorite Collaboration of the Year for "Finesse" with Bruno Mars, Favorite Female Artist, Pop/Rock, Favorite Artist, Rap/Hip-Hop, Favorite Song, Soul/R&B for "Finesse" with Bruno Mars, Favorite Song, Rap/Hip-Hop for "Bodak Yellow," Favorite Social Artist, Favorite Music Video ("Bodak Yellow").
This year's AMAs will be hosted by "black-ish" actress Tracee Ellis Ross live from the Microsoft Theater in LA. You'll recall, Tracee and her mother/legendary singer Diana Ross made AMA history last year as the first mother & daughter duo to both host the AMAs! Ms. Ross also received the Lifetime Achievement Award.
Post Malone and Ed Sheeran came in after Cardi and Drake with five nominations each. Drizzy is in the running for the coveted "Artist of the Year" category along with Taylor Swift, Imagine Dragons, Post Malone and Ed Sheeran.
Also, XXXTentacion was nominated for two awards, Favorite New Artist of the Year and Favorite Album, Soul/R&B.
Normani was also in the mix for the reveal of the nominees and she shared who she's most excited about:
tysm @Normani for blessing the #AMAs nominations today.

+ here are the noms she's excited about [ @BebeRexha@ellamai@rihanna@sza@PostMalone@Drake@thegreatkhalid] pic.twitter.com/Vlvscpwf2z

— American Music Awards (@AMAs) September 13, 2018
The AMAs are set to air on October 9th at 8pm EST on ABC.
Before Cardi scoops up awards at the AMAs, she has been busy on social media following her shoe-throwing altercationwith Nicki Minaj at Harper's BAZAAR's NYFW party last weekend and Nicki's harsh Queen Radio episode. 
Bardi is defending her rap crown. She wants everyone to know that she worked hard to get where she's at right now and money can't buy that. Even IF Nicki said she's only winning becaus eof sympathy and payola.  Oop.
In one post, she went off while talking about how she came from the bottom to the top and no one can take that away from her or discredit her work ethic.
"NO LABEL ,NO RADIO PLAY,FRESH OUT OF LOVE AND HIP HOP,ONLY 200K IN MY BANK ACCOUNT ,MY FIRST TOUR !!!, she captioned. "nobody can make you feel like you cheated yourself or you don't deserve to be where you at when you KNOW YOU WORKED YOURSELF TO THE TOP !!! THANK YOU BARDIGANG !YOU BEEN HERE SINCE THE GET GO!"
The "Bartier Cardi" rapper also posted about her AMAs nominations and her BET Hip Hop Awards nominations, which she scooped up 10 of them:
She had a huge year at the awards show last year, winning five awards
Drake leads the BET Hip Hop nominations with eleven, Childish Gambino has six nominations, Travis Scott and Kendrick Lamar both have five.
This year's awards show will go down at The Fillmore Miami Beach at Jackie Gleason Theater on October 6th. It'll air on October 16th at 8pm EST on BET.
Photos: Getty