Oh sh*t! We didn't see this coming. "Insecure" pulled a fast one on us all. If you haven't seen the episode, leave this post. For the rest of us, come on in and let's chat about the Coachella episode, plus Yvonne Orji spilling about her new relationship inside....
OMG! "Insecure" plays TOO much!
Last night, at the very end of the episode, guess who pops up? Yep, LAWRENCE (played by Jay Ellis, below outside of "GMA" studios this morning)!
After Lawrence's departure last season when he and Issa broke it off for good, the #LawrenceHive was formed and they were on a mission to have their favorite "Insecure" character brought back on the show. They even created an online petition, which collected over 12,000 signatures, to have producers bring him back.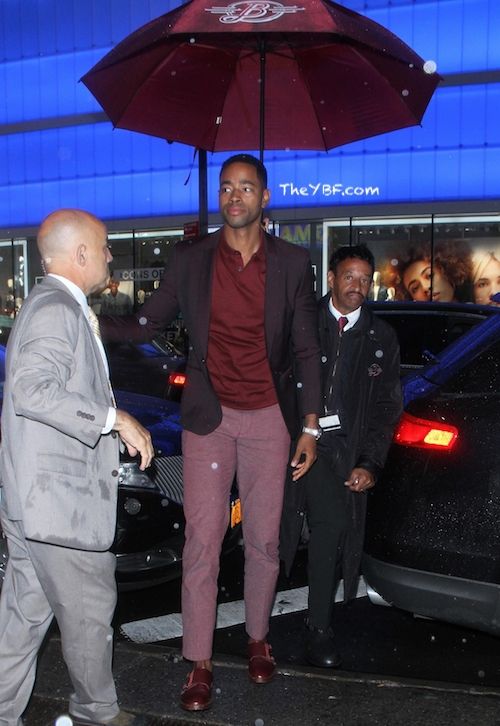 In last night's episode, there was a scene where Issa was in a 7-11 store and she ran into her ex-boyfriend Lawrence's friend, Chad (welcome back!). Then, guess who poped up like Kim K. did in that meme in the bushes....
We were literally screaming at the television.  Mainly because we ALL know how it feels to run into an ex when you weren't prepared and not looking like the baddest bish thus far.
Peep the clip below: 
However, this was all in their plans! Despite Jay Ellis telling the media he hadn't filmed any new scenes for the third season, he actually had! Issa also confirmed he wasn't coming back.
"Insecure" producer/writer Prentice Penny hopped on Twitter and praised Jay for keeping the secret so long:
Shout out to @JayREllis for sitting on this for MONTHS!!!! LAWRENCE is the GOAT FOR LIFE

— Prentice Penny (@The_A_Prentice) September 10, 2018
This season on #insecurehbo we coming for yo heart between Daniel, Nathan and now LAWRENCE. You don't know who to love. Got you out here like pic.twitter.com/d9zqGOd4gM

— Prentice Penny (@The_A_Prentice) September 10, 2018
Jay also chopped it up with VULTURE where he talked about the big secret "plan" for season 3:
So when did you know that you were going to be back on the show? Or did you always know?

I always knew.

So there was no anxiety.

No, no anxiety. I will say, the phone call from Issa and Prentice [Penny], our showrunner, about not being in the first few episodes, I could tell in their voices they were "Hey, so what's up? Just wanted to talk to you." And I was like, "Guys, it's OK. Don't worry about it. it's OK. It's fine. I'll see you when production starts, I'll take an extra-long vacation," which was exactly what I did!

What did you think of the fan reaction when your character disappeared? There was a petition! There were hashtags! Did you see all of that?

Yeah, somebody put a petition on Care2. Also, they reached out to me about it. They're really lovely people. They're actually really, really cool people. If you go back to the finale of episode one and you see the creation of this #LawrenceHive hashtag, which became a big thing from that finale and then obviously carried on through season two, all of a sudden for that character to just disappear and create this void…I mean, I don't think I ever expected it to grow to what it grew to be, but I hoped people would miss Lawrence. I hoped he would resonate with people and that people related to him enough where they'd be like, "Man, I miss him, I want to see him on TV," because you don't get to see a lot of guys like him, especially a lot of black characters of color who are going through all the ups and downs he's going through – the relationship stuff, the vulnerability. I didn't expect that it was going to be like…I mean, I saw a video of a dude protesting at a screening Issa did in Harlem –

Oh my god!

Another friend sent me a video of a dude protesting in L.A. at a bar that does its own Sunday night watch party. There were two dudes standing outside protesting, obviously petitioning like crazy. So those things, the media ran wild with it, and the amount of articles that I saw were absolutely insane. I mean, the articles were insane! Anything from like, where Lawrence could possibly be and what he's doing now, to who Lawrence is with, to why Lawrence is gone, to if Lawrence is coming back and when and where he comes back. My Twitter feed was, like, blowing up for weeks and weeks and weeks! It still pops in every episode – "where are you? When's he coming back? Why isn't he here? We need him back!" It's really cool. I don't think I'll ever be able to fully explain it.

It must make you feel so wanted. I mean, that's the word that comes to mind.

It's more than being wanted. I think being wanted could be dangerous mentally. But it fills… a lot of actors will say that one of the things is, you just do the work. You're in a vacuum, you do the work, and it's gone. There's nothing you can do about it. It's now in the editor's hands, and once it's out of their hands, it's into the world and there's nothing you can do. And one of the things we all hope for and want is that it resonates with people and they relate to it. It's not about the feeling of being wanted. It's about, "Oh shit. It actually landed." People actually care about that guy. They want to know what's happening to him. They want him back. That, to me, is what is the feeling.
They got us good! 
Also, the Coachella scenes were NOT shot at the actual festival. The production team was able to recreate it and they NAILED it:
*Narrator Voice*

"They never got to go."

But we got to recreate Coachella in Thousand Oaks with our amazing Art & Set Dec team! #InsecureHBOhttps://t.co/SRplb8rfFZ

— Issa Rae (@IssaRae) September 10, 2018
And if you didn't already know...
Yep! "Insecure" will be back for a fourth season! 
Meanwhile....
"Insecure" star Yvonne Orji has been heavy on the promo trail to chat about the new season. Her career is flourishing and so is her love life. She stopped by Power 105's "The Breakfast Club" to dish on her budding romance and how she feels about marriage, juggling her love life and career and more. The 34-year-old is currently dating former Eagles linebacker Emmanuel Acho. Emmanuel is co-host of ESPN's Texas Game Day and a regular contributor for ESPN's Longhorn Network. By the way, he was there during the interview.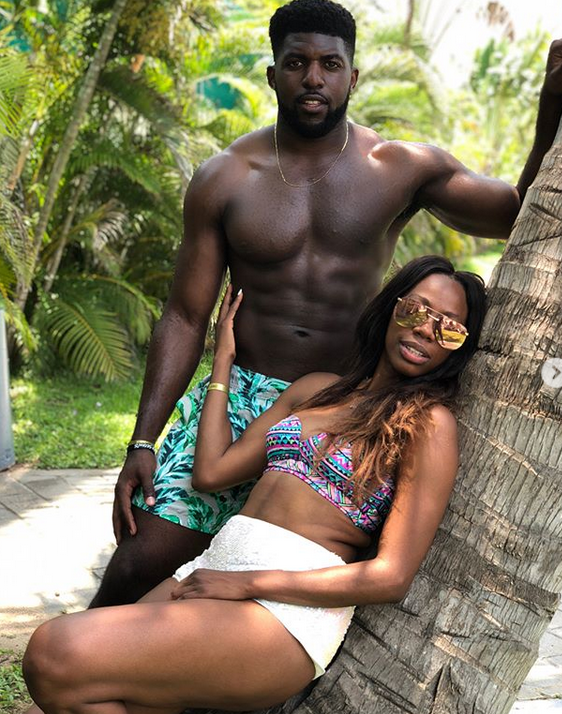 When asked if marriage is overrated, she said she doesn't think it is because it is something she has always wanted. Marriage is beautiful, but it is also work and she said you have to put in the work to make it work for you. When asked how does she make time for the relationship and her career, she explained you make time for things that are important to you. She said her man is just as busy as she is, but they have found a good balance.
Yvonne, who previously revealed she's a virgin, also said she has been looking forward to submit to a man. However, she's having a little trouble making the switch because she has been single and doing everything on her own for so long. She revealed her parents haven't met him yet, but they know she has a special man in her life.
Yvonne is Nigerian, so the radio hosts asked her if Africans really look down on African-American people. She said yes, however, Africans think they do everything better than everyone, whether its white, black or Asian.
Peep her interview below:
Chick has been making her rounds on a press tour, running into Jess Hilarious and doing interviews on "The Late Show with Stephen Colbert" and "Larry King Live."
Peep a few clips from her appearances below:
Next Sunday's "Insecure" episode is going to be LITTY!
Photos: HBO/Backgrid/Yvonne's IG