Kanye West was on a power trip when a reporter asked him about his wife's feud with model Tyson Beckford. He had the reporter kicked out of the Ralph Lauren NYFW show. And Tyson was actually there. More inside....
More drama popped off during New York Fashion Week after Cardi B and Nicki Minaj's shoe throwing altercation.
Kanye West had a reporter kicked out of Ralph Lauren's 50th anniversary runway show and gala dinner. And get this, the drama went down at the Plaza Hotel, the same place Cardi and Nicki got into it. Here's what happened....
The "Ultralight Beams" rapper was chatting with a female reporter from "Entertainment Tonight" and she asked him about his wife's social media feud with model Tyson Beckford. As you'll recall, Tyson "body shamed" Kim K and she, in return, "gay shamed" him.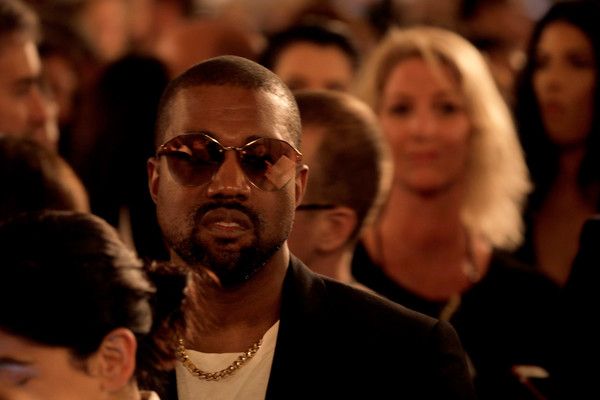 The Grammy Award winner got pissed all the way off and went lethal, threatening to leave if the reporter wasn't escorted off.
"Ralph Lauren would be disappointed to have a journalist ask me questions like this at his show," 'Ye said to the house PR team. "Either she leaves or me, you decide."
The reporter ended up leaving before she was escorted out.
Watch the drama unfold below: 
And look who was there....
Tyson! He was spotted at the dinner table alongside Priyanka Chopra, Vera Wang, Nick Jonas, and Ansel Elgort.
We doubt 'Ye kept that same energy IF they crossed paths.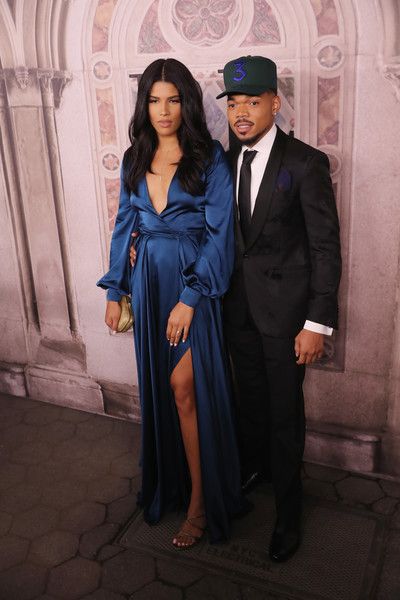 Chance The Rapper and his fiancée Kirsten Corley served up coupledom vibes on the carpet. The rapper is gearing up to make his film debut in a horror film titled Slice, starring opposite of Emmy-nominated actress Zazie Beetz.
Werk Kirsten!
Yeezy and Chance, who were spotted in the studio together recently, were front row ready.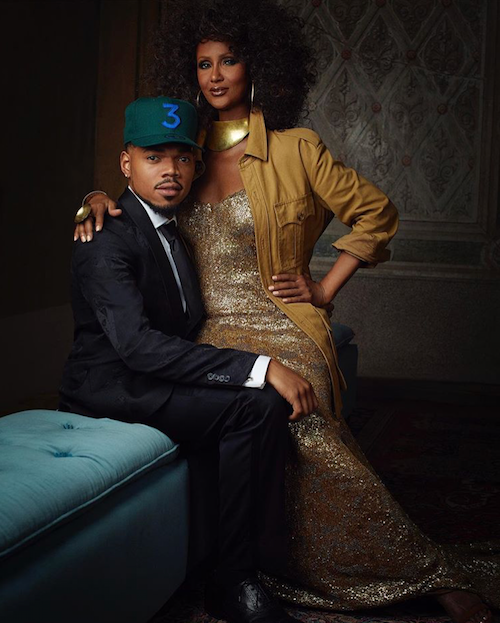 Model IMAN joined Chance in Central Park's Bethesda Terrace to be photographed by fashion photographer Alexi Lubomirski. IMAN wrote a heartfelt tribute about how she met Chance and how their photo came about.
This image from Ralph Lauren 50th Anniversary Dinner was meant to be.

I just happened to be in the grid lock of celebrities waiting to be photographed by @alexilubomirski both celebrities and photographer were patient and courteous as they can be… But, I'm not not known for my patience! Simply because, I'm always on time and wish (demand!) others to be.

As I was waiting, someone tapped me on my shoulder. Thinking it was another celebrity moving me back in the "very short" line... to my delight it was Chancelor Jonathan Bennett @chancetherapper to all of you! We tightly embraced (we have a history/story!) The photographer must have noticed that we knew each other and more importantly how unique an image together will be…. so he got to the business of doing a very tight & highly organized portrait shoot and he placed us in the "studio." Originally, the photographer suggested that Chance sit down and I stand next to him regally. I asked Chance if I could sit on his lap which he laughed and said "Of, course." By the way, his fiance Kirsten was there and all was cool… seriously, I could be his mom or grandma age-wise!

It wasn't lost on me that the idea of having us together was last minute & the golden "idea" was young and older generation together… effortlessly in an image that was "Universe" served! After my shoot with Chance I was photographed on my own as well.

The reason that Chancelor and I were comfortable with each other was that I met him in 2016 in Paris for @kenzo for @hm when @humbertoleon @carollim took over @kenzo and wanted to create the original archives of Kenzo Takada who created the Kenzo brand but also give it social/activist voice to it. They decided to highlight these amazing young, diverse and global group of activists and I just happened to be part of it because I am an activist and I also happen to be one of Kenzo's original muses.

I met a young man Chancelor in 2016 who I felt at heart a philanthropist but more importantly what he has become and manifested is truly unique way of how it actually works. Charity begins at home...and his home should be proud! Chancelor, I'm honored to know you. @socialworks_chi #NYFW #RL50
Still a baddie!
Oprah Winfrey and Hillary Clinton were spotted sitting next to Ralph Lauren during the dinner celebration.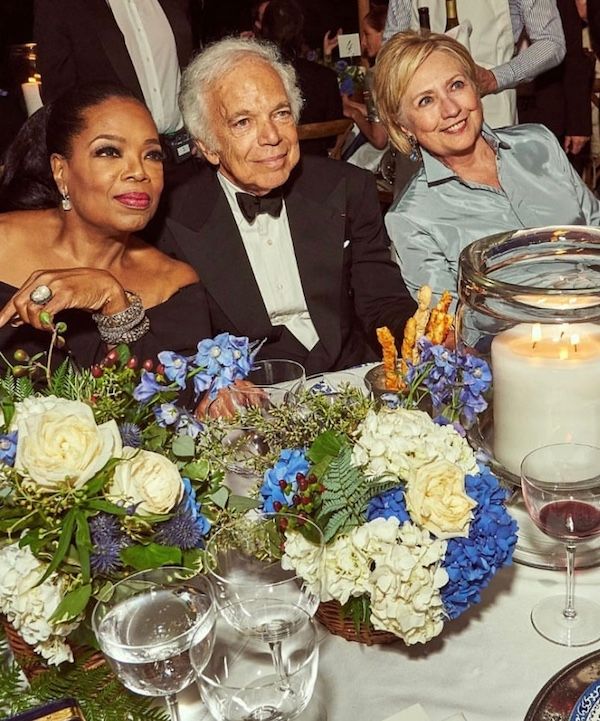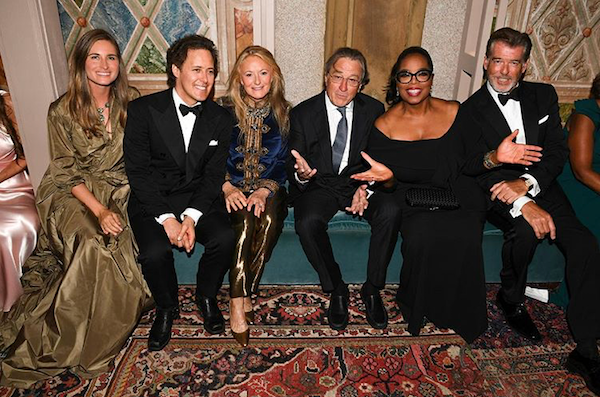 Lady O also snapped it up with Lauren Bush Lauren, David Lauren, Rickey Lauren, Robert De Niro, and Pierce Brosnan.
"black-ish" actress Tracee Ellis Ross kept it elegant in a black Ralph Lauren ensemble.
Oprah's bestie and CBS "This Morning" host Gayle King was also in the mix.
Photos: Getty/Oprah's IG/Ralph Lauren's IG/Tyson's IG/Chance's IG/@RobinGivhan