Kanye West has issued a public apology to Drake in series of tweets. Read his full apology, plus hear what Joe Budden has to say about Eminem dissing him inside...
Kanye West wasn't playing when he said he and Drake would soon squash their beef during a radio interview in Chicago last month.
In the wee hours of the morning, 'Ye hopped on Twitter to issue Drizzy a public apology, following a rap beef he was dragged into between his G.O.O.D. Music artist Pusha T and the Young Money rapper. By the way, this apology to Drake comes after he apologized for his "slavery is a choice" comments.
Ish got messy when Pusha T first called Drizzy out on rumors that he uses ghostwriters on his Kanye-produced album, Daytona. A rap battle ensued where Pusha spilled some tea on Drizzy, revealing he had a son he was keeping under wraps with former adult-film star Sophie Brussaux.
Ye also apparently stole Drake's album release date, or something of the sort. He dropped Ye weeks before SCORPION, so Yeezy fessed up to being messy with the album release dates.
"I understand where the confusion started," the PABLE rapper tweeted. "Let me start by apologizing for stepping on your release date in the first place…"
As we all know, this was around the time Kanye was heavily in the headlines over his "slavery is a choice" comments and backing Trump antics. He briefly addressed that and then went on to talk about how he and Drake were supposed to collaborate on his track "Lift Yourself." Maybe that's why he just added the "poopity scoop" lyrics to spite Drake?
"We were building a bond and working on music together," Ye tweeted. "We spoke about doing 'Lift Yourself' together I should have given you the opportunity for us to do this together before I released it."
Kanye said since he was building a relationship with Drake, he should have spoken to Pusha T about the Quentin Miller lyric and excused himself from any negative energy that was aimed at the Canadian rapper.
The "Ultralight Beams" rapper said he did not tell Pusha about his child and said he doesn't "play with the idea of people's children after I spoke to Wiz [Khalifa] a few years earlier."
He ended his apology telling Drake he loved him and that he would be coming to see him soon.
Peep the tweets (read from the bottom up):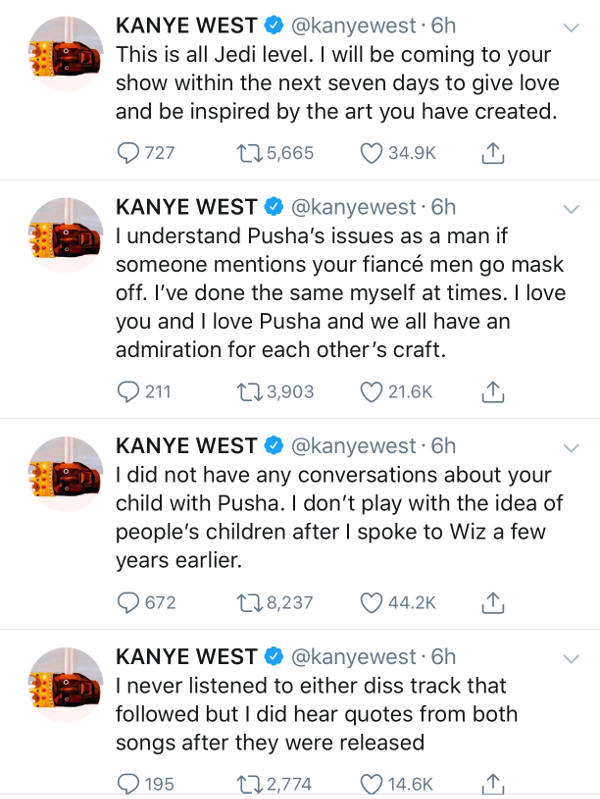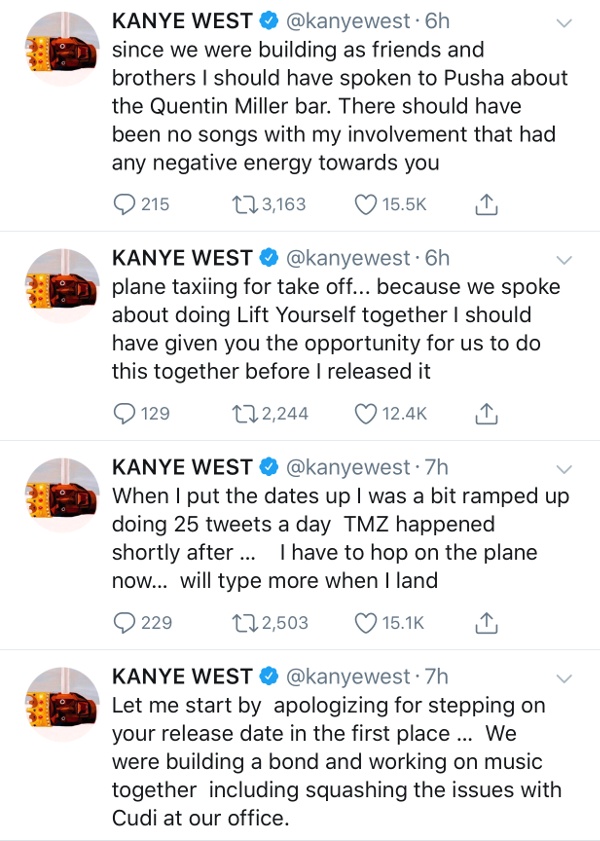 Before Ye issued an apology, Drake had seemingly trolled Kanye on Instagram recently, posting up red demon emojis. Before that, he dissed Ye during his tour stop in his hometown of Chicago.
And then there's this...
Nick Cannon appeared on Complex's "Everyday Struggle" alluding that Drake could have smashed Kanye's wife Kim Kardashian West. DJ Akademiks said he believes Drake had sex with Kim K and that's when Nick defended his opinion saying, "that ain't that far off of a concept."
"There's something real personal going on in that world," Nick continued."Knowing Drake, he's the most calculated dude ever. There's something that Drake holds over that whole family, like 'y'all don't want me to let this out.'"
Check it above at the 31-minute mark.
Kim ended up hopping on social media in The Shade Room's comments and squashed the rumors writing, "Never happened. End of story." However, Nick could be on to something. We're curious to know why Ye is being so humble.
Also...
"Keeping it G I told her don't wear no 350's round me."

Drake taking shots at Kanye on this new French Montana snippet? pic.twitter.com/IeJgslgpjt

— No ID's (@NoIDs1) September 4, 2018
Drake allegedly disses Kanye West on an upcoming collaborative single with French Montana, "No Stylist," produced by London On The Track. He raps, "I told her don't wear no 350s around me." And we all know 350s are Yeezy's sneakers.
Take a listen to the clips above and below:
Hmm...thoughts?
Also...
Kanye recently cleared his Instagram. No surprise that he's only following his wife. He hasn't posted anything new yet but we're sure he'll be pushing a product soon...
Photos: Kanye's Twitter