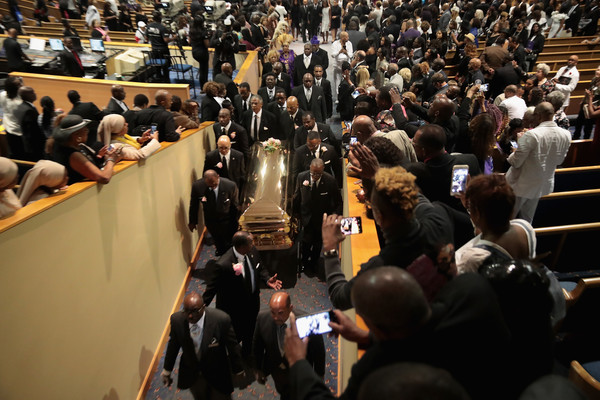 Aretha Franklin's family is speaking out about the photo of The Queen of Soul's body in her casket that has gone viral and her disappointment with the funeral service. More inside...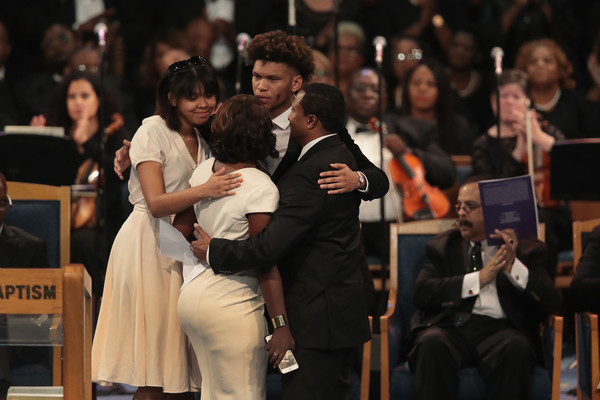 On Friday, Aretha Franklin was laid to rest at the Greater Grace Temple in her hometown of Detroit. It was a tribute fit for a queen that lasted over 6-hours with tons of her celebrity friends in attendance and fans lined up outside to pay their last respects. 
Now, a member of Aretha's family is speaking out to express her disappointment with how the Queen of Soul's funeral service was handled, and she also addressed the leaked photo of Aretha in her casket.
In a Facebook post, Kafi Franklin, wrote about how shocked she was to find out out how "selfish and insensitive" people are. She shared her 12-year-old daughter broke down in tears when she saw the leaked photo of her grandmother being posted on social media sites.
"I didn't want to post my opinion about any of this because over all the love was overwhelming but when my 12 year old was brought to tears from seeing her Grandmother in a casket all over social media... I feel I must.. I can't believe that some people are sooo selfish and insensitive," she wrote.
Kafi said the photo of Aretha in her casket being shared has only made things worst for her kids and the rest of the family as they're coping with her death. She also called out people who used Aretha's funeral "benefit themselves or to entertain or achieve personal agenda with no regards to the family." She said she's upset that people were treating the funeral more like a concert than a homegoing service.
"My children lost their grandmother.. her sons lost their mom.. so many people completely ignored their grief and selfishly used this situation to benefit themselves or to entertain or achieve personal agenda with no regards to the family. To all the people who posted negative pics/fake news, to all those who treated the funeral like a concert or event.. to those that callously spoke on everything but words of comfort and love Shame on you .. you made a child /family suffer even more than they were... you made a difficult day even more so for us all"
Read her full message below: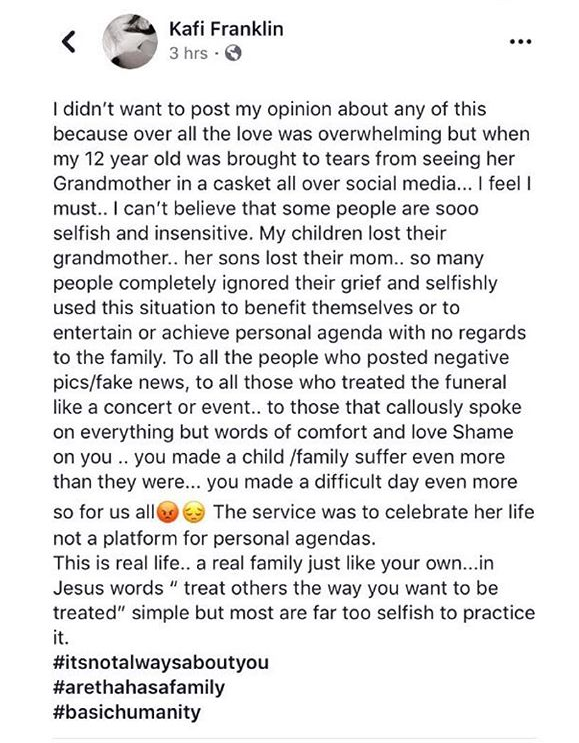 People posting pictures of the deceased in their caskets is very insensitive and disrespectful. We hate how social media has caused people to feel like they have to be the first one's to post something for likes and followers.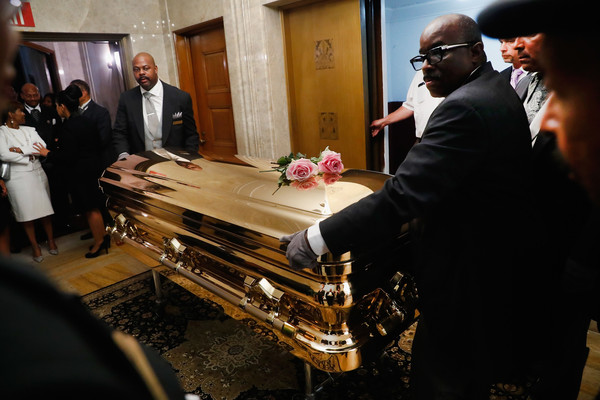 Hopefully, the family can work with their attorney and start having the photos taken down. There's no reason for them.
Here's a clip of Aretha's grandchildren and family speaking during the service below: 
Aretha's good friend/music icon Stevie Wonder served up a powerful rendition of "The Lord's Prayer" on his harmonica when he hit the stage to honor his longtime friend during her funeral dubbed, "A Celebration Fit for the Queen."
The red carpet was rolled out for the Queen as family and friends shared touching stories, sang some of her classics and praised her for her successful life, in the music industry and outside of it. At least 1,000 fans, who were dressed appropriately, were allowed to attend the private funeral service. The rest of us watched from out computers and smart devices since her family allowed the service to be streamed online.
"The greatest gift that has been given in life itself is love. We can talk about all the things that are wrong, and there are many, but the only thing that can deliver us is love," Stevie said after his performance. "We need to make love great again."
Assisted by Angie Stone, Jenifer Lewis, Shirley Murdock, and Dottie Peoples, Stevie performed Aretha's "Until You Come Back to Me" and his classic, "As."
Check it:
Edward Franklin, one of Aretha's sons, tried to keep his composure as best he could as he sung Marvin Gaye's "Mercy, Mercy Me" to his mother:
Fantasia came out of her shoes to bring a powerful rendition of "Precious Lord," a song Aretha sung on her 1972 album, Amazing Grace.
"I hope she don't mind—I don't think she would—but I think I'm gonna come out my shoes," Fanny said before she began her selection:
Jennifer Hudson, who was handpicked by Aretha to play her in an upcoming biopic, brought the house down with "Amazing Grace":
Aretha's longtime friend Smokey Robinson opened up about growing up down the street from Aretha before he sung a tribute to her.
"I didn't know, especially this soon, that I was going to have to say goodbye to you," he said. "We talked about it many times that we're the two that were left from all our neighborhood friends."
Check it:
Chaka Khan performed "Goin' Up Yonder" with the lyrics printed on the back of a blue fan. She stretched the song into 10 minutes, so we assume she didn't want to make any mistakes:
Hollywood veteran Cicely Tyson, decked out in the flyest church hat ever, made her way on stage to speak about her friend and to deliver a version of Paul Laurence Dunbar's dialect poem "When Malindy Sings.
Rev Al Sharpton called out Trump during his speech. He had to correct No. 45 about who Aretha REALLY "worked" for.
"When word went out that Ms. Franklin passed, Trump said she used to work for me," he said. "No, she used to perform for you. She worked for us. Aretha never took orders from nobody but God."
Peep his speech below:
Rev. Jesse Jackson revealed he and Aretha had known each other for over 60 years and reflected on their longtime friendship. He talked about her role in the civil rights movement and how her father led a march in Detroit that laid the groundwork for Martin Luther King Jr.'s to march in Washington D.C.
Check it:
Tyler Perry hit the stage and shared some touching words about Aretha
Former president Bill Clinton talked about how he and his wife Hillary Clinton were fans of Aretha and even played one of her tracks from his cellphone.
Peep his speech below:
Before singer Gladys Knight hit the pulpit to reflect on her good friend, she had the Internet in a tizzy when in an interview she alluded to having the "same disease" as Aretha.
She later clarified she does not have pancreatic cancer (like Aretha did). She once had breast cancer, but said she's now cancer free.
"I'd like to clarify that Aretha and I discussed both of us having cancer, mine was stage 1 breast cancer and hers was pancreatic," she said in a statement."Due to early detection, I am cancer free and grateful for that. It is unfortunate that on a day we should be celebrating Aretha's life and massive contribution to our world, a reporter who did not relay accurate information has missed the message. I send my love to the entire Franklin family and my gratitude to them for sharing such an extraordinary person with us."
Glad she cleared that up.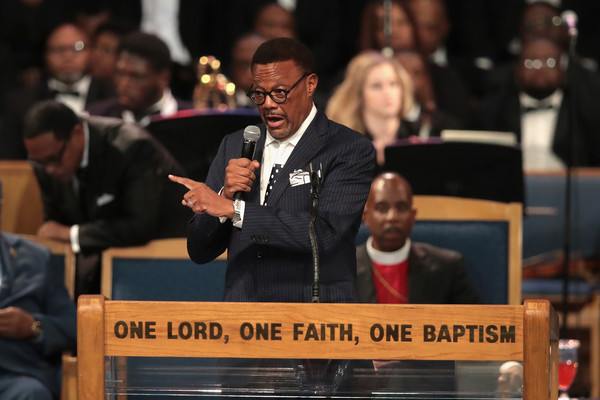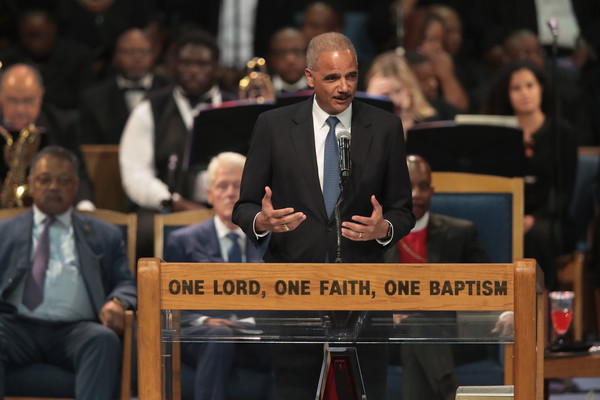 Judge Greg Mathis and former Attorney General Eric Holder also hit the stage to talk about their relationships with the Queen.
Professor Eric Dyson, a Detroit native, had the church on fire when he delivered his speech: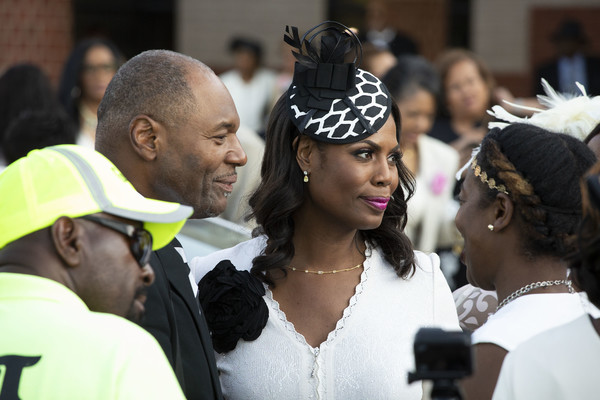 Former White House aide Omarosa was also in the mix.
The Clark Sisters and Pastor Shirley Caesar served up performances we know Aretha would have been proud of:
In honor of Aretha, more than 100 pink Cadillacs gathered on Seven Mile Road to escort the hearse carrying the late singer's casket to the funeral service at Greater Grace Temple. Aretha was a fan of the Cadillac, specifically pink ones, and sang about them in her 1985 hit "Freeway of Love." Check it:
Somebody was disappointed last yesterday that Re wasn't in a pink Cadillac hearse.
Well, here you go. #ArethaHomegoingpic.twitter.com/HbBQIG5O8w

— Naima Cochrane (@naima) August 31, 2018
Parade of pink @Cadillac vehicles arriving for #QueenOfSoul#ArethaFranklinFuneral in Detroit. Most are @MaryKay reps but there are also antique Caddy's and they are here from across the country. @nbc25fox66pic.twitter.com/upLKmoo4QS

— Mike Woolfolk (@mikewoolfolk) August 31, 2018
Rest In Power Queen!
As for the drama...
Bishop Charles H. Ellis III, who presided over Aretha Franklin's funeral, apologized to singer Ariana Grande after he was accused of groping the singer's side boob on stage after her performance. He also apologized for the Taco Bell joke he made about her name. Peep his apology above.
So, what are your thoughts about the Queen's homegoing service?
Photos: Getty