Two strip club bartenders are accusing Cardi B of ordering people in her squad to physically assault them. Deets (and video) inside...
What in the strip club hell?
Cardi B doesn't dance now and makes money moves. However, she's still finding herself caught up in strip club drama.
The "Bodak Yellow" rapper is being accused by two strip club bartenders for ordering people from her squad to physically assault them. The reason? Allegedly, Bardi issued the attack because she believes one of the women slept with her husband/daughter's father, Offset.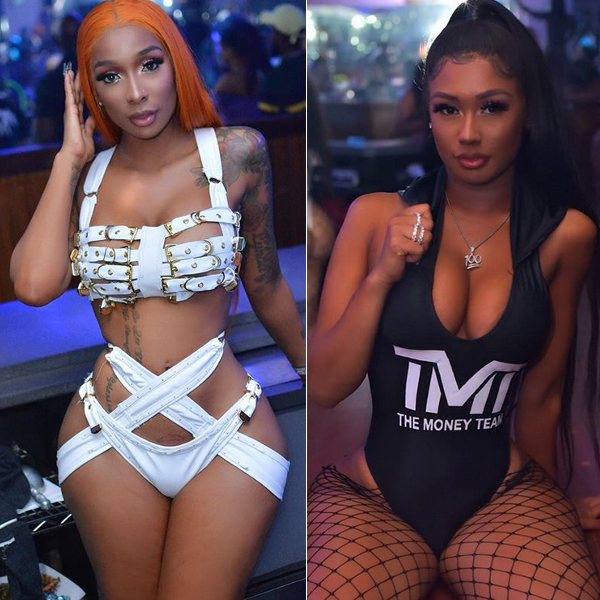 Strip club bartenders Jade (right) and Baddie Gi (left), who are also sisters, claim they came face-to-face with the "Be Careful" rapper on August 29th inside Angels Strip Club in Queens and that's when ish hit the fan. According to TMZ, a group of people from Cardi's squad allegedly attacked them both, throwing bottles and chairs at them. They reportedly suffered injuries that needed medical attention.
The bartenders also specifically named Cardi as one of the people who threw a bottle at them and she allegedly yelled out, "I'm blood I'll f*ck you b*tches up!" There's video of Bardi in the club that night that you can check out here.
This isn't one of the sisters' first run-in with the Invasion of Privacy rapper. Jade made claims that the "I Like It" rapper made threats towards her on Instagram. Back in June, she said she and her sister Baddie Gi ran into Cardi at a hotel in Atlanta and that's when she accused Jade of sleeping with her husband Offset. Jade denies ever sleeping with Offset.
Fast forward to August 15th, Jade said five people allegedly associated with Cardi viciously attacked her where she said she was punched, had her hair pulled and was hit with an ashtray, causing "serious damage." Sheesh.
The sisters have lawyered up and will have Joe Tacopina (Meek Mill's lawyer) to represent them since they're looking into filing a lawsuit against Cardi and her crew. Joe told TMZ both ladies plan to file a police report and Cardi's name will indeed be listed. Cardi hasn't responded to the reports (yet), but someone in her camp reportedly told the site the NYC raptress never got physical with the women.
Baby Kulture's parents have been dealing with cheating rumors since last year. You'll recall, the Migos' rapper iCloud account was allgedly hacked and a video of the rapper in a hotel room with another woman was leaked. Bardi decided to stay and work it out with the "Stir Fry" rapper, marrying him and having their daughter, Kulture Kiari Cephus.
Back in July, Offset was arrested in Georgia on four charges, including possession of a firearm by a felon, possession of marijuana (one ounce or less), possession of a weapon during a crime and an improper lane change.  Baby Kulture was born July 10th and her dad was arrested 10 days later.
In other news..
Bardi hopped on Instagram Live yesterday pondering if she should get liposuction to suck the fat out of her post-baby "love handles."
"I still feel like I got a lot of love handles right here," she said while pulling on her stomach. "It's not much but it's like — I'm used to having, like, a real tight stomach."
The 25-year-old explained she doesn't have time to work out, so she may just get the fat take out.
"If I'm not working, I gotta make sure my baby's okay. I might just get a little lipo, you know what I'm sayin'?" she said.
Girl, it's only been 7 weeks. Give it some time.
Photos: Jade's IG/Baddie Gi's IG/Offset's IG