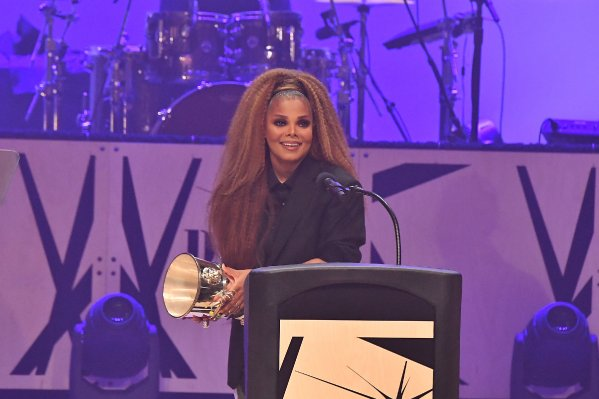 Another icon award for an icon! Several acts hit the stage to pay tribute to Janet Jackson as she received the BMI Icon Award. Get into their tributes and red carpet flicks inside...
After copping Billboard's ICON Award, Janet Jackson celebrated yet another iconic award.
Last night, BMI (Broadcast Music, Inc) celebrated the songwriters, producers and publishers of the year's most-performed R&B/hip-hop songs during the 2018 BMI R&B/Hip-Hop Awards held at The Woodruff Arts Center's Symphony Hall in Atlanta.
Global superstar Janet Jackson took home the night's highest honor of BMI Icon in recognition of her groundbreaking career as one of the most influential entertainers of all time. This isn't up for debate either.
Peep a clip of the singer accepting her award below:
.@JanetJackson accepting her #BMIIcon Award. #BMIRnBHHAwardspic.twitter.com/C0ojNVewtZ

— Broadcast Music Inc. (@bmi) August 31, 2018
BMI's Wardell Malloy, BMI's Catherine Brewton, rapper Missy Elliott, and BMI President & CEO Mike O'Neill were all in attendance to pay respects.
Missy Elliot hit the stage to praise her longtime friend and talked about her relationship with Janet while quoting her lyrics throughout the touching speech.
Check it:
Watch as @MissyElliott a.k.a. Jack by @JanetJackson, presents her with our #BMIRnBHHAwards Icon Award. pic.twitter.com/Qvbz3cySnk

— Broadcast Music Inc. (@bmi) August 31, 2018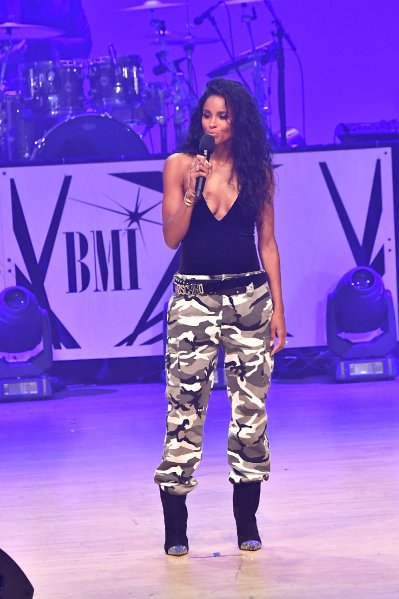 R&B singer/dancer Ciara kicked off the tribute portion of the evening, introducing the 411 Dance Troupe, comprised of 50 kids from all over the South, as they performed a dance routine choreographed by Sean Bankhead, who has worked with Janet Jackson for many years.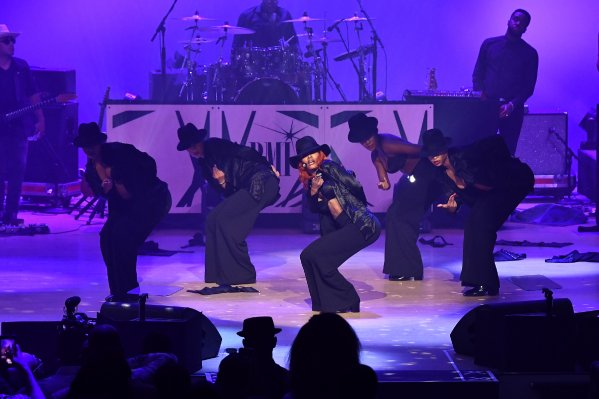 Singer/dancer Teyana Taylor served up a sultry rendition of Jackson's hit, "I Get Lonely" and nailed it...even with the nip slip:
Teyana Taylor had a wardrobe malfunction during her Janet Jackson tribute tonight...At least her nipples are pretty tho pic.twitter.com/M6gGMQnvMs

— Fearless (@beycentric) August 31, 2018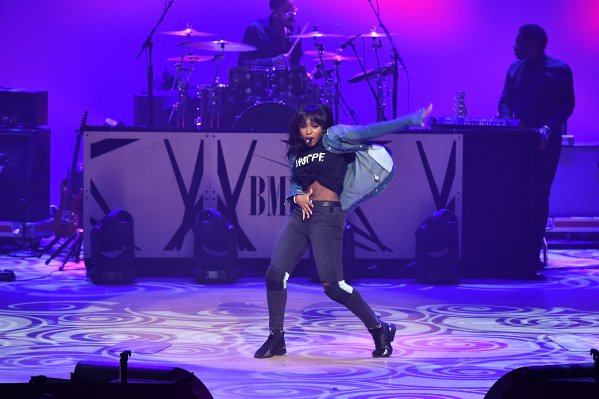 Normani, former Fifth Harmony singer, had the audience going OFF when she hit the stage to perform "The Pleasure Principle."
Check it:
Normani really just gave the best tribute to Janet with Pleasure Principle. She really did THAT. pic.twitter.com/OAe5NQ6RPc

— toni (@kordeistit) August 31, 2018
Normani on @junesdiary's instagram story #2 pic.twitter.com/6YlQv6KCZ3

— Normani Updates (@NormaniUpdate) August 31, 2018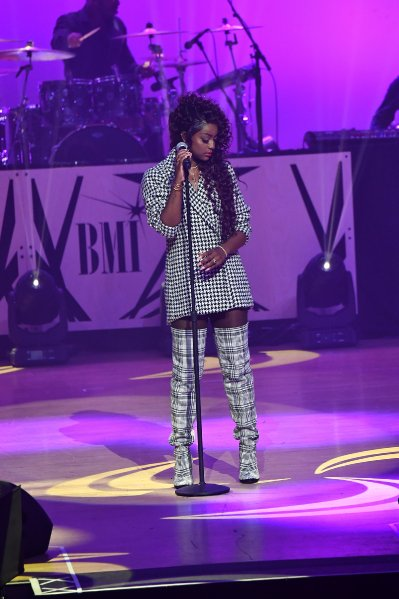 Singer Justine Skye sang a beautiful version of Janet's "Let's Wait Awhile."
Peep a clip below:
@JustineSkye SERVEDDD her tribute to Janet Jackson last night too pic.twitter.com/eT7slujJ4Y

— Tyra (@baemanikordei) August 31, 2018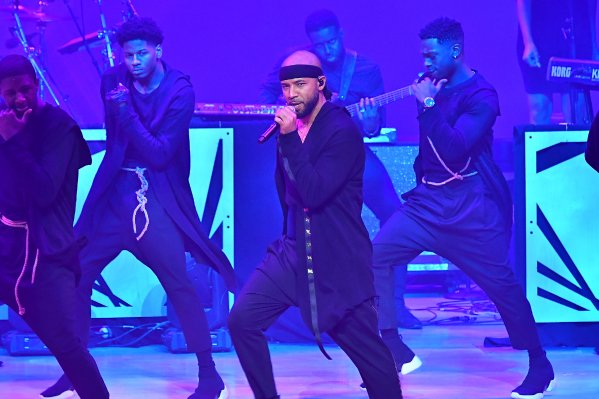 "Empire" star/singer Jussie Smollett turned up to Janet's "That's the Way Love Goes," a classic.
The performances continued with H.E.R., who performed a medley of "Black Cat" on guitar and sang "Any Time, Any Place."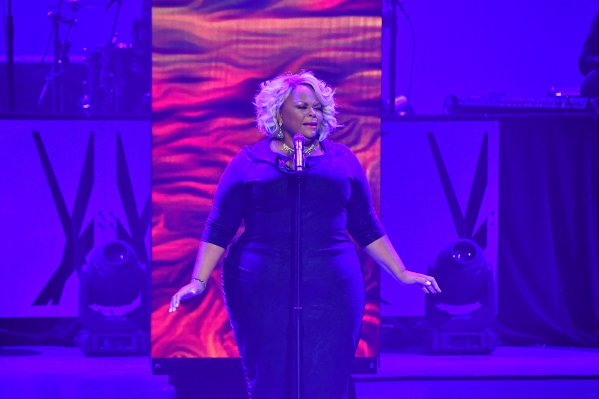 There was a special tribute to the late Aretha Franklin, who was part of the BMI family for 50 years, with Tamela Mann singing a rendition of "Precious Lord, Take My Hand" followed by "You've Got a Friend." YAS! She was laid to rest in her hometown of Detroit today.
Peep a few clips from the show below:
[If you can't view the clip above, clickHERE]
On the carpet...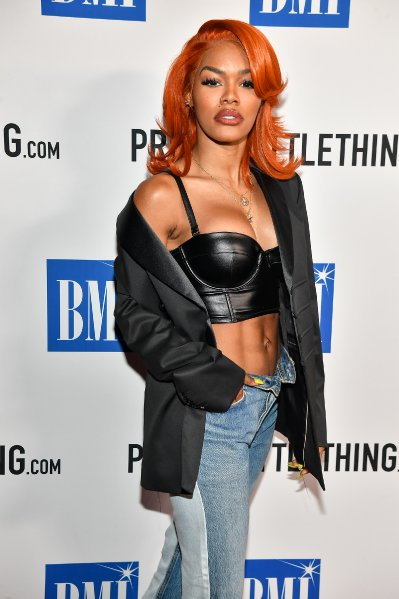 Teyana showed off her rock hard abs.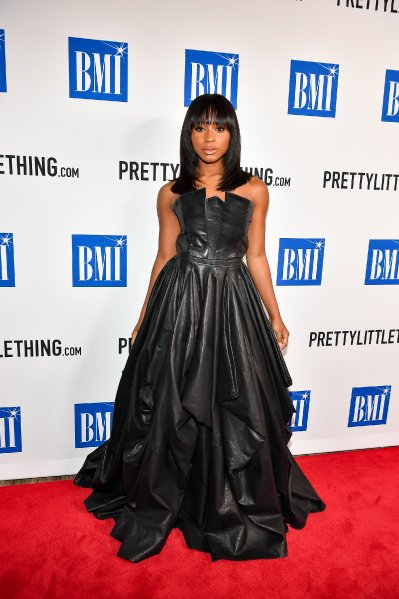 Normani slayed in this black leather gown.
Justine played with prints.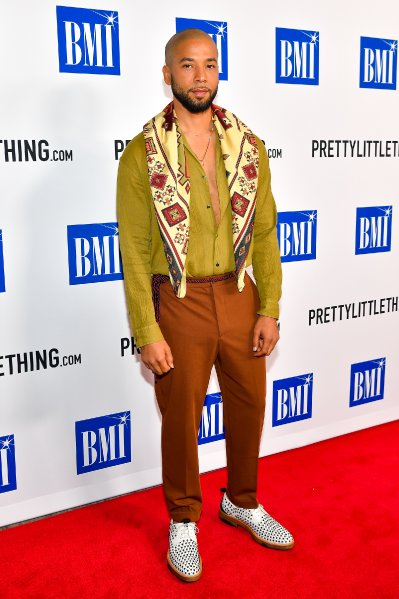 Jussie kept it...interesting.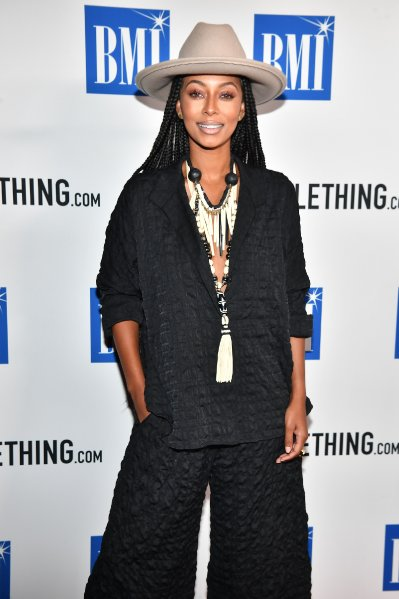 Singer Keri Hilson came out of hiding to show Janet some love.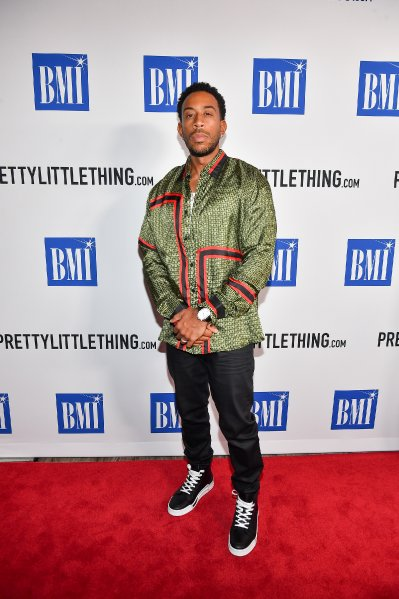 And rapper Ludacris made his way to the awards show:
Dope: Georgia Governor candidate @staceyabrams served as @Ludacris plus one at last night's @bmi R&B/Hip-Hop Awards in #Atlanta last night | #BMI#GAGov#StaceyAbrams | https://t.co/q5NUgqg4fwpic.twitter.com/Nt9L1JQRoC

— Juan Hustle (@JuanHustle) August 31, 2018
.@Normani last night at @JanetJackson beautiful #BMIIcon tribute Normani you are a genuine spirit & a INCREDIBLE talent! May God continue to Bless & cover you sis pic.twitter.com/MHaFLJkeqz

— Missy Elliott (@MissyElliott) August 31, 2018
Metro Boomin was honored with Producer of Year for the third year in a row. He also took home Songwriter of the Year for his work on songs, including "Bad and Boujee," "Bank Account" and "Mask Off."
So happy to name @MetroBoomin our #BMIRnBHHAwards Songwriter of the Year AND Producer of the Year! Congratulations and continue to make brilliant music. pic.twitter.com/ZYBBO504T0

— Mike O'Neill (@MONBMI) August 31, 2018
Fun times. Congrats Janet!
Earlier this week...
The "Made For Now" singer stopped by Real 92.3 to chop it up with radio personality Big Boy, who was recently hit by a drunk driver but thankfully is OK, about her new music, working with J. Cole and revealed she loves Cardi B. Peep the interview above.
Photos: Paras Griffin/Getty