Rapper O.T. Genasis got caught up in some drama at the bar, but his camp says the reports about people in his camp brandishing guns are not true. Also, former NFL star Greg Lloyd is being accused of pulling a gun out on his wife, but he says that's not true. Deets inside...
Either O.T. Genasis and his homies are out here doing some questionable acts, or someone's out to get them.
For the 2nd time this summer, the rapper and his camp are being accused of alleged gun threats.
His latest supposed incident happened at The Good Night bar in San Fernando Valley. It's reported the rapper pulled up on the bar with some of his homies and a few ladies when an issue surrounding folks' IDs came up. It's reported the bartender asked the girls for their ID, some type of verbal altercation went down, and that's when someone from O.T.'s camp allegedly whipped out a gun.
TMZ breaks down the alleged deets:
Law enforcement sources and eyewitnesses tell us ... someone in O.T.'s crew pulled out a gun and threatened to shoot up the place. The bartender snapped some pics, and that got the gunman pissed and he tried smashing the phone.

Police were called but, by the time they arrived, O.T. and his boys were gone. Police are investigating what could be a felony -- making criminal threats along with brandishing a weapon.
A person from O.T.'s circle reached out to the site and said the dispute was actually over his ID and another rapper's ID. They also confirmed "at no time did any member of his crew pull out a gun or make threats."
Hmm...we wonder if his girlfriend Malika Haqq was in the mix.
Back in June, it's alleged police were called out to Pinz bowling alley in LA after a reported gun threat. Lordt. 
Another celeb claiming no-wrongdoing...
Former NFL star Greg Lloyd, who was a beast on the field in the 90s, has been arrested after he was accused of pulling out a GUN on his wife during a domestic dispute, threatening to shoot her, according to his wife, Stephanie Lloyd.
Peep his mugshot below: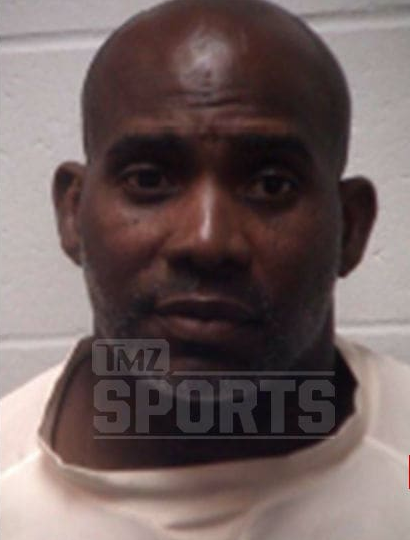 Stephanie claims the 53-year-old former Steelers linebacker pointed a gun at her in their home back in July and told her that if she "f*ck up" she's "going to get one."
Sheesh.
The official legal documents were obtained by TMZ and here's what's in the report:
Stephanie says she managed to get in her car and leave the house -- but Greg called her on the phone and continued making threats. "Doing stupid sh*t like this is how you end up in the morgue," Greg allegedly said.

Stephanie claims Greg insisted his gun was not loaded -- but she's scared nonetheless.

Stephanie filed for a restraining order against Greg, saying, "I have battled all types of abuse from my husband for years hoping that things would at some point get better ... I do not feel safe anymore."

Stephanie claims Greg "has a history of pointing guns at other people but this is the first time for me."

Court records show Lloyd was convicted of pointing a gun at another person back in the early 2000s. We're working on the details from that case. 53-year-old Lloyd was arrested on July 27, 2018 for felony aggravated assault and misdemeanor pointing a gun at another person, according to official records. He was released 3 days later.

Court docs also show Stephanie's restraining order was granted -- and Greg has been ordered to stay at least 200 yards away from her until August 2019.
The former NFL star spoke with TMZ and said he didn't do anything wrong and that it'll all take its course in court.
Sheesh.
Speaking of NFL players....
We've released LB Mychal Kendricks

Details>>https://t.co/7rtaA2bRc7pic.twitter.com/rp40lkUxe5

— Cleveland Browns (@Browns) August 30, 2018
The Cleveland Browns have let go of Mychal Kendricks after he was indicted for insider trading.
Here's a statement from Browns general manager John Dorsey on Mychal Kendricks release below:
Prior to signing Mychal, we were informed that there was a financial situation that he had been involved with in 2014. We were told Mychal had fully cooperated with investigators as a victim. From what was communicated at that time and based on the numerous questions we asked and further due diligence on our part, including checking with the league office, there was no information discovered that conveyed otherwise.

Recently, we were provided an update on the matter and the circumstances have changed. We are now dealing with a different set of facts and the additional information we've gathered has led us to the decision to release Mychal from our team. Due to the ongoing legal nature of this situation, we will have no further comments.
Can't say we didn't see this coming.
EXTRAS:
1. Body cam video before T.I.'s arrest outside his gated community has been released. STORY
Photos: O.T.'s IG/Getty/TMZ