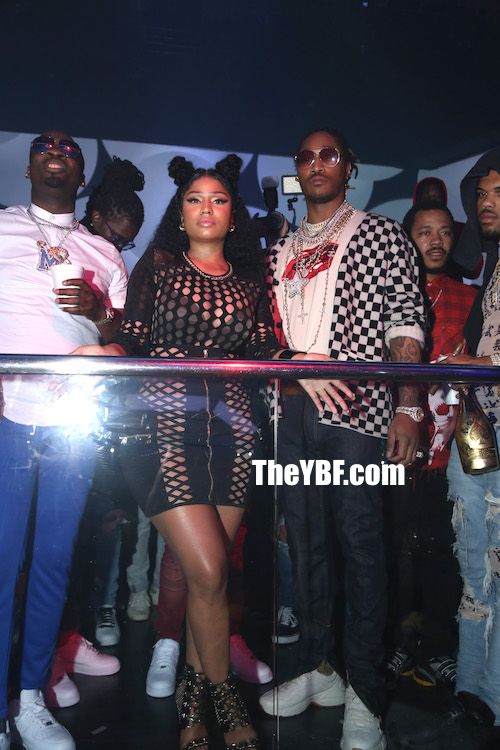 On the heels of "saying it with her chest" for damn near 3 hours yesterday on Queen Radio, Nicki Minaj took a break from airing out the industry, Travis Scott and others to cancel her original North American tour dates.  But, she's got a reason.  Get it all inside...
We didn't really see it for this NickiHndrxx Tour to begin with, TBH, but we're always here for a woman making her coin whatever way she can.
Nicki Minaj & Future's world tour was set to kick off this fall in North America.  Now, it's not going down in the Americas until May 2019, and, due to scheduling conflicts, Future won't be a part of it.  Instead, the twosome will kick off their tour in Europe February 2019, the original European kickoff date.
According to the press release:
Following her unforgettable VMA performance, Nicki Minaj has decided to reevaluate elements of production on the NickiHndrxx Tour. The outing will now kick off in Europe this coming February as planned. Nicki has decided to contribute more time to rehearsal ahead of the tour's launch to make certain her fans get the absolute best quality show that they deserve.

Due to scheduling conflicts Future will not be on the North American run. Nicki Minaj will be announcing new North American dates to kick off in May 2019. Refunds for the previously scheduled North American dates will be available at point of purchase, with new Nicki Minaj on-sale details announced soon.
Nope, it's not because she's "exhausted" or recouping from an insane last few weeks of drama.  Nicki says it's because she didn't have enough time to rehearse.  She spoke to fans today saying "it'll be worth the wait" and she hasn't decided if she'll get another co-headliner:
Interestingly, some sources are saying there's more to the story.  Page Sixclaims the tour id a disaster behind the scens, and ticet sales are allegedly abysmal:
A Live Nation source told us prior to the tour cancellation news, "Nicki's tour could be the most disappointing ticket sales of the year for any artist. These are big arenas with up to 20,000 capacities. Sales for opening night in Baltimore is 2,000 tickets. LA is 3,400, New Orleans 1,000, Denver 1,300, Chicago 3,900. Even her hometown Brooklyn is only 5,050."
And yes, the "Barbie Dreamz" rapper hears everybody's criticisms and ish talking.  And yes, she's still responding with her chart success and how many celeb friends she's got supporting her:
Catch up on Nicki's 2018 VMAs performance HERE.
Photo: InSTAR