Oh baby! Model Slick Woods and her man Adonis Bosso celebrated the upcoming arrival of their baby boy. Go inside their baby shower...
Slick Woods, who models for Rihanna's Fenty Beauty, is about to become a mother!
Last month, the 22-year-old, who celebrated her birthday last week, surprised her fans with news that she is expecting. The LA native, who has worked with artists like Kanye West and designer Marc Jacobs, then revealed fellow model Adonis Bosso is the father. Some fans had a hard time accepting she was pregnant since she identified as a lesbian in the past. But she recently opened up about her "grey" sexuality in ELLE.
Either way, she's a super exited mom-to-be and dad-to-be looks equally as excited to welcome baby Saphir into the world.
The LGBTQ advocate, rocking a yellow LaQuan Smith ensemble, had that pregnancy glow in every picture captured.
"What a time to be alive. What a time to give life. Being engulfed in so much love and beautiful energy I am grateful to all of my friends and family," she captioned on Instagram.
She thanked eyewear designers/sister Coco & Breezy for throwing her shower.
Family and friends joined Slick to snap it up with the bump: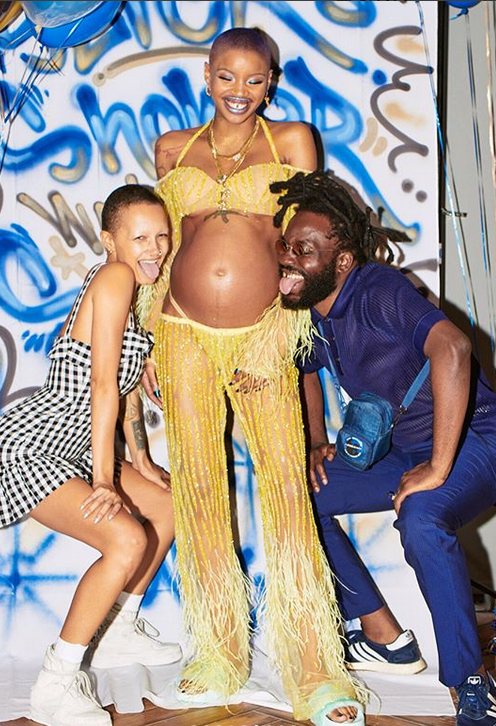 Slick dished to the mag about her pregnancy and revealed Erykah Badu will be helping her during delivery:
"I hear sob stories about baby daddy drama. Being 21 and my baby's father being excited is just step one. There are girls who don't even have that," she said. She will be breastfeeding. And singer Erykah Badu, a practicing doula, will be her spiritual guide through childbirth. "She's a mommy role model. A mother I look up to, who kills her shit and is a boss-ass bitch."

Slick hasn't kept her pregnancy a secret – she told the world on Instagram in July – but she is weirded out that people would even care: "I wouldn't walk down the street and scream, "I'm pregnant!"' She wasn't expecting to end up in a relationship with a man, either: before Bosso, she had been dating women.

"I never thought I'd be with anyone like him,' she says, vague about how she defines their relationship, but pointing out that she likes that they both maintain independence, with him living in LA and her in Brooklyn. She is also keeping the option open of one day being with a woman again: 'With sexuality, when you are a public figure you have to pick a side, black or white. But I'm grey."
There you have it.
Aww! Congrats!
Photos: Slick's IG/Adonis' IG/Jamad's IG