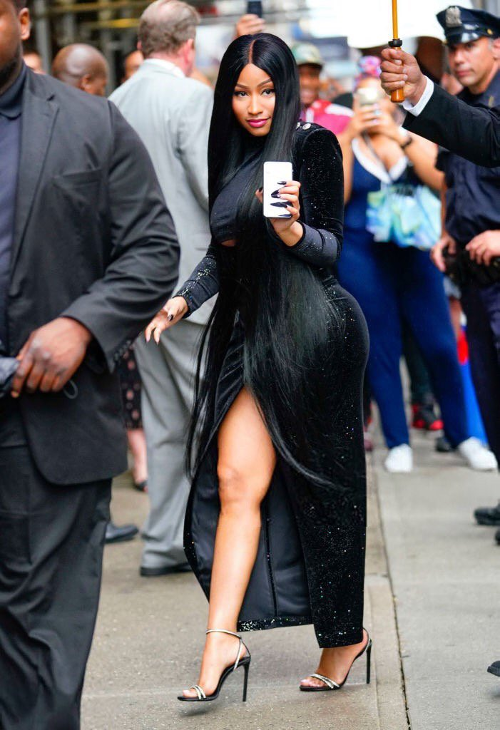 Nicki Minaj is blaming everybody for her QUEEN album coming in at the No. 2 spot on the charts for its first week's sales. She's poppin' off on Travis Scott, Kylie Jenner (even baby Stormi) and Spotify. Here's everything she said inside...
Sometimes 2nd place just isn't good enough for some people. And that would include Nicki Minaj. The first week sales are in for Nicki's fourth studio album QUEEN and she's not very happy about it. She came in 2nd place to Travis Scott's Astroworld (which was in its 2nd week) on the Billboard 200 chart.
According to the numbers, Astroworld sold 205,000 units for its 2nd week and QUEEN sold 185,000 units for its first week, making it the #2 album in the world.
Peep the break down below:
Billboard 200: #2(new) @NICKIMINAJ, Queen 185,000 (78,000 in pure sales).

— chart data (@chartdata) August 19, 2018
"Queen" is Nicki Minaj's fourth consecutive top 2 album on the Billboard 200 (extending her record among female rappers).

— chart data (@chartdata) August 19, 2018
Billboard 200: #1(=) @trvisXX, ASTROWORLD 205,000 (78,000 pure sales | 348,000 total sales). *second week at #1*

— chart data (@chartdata) August 19, 2018
With the way the music industry has changed as far as album sales go, the "Chun-Li" rapper actually did pretty good for her first week sales. Yes, it wasn't first place, however, the numbers weren't totally bad.
Well, the final numbers weren't good enough for the Head Barb, so she took to Twitter to try and explain to the masses why her album came in 2nd place. Of course, she had nothing to do with it and it's everyone else's fault.
First, she blamed Travis for selling his album with merchandise. Fans could buy his merch and they would receive the album for free. She said she spoke to Travis and he KNOWS he doesn't have the No. 1 album this week LOL! Ok, girl.
Then, she came at Travis' baby's mother Kylie Jenner for tweeting out about Travis' album. Nicki claims it was unfair that Travis had Kylie engage her followers to go out and get his album (and possibly meet herself and their daughter Stormi) since she has a massive following online.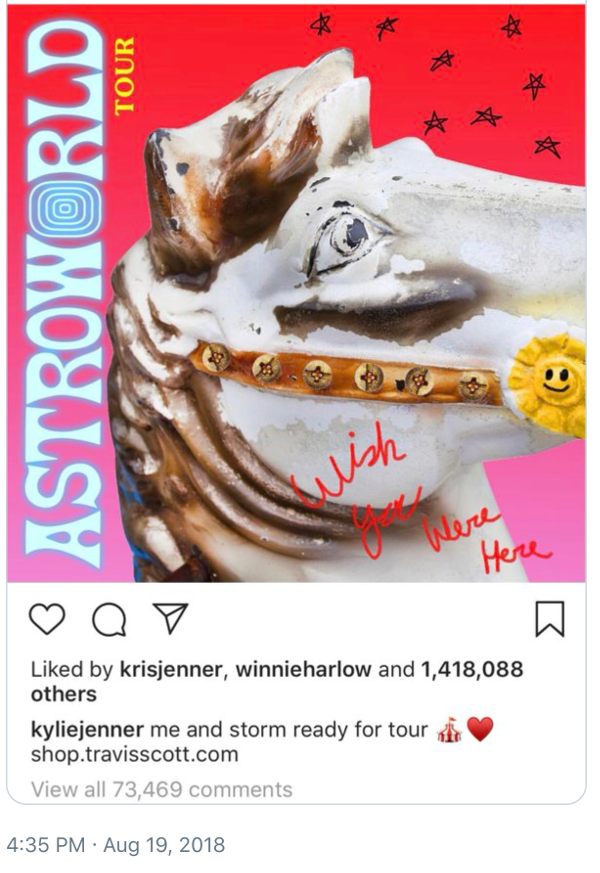 The "Barbie Dreamz" rapper then took aim at Spotify, saying they were "punishing" her for playing her music early on another platform (read from the bottom up):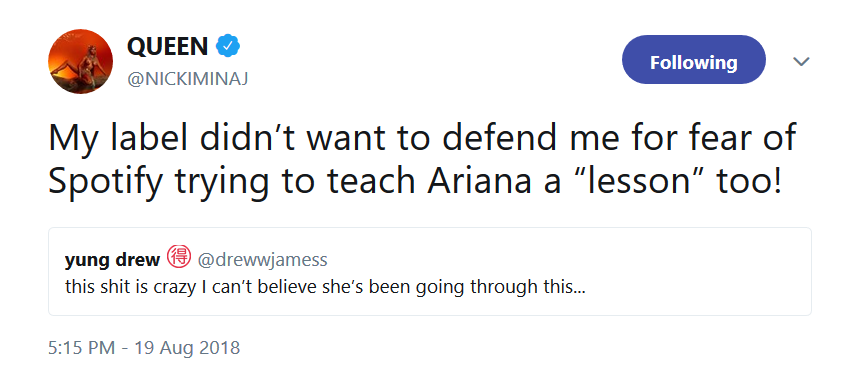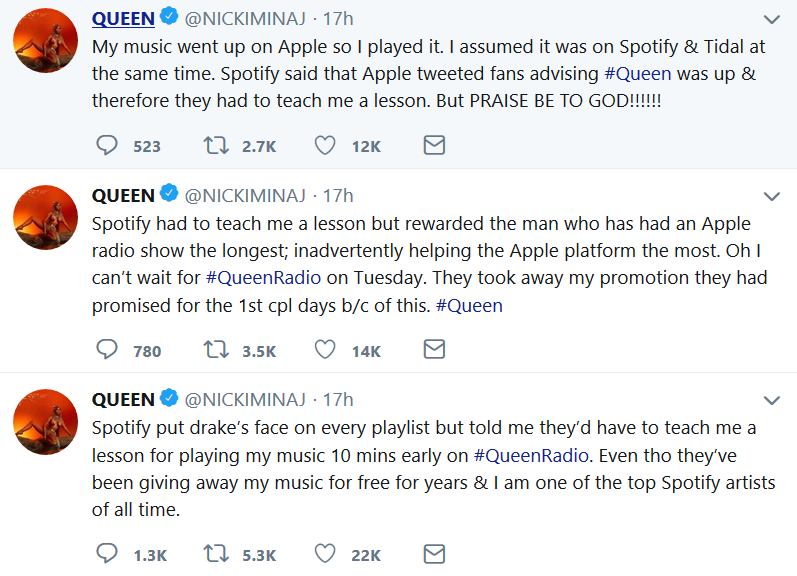 Get ready. Nicki said she's not biting her tongue for her Queen Radio episode that's going down tomorrow.
Fans are also going back and forth about it on social media: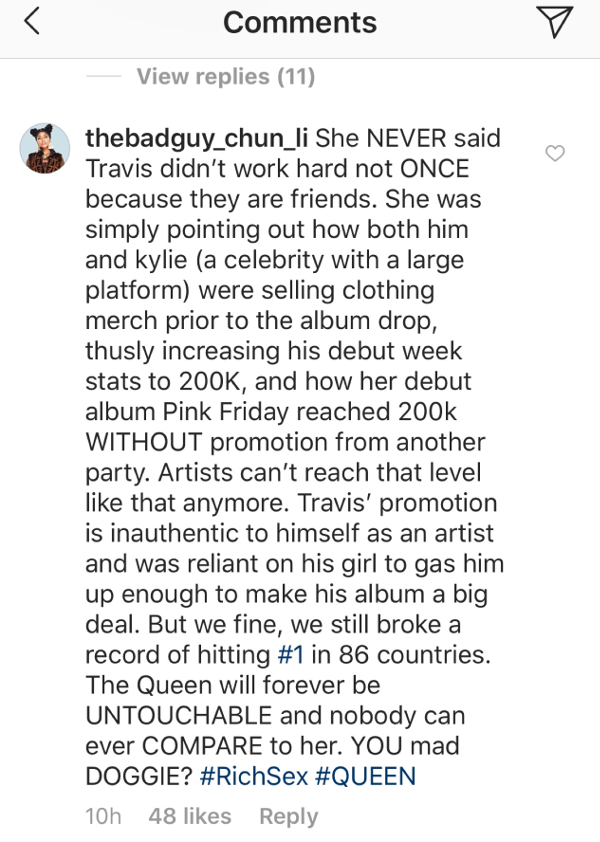 Before she hit up Twitter with these tweets, she was also on Instagram combating "fake news":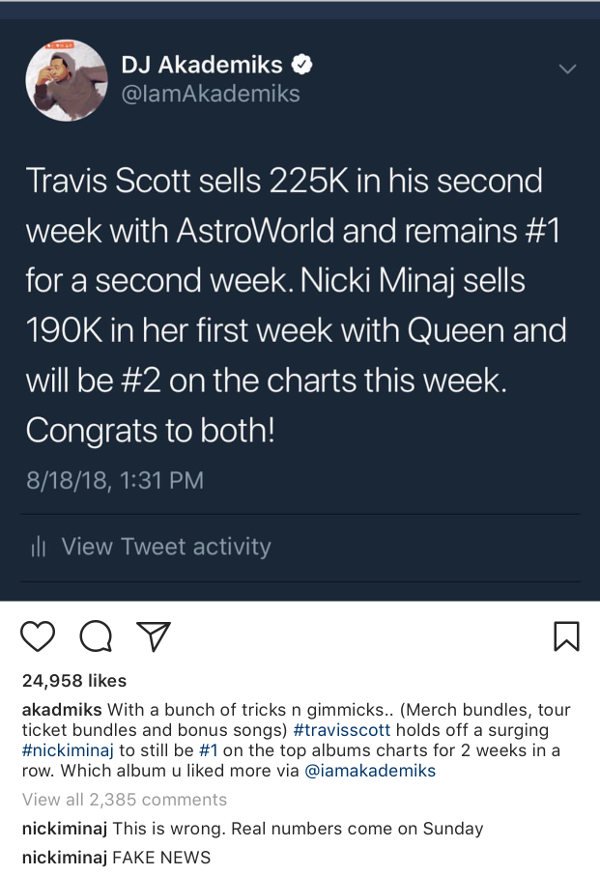 Before the official numbers came in, DJ Akademiks posted an early prediction about Travis and Nicki's album sales. The "Anaconda" rapper didn't waste any time hopping in the comments to call his tweet "fake news" and that the real numbers didn't come out until Sunday. Well, what's worse is the fact that she called this "fake news" and ended up selling LESS units than predicted.
DJ Akademiks issued a response to Nicki after the official numbers came in:
Nicki called me reporting her album selling 190k fake news only to find out she sold lower. I'm logging off. Goodnight.

— DJ Akademiks (@IamAkademiks) August 19, 2018
Nicki pulling a Kobe and throwing Drake under the bus basically saying we did the same sh*t but I'm the only one who got penalized. . I'm waiting on the Spotify = Fake Streams tweet.

— DJ Akademiks (@IamAkademiks) August 19, 2018
I can't believe Nicki Minaj tried to attribute her L to Travis Scott to a baby and Kylie in this weeks sales. Did we forget when Kylie and the whole kardashian family supported Tyga album and it went TRIPLE COPPER. Accept #2 sis... ain't no baby prevent ya album from being #1.

— DJ Akademiks (@IamAkademiks) August 20, 2018
Damn.
Also, Power 105's Charlamagne tha God gave Nicki the biggest "hee-haw" during "The Breakfast Club" this morning:
And folks are chiming in about it:
The #DonkeyOfTheDay for Nicki is well deserved idc https://t.co/KpwRcwNp8p

— monique (@librasun1006) August 20, 2018
Put them number 2's in the air proudly @cthagod#donkeyoftheday

Humility sometimes comes the hard way. #NickiMinaj

— AKW (@81Welshy) August 20, 2018
@cthagod never disappoints for #DonkeyOfTheDay where your 2s at?? pic.twitter.com/k4Z6cE1TFG

— Essi (@ItsGowan) August 20, 2018
Everybody listening to #DonkeyOfTheDay@cthagodpic.twitter.com/lUaAzjrxlK

— Dark Kent (@TheNameless1__) August 20, 2018
Thoughts?
Meanwhile, Travis Scott is living his best life on the basketball court in Houston for James Harden's JH-Town Weekend:
Photos: MEGA