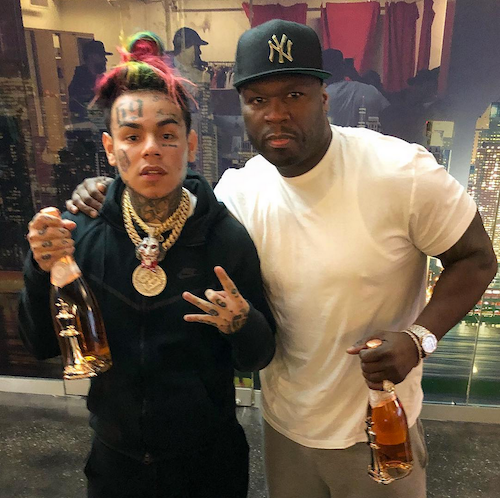 Another day, another bullet or eleven being shot near Tekashi 69.  Now 50's got to get the strap...
Rappers 50 Cent and Tekashi 69 have been hanging tough for several months.  The two NY natives have apparently been working on a project together, and were busy shooting a music video last night in Brooklyn. 
"The shooting happened near the Greenpoint waterfront on Noble Street at about 9:30 p.m. Tuesday," according to what police to PIX 11 News. 
TMZ claims folks on the scene saw the shooter:
Witnesses say someone in a white Porsche with New Jersey license plates fired at least 11 shots during filming in Brooklyn Tuesday at around 10:30 PM. Based on the shell casings it appears the shooter use a 9 mm semi-automatic weapon.
It's unclear if the bullets were meant for either rapper, but sources say they don't believe the rappers were targeted.  Both stay in some mess with other rappers or gangs, so it surely wouldn't surprise anyone if they were, in fact, targeted after all.  TMZ says police sources aren't sure it wasn't targeted either:
Tekashi and 50 were on set at the time of the shooting, along with Casanova and Uncle Murda. Sources connected to the situation believe the shooter wasn't targeting any of the rappers, but law enforcement sources aren't so sure.
Thankfully, no one was injured.  No arrests have been made yet.
Almost immediately after the story hit today, Tekashi took to his Instagram to go AWF (again) on "all these p***y rappers."
He's asking for rappers like YG and others he tells to "suck his d***" to come at him. These dudes never learn, even after getting kidnapped, pistol whipped, robbed and hospitalized just weeks prior.
Meanwhile, Fif is over on IG chiming in on Nicki Minaj's "Barbie Dreams" and her beef with Safaree and everybody else.