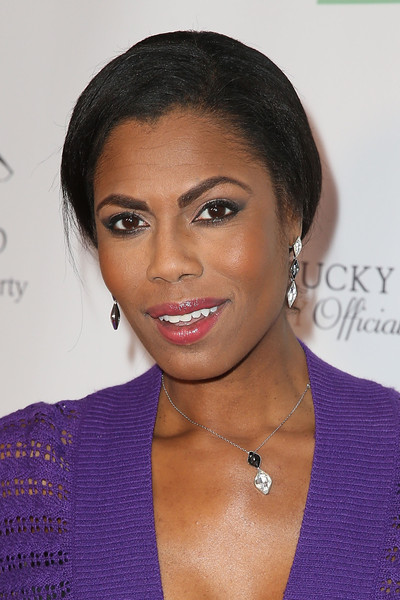 Omarosa vs. Trump 2018 is almost like a re-run episode of "Celebrity Apprentice." The latest inside...
We're honestly not here for either one of them.  But we are here for tea spillage and epic reads of any kind.
Omarosa has a new tell-all book to sell. And to do so, the former White House aide is spilling all types of corruption tea about the Trump administration. Almost sounds like an episode of Trump's show "Celebrity Apprentice" right?
They'll say it's fake news. And we can't even debate them on that as Omarosa doesn't have a good track record when it comes to telling the truth. However, she's going around dropping receipts to anyone who'll listen.
Former White House aide Omarosa Manigault Newman has been doing interviews on her book press tour making claims she heard an audiotape of Trump using the N-word during production of "The Apprentice." In fact, she said there are multiple tapes.
She still decided to work for that dude and threaten folks who ddn't hop on the bandwagon though.
The former reality star has also released several audio recordings that she took during her time as a Trump assistant at the White House.  From the Situation Room.
We can't.
On the TODAY show, Omarosa talked about a recording that featured herself and Trump on the phone where he said he had no idea she had been fired. She raised questions about who's actually running the country if the president had no idea of her firing. FYI: Trump's White House chief of staff, retired Gen. John Kelly, was the one who gave her the pink slip in December 2017.
"Who's running the country? When Donald Trump said that THEY run a big operation, who is they?," she asked.
She was asked if she think the president lies often she said, "Absolutely." Omarosa said she knew he was a liar, but she didn't think he would lie to the country. She revealed Trump knew about the hacked Democratic emails obtained by WikiLeaks before they were released. No surprise there.
"I thought that he would take his oath of office seriously," she said. Really, girl? OK.
Omarosa said there are a lot of "corrupt things" going on in the White House and she's going to blow the whistle on it all. No sh*t Sherlock.
She said she felt she had to record meetings and discussions because she wanted proof to back up everything she's saying about the Trump administration.
Watch her feisty interview with "TODAY" show anchor Savannah Gutherie below:
"There's a lot of very corrupt things that are happening in the White House, and I am going to blow the whistle on a lot of this."

Watch @OMAROSA's full interview with @savannahguthriepic.twitter.com/9R2nnDXnIy

— TODAY (@TODAYshow) August 13, 2018
Trump also took to Twitter to address all of the controversy surrounding Omarosa's tell-all book and the recordings she's releasing. He called her a "dog" and a "lowlife," amongst other things:
When you give a crazed, crying lowlife a break, and give her a job at the White House, I guess it just didn't work out. Good work by General Kelly for quickly firing that dog!

— Donald J. Trump (@realDonaldTrump) August 14, 2018
He tweeted, "When you give a crazed, crying lowlife a break, and give her a job at the White House, I guess it just didn't work out. Good work by General Kelly for quickly firing that dog!"
He also denied ever using the N-word:
.@MarkBurnettTV called to say that there are NO TAPES of the Apprentice where I used such a terrible and disgusting word as attributed by Wacky and Deranged Omarosa. I don't have that word in my vocabulary, and never have. She made it up. Look at her MANY recent quotes saying....

— Donald J. Trump (@realDonaldTrump) August 14, 2018
White House spokeswoman Sarah Huckabee Sanders defended Trump, per usual, when folks said Trump was using coded racist language against a black woman again.  She said he was just "voicing frustration":
White House press secretary Sarah Sanders defends President Trump's tweet calling Omarosa Manigault Newman a "dog," saying the President is "voicing frustration" over Manigault Newman's actions https://t.co/qSuSyHW3q3pic.twitter.com/WqfkT8ju2j

— CNN (@CNN) August 14, 2018
"Voicing frustration?" -- Umm...OK, then. Had Obama...nevermind.
As for recording Trump, she said she doesn't think she broke any laws recording Trump, but his reelection campaign doesn't think so.
Trump's re-election campaign is reportedly filing an arbitration action against Omarosa for alleging breach of a secrecy agreement.
The AP reports:
A campaign aide tells The Associated Press that it is filing the claim with the America Arbitration Association in New York, claiming her explosive new book and media tour breached her 2016 confidentiality agreement with the campaign. The person spoke on condition of anonymity because the person was not authorized to speak publicly on the matter.

Manigault Newman has acknowledged signing a confidentiality agreement with the campaign in 2016. She wrote in her book that after being fired from the White House in December 2017 was offered a $15,000 per month position with the Trump re-election effort in exchange for signing a new confidentiality agreement. She says she declined that offer.
The former White House aide said she "will NOT be silenced" by Trump or his administration/campaign.
"I'm not going to be bullied by Donald Trump," she told The Associated Press hours after the president's campaign announced it was filing an arbitration action against her.
Omarosa insisted Trump has "absolutely no respect" for women or African-Americans. Haven't we been saying this from the beginning...or...??
While Omarosa has BEEN canceled and is extremely problematic, Trump definitely shouldn't be in the Oval Office tweeting that someone, specifically a black woman, is a dog.
The Women's March issued a statement to call Trump out for his toxic targeting of black women."Once again, Donald Trump is showing the world that he is an abuser, levying more racist and sexist attacks on Black women. Women are not dogs. We are not bitches. We are people," they wrote in a statement.
Thoughts?
And then former Chief White House photographer Pete Souza brings the classy, yet comical shade:
A real dog waiting for a real President. pic.twitter.com/oWPVjtdViw

— Pete Souza (@PeteSouza) August 14, 2018
Love him!
Photos: Getty