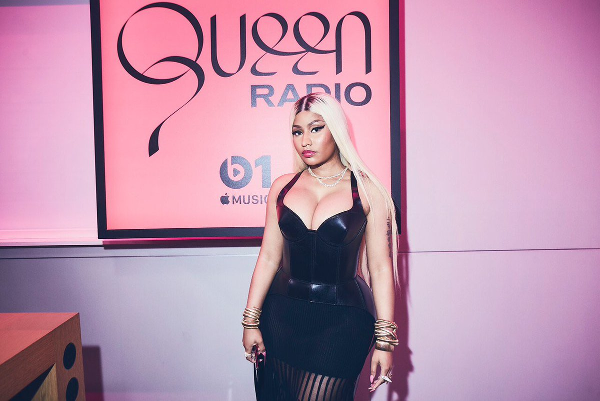 Nicki Minaj rounded up all her female celeb friends (or her camp did) to debut her Queen Radio show on Apple Music hours before releasing her fourth studio album QUEEN...early. On one track, the Young Money rapper goes the f*** off on the industry and folks are losing it. Everything inside....
Finally, Nicki Minaj has released QUEEN after several announcements that her fourth studio album would be pushed back.
It was originally supposed to drop June 29th, then it got pushed to August 10th. A few days ago, she hopped on Instagram to announce QUEEN was dropping August 17th. However, last night she revealed she was going to drop it on its 2nd original date, August 10th. Whew! So yeah, it's finally here.
The third track, "Barbie Dreams," already has her Barbz in a frenzy. Chick went THEEEEE f*** off and had some Biggie inspiration in the background. She sampled the late rapper's "Just Playing (Dreams)" and fired shots at every-damn-body!
The Young Money rapper does down a long list of rappers she has smashed or tried to. We're still not convinced everything she rapped is 100% true, since this is something male rappers do often just to make for good bars, but it definitely makes for a good "diss" track. The 35-year-old rapper didn't hold anything back when referencing her sometimes "boo thing" Drake and her ex-boyfriend Meek Mill.
"Drake worth a hundred milli/always buying me sh*t/ but I don't know if the p**ssy wet or if he cryin & sh*t /Meek still be in my DMs/I be having to duck him I used to pray for times like this Face a** when I f*ck him."
Damn! The NYC raptress called out 50 Cent, Fetty Wap, Lil Uzi Vert, Odell Beckham Jr., Desiigner and Young Thug, who "stole her dresses and sh*t." Bloop!
Nicki also called out DJ Khaled for saying he doesn't eat the box.
"I had to cancel DJ Khaled, we ain't speaking / Ain't no fat nigga telling me what he ain't eating."
We DIE! Chick must have been in her Myx Moscato-fueled bag chile.
On "Ganja Burns," fans believe Nicki fired a shot at fellow female rapper Cardi B. Wait, didn't they squash their beef at the Met Gala? Hmph.
"They done went to witch doctors to bury the Barbie/But I double back, kill bitches, bury the Bardi," she rapped.
She's either saying "Bardi" or "body," but it def sounds like Bardi. Fans are going back and forth about it on social media. She probably made it intentionally ambiguous.
QUEEN totes features from Lil Wayne, Eminem, The Weeknd, Ariana Grande AND Foxy Brown.
Pretty girls love rap!
Last night, the Pinkprint rapper debuted her "Queen Radio" show on Apple Music's Beats 1 ahead of the release of her new album. Foxy Brown, one of Nicki's closes female rap friends, called in to the show to chat and revealed she and Nicki wrote the song "Coco Chanel" together.
On the show, Nicki said she finished the project just three hours prior to arriving to the Beats 1 studio.
Outside of celeb phone calls, she ended up with a room full of her celebrity friends. She acted as if the ladies joining her was a surprise, but we doubt that. Her girl gang included, Kelly Rowland, Lauren London, Winnie Harlow, Normani, Justine Skye, Sevyn Streeter, Riley Burruss (Kandi Burruss' daughter), Cassie, Draya, Tami Roman and Kim Kardashian West. Y'all know she likes to prove celebs stan for her.  We get it, we get it.

Rapper Yo Gotti was also in the studio.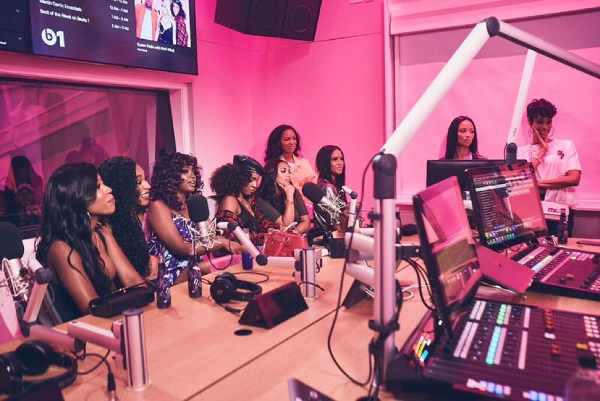 .@NICKIMINAJ and @KimKardashian. #QueenRadiopic.twitter.com/rNFPfxjoQo

— Nicki Minaj News (@NickiDaily) August 10, 2018
The "Chun-Li" rapper said she was going to cry from all of the love shown.
During the show, Nicki said she was one of the first people ever to name her fans, saying only her Justin Bieber and Lady Gaga were doing it when Twitter first started.
"Now everybody names their fans," she said.
Apparently, all of the "hate" Nicki has been receiving has helped catapult her career. while talking to Kim K. about why they get so much hate online (of course), she said the hate made her "super duper popular". Oh.
"There's so much evil on the internet," she said. "Why can't people just chill and laugh? Suck some d*ck or something."
Girl...
You can listen to the full first "Queen Radio" episode here.
QUEEN the album is available on all streaming platforms. If you're an Apple Music subscriber, you can stream it below: 
Photos: Apple/Beats 1