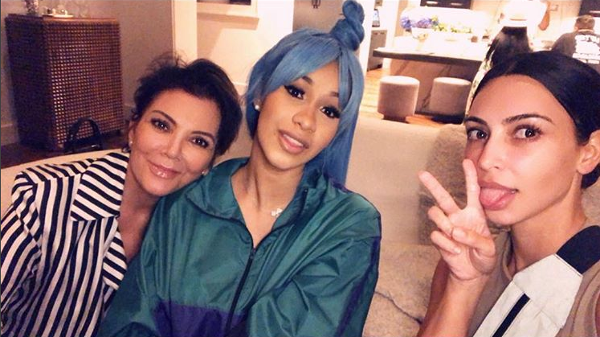 Cardi B jetted to the west coast and she linked up with Kim Kardashian West and her momager Kris Jenner. Peep their pics and videos inside, plus deets about Cardi headlining a festival this fall...
Cardi B is seemingly back since taking sort of a hiatus after giving birth to baby Kulture Kiari. She has been on social media here and there, updating fans on motherhood and how she's coping.
Now, she's making trips outside of Atlanta after giving birth to her baby girl there in July.
Over the weekend, the "Bartier Cardi" went over Kim Kardashian West's home in Hidden Hills for a "late night house party" with her momager Kris Jenner and friends.
In true Kim K fashion, she hopped on Snapchat to show her fans that she was hanging out with Bardi on Saturday night. And of course, filters were in full force. Kim wanted Cardi to try out her "fave" filter.
Check it:
The 25-year-old rapper, rocking Balenciaga and blue hair, appeared to have had fun with the 37-year-old KKW Beauty honcho, her mom and her friends. And she was hype that she's now in the "rich people club."
She shared a flick on IG with the caption,"Im officially apart of the rich people club!! I'm not poor anymore mwaaaaahahahaha!!"
And she may even try to make a quick up:
"P.s I'm selling one of @krisjenner napkins on eBay!!," she joked.
Ha!
Oh, and Kris responded in the most predictable way possible. She hopped in Cardi's comments and replied, "Yes and I get 10 percent." Shocker [ends sarcasm]
We just have two words for Cardi: Get. Out.

Hide your husband and kid while you're at it.
In other Bardi news...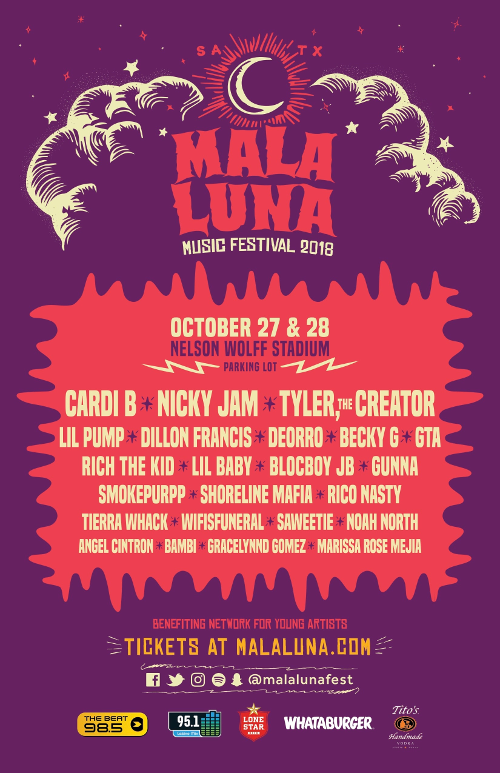 Momma Bardi is ready to hit the stage for her first post-pregnancy concert.
After backing out going on tour with Bruno Mars, Bardi will hit the stage for the Mala Luna Festival in San Antonio, TX this fall. The Bronx rapper will co-headline with Tyler, The Creator.
Mala Luna Festival will be a two-day festival that will go down on October 27th and 28th at San Antonio's Nelson Wolff Stadium. Other acts include Rich the Kid, Blocboy JB, and several other artists, including several San Antonio-based entertainers.
Photos: Snapchat