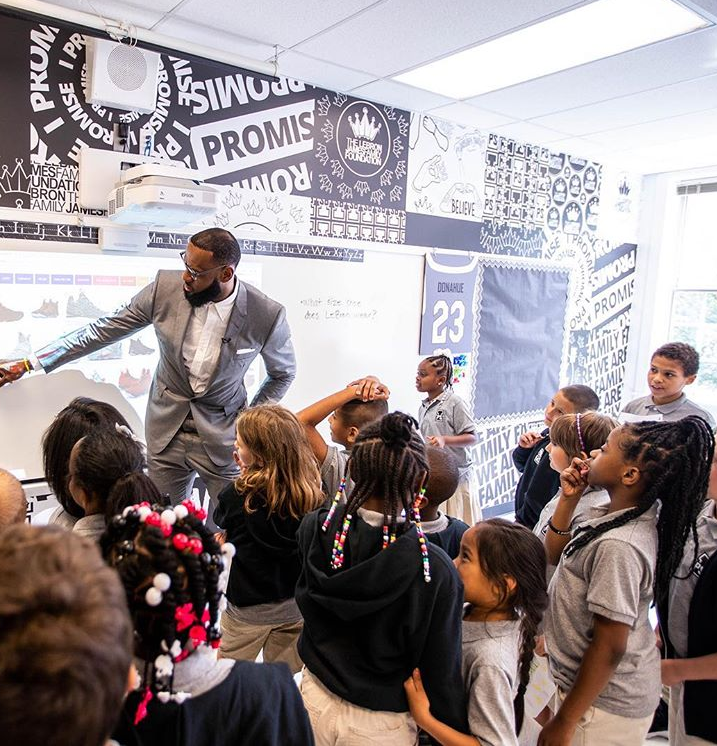 Here's everything you need to know about LeBron James' I Promise School inside...
While LeBron James is taking his talents to the Los Angeles Lakers, he's leaving behind an incredible legacy in his hometown of Akron, Ohio.
The four-time NBA MVP accomplished a HUGE feat when the doors of hisI Promise School, which is a part of Akron Public Schools, opened a few days ago.
What makes the I Promise School unique is that the school is a part of the Public school system and is NOT a charter school. Often times, celebrities back charter schools or open private schools, but this public school was created for at-risk students.
"It's not a charter school, it's not a private school, it's a real-life school in my hometown," he told ESPN. "And this is pretty cool."
King James knows exactly what it feels like growing up as an-risk student in Akron. While in the fourth grade, James missed 83 days of school as he and his mother moved from one couch to the next. King James credits sports and a team of mentors who helped him attend school everyday of fifth grade, which was the first year he played organized basketball.
Now, 240 third and fourth graders will not have to experience some of the things he did as they work towards becoming the inaugural class of the I Promise School. And guess what? King James and his LeBron James Family Foundation are going to make sure they are covered in all aspects, not just academically.
The I Promise School will provide GED classes and job placement assistance for parents and guardians of students who attend the school. The school will also provide a food pantry for the parents of students. This isn't the first time LeBron has helped parents to get their GEDs. Before launching his school, his foundation helped parents in Akron to finally nab their GED certificate throughout the years.
In an interview with CNN's Don Lemon, LeBron said he wanted to create a family atmosphere for the students. The school's hours are 9am to 5pm with an extended school year that runs from July through May. LeBron said they extended the school hours and the school year to keep the kids away from all of the drug/gang drama that's going on in their neighborhoods.
The school will also provide free breakfast, lunch and snacks before they go home for the day, free uniforms and free transportation. They'll also have access to a fitness trainer. He also gave every incoming student a bicycle since he used to ride his bicycle to explore different neighborhoods of Akron.
Also, once the students complete the program and graduate from high school, LeBron will cover their FULL tuition at the local public college, University of Akron. Nice!
During his CNN conversation, LeBron touched on race in America and how our president has been trying to use sports to divide us - something that usually brings people from all backgrounds together.
"We're in a position right now in America where this race thing is taking over," he said. "One, because I believe our president is kind of trying to divide us. What I've noticed over the last few months is that he's kind of used sports to kind of divide us, and that's something that I can't relate to because I know that sports was the first time that I was around someone white."

He continued, "And I got the opportunity to see them and learn about them, and they got the opportunity to learn about me and we became very good friends… Sports has never been something that divide people; it's always been something that brings someone together."
King James also opened up about if he'll ever get into politics, the hardships of growing up black in America and more. Peep the full interview below:
King James also sat down with ESPN where he gushed about his new school and everything about joining the Lakers franchise:
Peep more flicks and videos from LeBron's I Promise School opening below:
Adorbs!
THANK YOU LEBRON JAMES! We hope other celebrities are inspired by your efforts to giving back to the black community.
EXTRAS:
1. Shaq claims Kobe Bryant is going to come out of retirement. STORY
Photos: I Promise School's IG