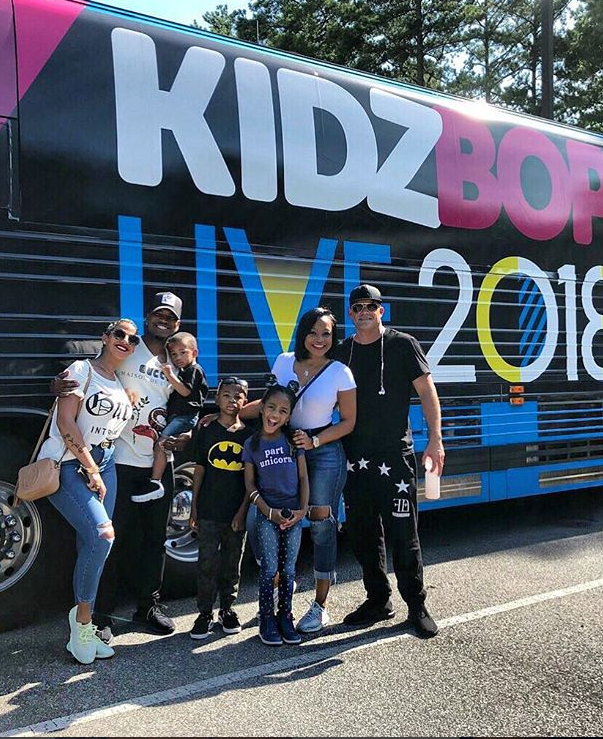 It can be hard when it comes to co-parenting with your ex, but it can be done. Monyetta Shaw has it figured out and she's sharing tips on how to keep it all the way classy. More inside...
Ne-Yo, Monyetta Shaw and Ne-Yo's wife Crystal Smith are "blended and blessed." And Monyetta wants the same for other couples struggling to co-parent.
Over the weekend, Ne-Yo, Crystal, Monyetta, and another guest (who we assume is her man) linked up to have some fun with the kiddies! We all know the backstory about the former reality star and her R&B crooner ex. Monyetta and Ne-Yo, who were formerly engaged, went through a nasty break up and she publicly claimed he forced her (or convinced her) to have her tubes tied after the birth of their 2nd child together, Mason Smith, in 2011. They also share a a daughter named Madilyn Grace Smith, who they welcomed a year earlier.
After their break up, Ne-Yo got with Crystal Smith, married her and they ended up having two children together, Shaffer Chimere Smith, Jr. and Roman Alexander-Raj Smith. Things got messy between Monyetta and Crystal via social media, but it seems they've both come to a place where they can get along and co-parent. Hey, it's all about the kids, right?
While sharing a blended family photo from a Kidz Bop show this weekend, Monyetta revealed an excerpt from her upcoming book about keeping it classy while co-parenting, and it's expected to drop this fall. It'll be the follow up to her 2016 book, Bigger Than Me.
Read Monyetta's tips below:
Does this mean they're going to always agree on everything and it's peaches and cream all of the time? Nope. But we applaud all of them putting in effort to keep the peace.
Crystal stood in solidarity with Monyetta on social media:
And Ne-Yo was over the moon:
Good for them.
Photo: Monyetta's IG