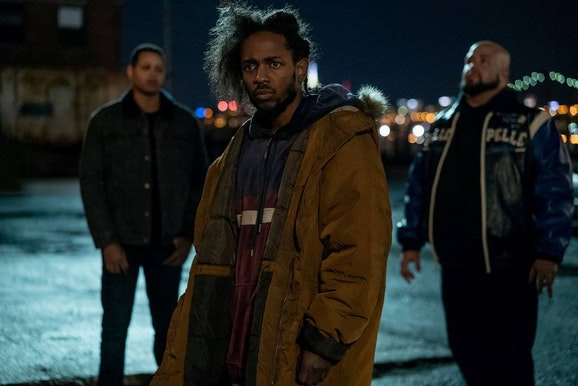 Kendrick Lamar made his acting debut on "Power" last night and he totally NAILED it! More inside...
Kendrick Lamar totally dominated television last night.
The Grammy award winner made his acting debut in the "Power" episode "Happy Birthday" last night and he def was the episode's breakout star. The Pulitzer Prize winner played a crackhead named "Laces." But Laces isn't your typical junkie on the street. Laces is smart - book smart and street smart - and will drop knowledge at the drop of dime....all while asking for money, of course. And he also speaks fluent Spanish. Get it K. Dot!
In one scene, Laces tried to sell 50 Cent's character Kanan some gift cards. That didn't work. However, Kanan ended up giving him a gun to sell for money. He literally popped up in about 3 scenes and we wanted so much more! K. Dot really embodied his role. He's like the neighborhood crackhead everyone loves, but knows he can't be trusted.
Anyone else having déjà vu? His character reminds us of "Bubbles" from HBO's "The Wire."
While on the "Power" press tour at the Television Critics Association, showrunner Courtney Kemp revealed how having Kendrick star on the show came about. Apparently, Fif's relationship with the west coast rapper is how he ended up making an episode-stealing cameo:
"What happened was [50 Cent] was like, 'Kendrick had mentioned he wanted to be on the show,'" she explained. "And then I got on the phone with Kendrick and said, 'What do you want to play?' 'Cause that's my favorite thing to ask an actor. 'What do you want to do that you've never done before?' That's my favorite question. And then he said, 'You know, I'd like to play' — well, he didn't say 'drug addict,' but he used a different word [laughs]. But so then we created the character Laces."
And there you have it.
Peep a few clips from his appearance below:
Kendrick Lamar x 50 Cent on Power pic.twitter.com/1sMEvSi3Tu

— The Daily Loud (@DailyLoudTracks) July 30, 2018
Kendrick Lamar did a good job in this episode #power#powerstarz#powertvpic.twitter.com/h75bqfjUaP

— IG: @ShaqsView (@ShaqsView) July 29, 2018
Kendrick Lamar is a Great Actor He Did His Thing On Power. This Scene was Jokes pic.twitter.com/Nu2TaYi3z4

— 2cool2blog (@2Cool2Bloggg) July 30, 2018
Kendrick Lamar On #PowerTV
A smart crackhead pic.twitter.com/dxoUOpUyqB

— Thabiso (@OMGitZuma_) July 30, 2018
Here are a few tweets from the "Power" cast praising K. Dot's appearance:
This combination will make ratings go up, but you know we are already number 1. get the strap #PowerTVpic.twitter.com/JRT7lhxqbQ

— 50cent (@50cent) July 29, 2018
Yoo @kendricklamar is a BEAST!So honored to have you join our power_starz fam this episode! Watch #powertv NOW on the #starzapp or TONIGHT at 8pm starz #staywokehttps://t.co/bCH0HsjGPr

— Naturi Naughton (@naturinaughton) July 29, 2018
Check it out dawg. Big Dog. KL. "Why he call himself 'Laces?'" - cuz it's dope... The one and only @Kendricklamar makes a guest appearance on a new episode of #PowerTV. Watch it NOW on the @STARZ App: https://t.co/sdo1I3LJp6<https://t.co/sdo1I3LJp6>

— Joseph Sikora (@JosephSikora4) July 29, 2018
Did you love Kendrick Lamar's "Power" cameo?
Photos: STARZ