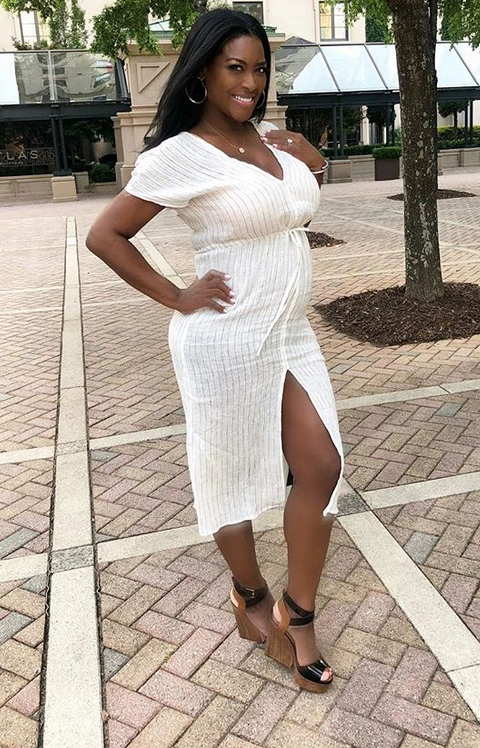 Kenya Moore may not be returning for another season of the "Real Housewives of Atlanta" and it's because producers are being shady, at least, according to her. Get the deets, plus peep a video Kenya shared of her baby kicking inside of her belly...
Word on the curb -- well, from Kenya Moore's camp -- is that everyone's favorite reality show villian will NOT be returning for another season of drama.
It's being reported Kenya Moore will not be returning for a new season of "Real Housewives of Atlanta" due to some shady business going on behind the scenes. What's that, you ask? Well, it sounds like something similar to the reason Sheree Whitfield is not coming back - the coinage!
An "insider" reportedly told PEOPLE that the former Miss U.S.A. will not be returning for the 11th season because they want her to give up more of her personal life, but not more money. Apparently, producers wanted Kenya to let them in on her pregnancy journey along with her spending time with her new husband Marc Daly. With that, Kenya wanted more money.
The site reports:
"According to the insider, both production and Moore wanted her to return as a full-time Housewife. But she wanted more money than they were offering, and they wanted her to film all parts of her life — including her personal time with husband Marc Daly — that were previously off-limits (Reps for Bravo and Moore did not respond to PEOPLE's request for comment)."
As you all know, she pulled a fast one on production when she secretly married Marc Daly last summer. Then, the pregnant reality star left production out of her fertility treatments and she also didn't go on the girls' trip with her co-stars to Barcelona last season.
"Everyone wanted to have Kenya back, but they wanted to have the old Kenya back — the one who isn't afraid of the cameras," a source close to production told PEOPLE. "You can't have secrets and be on reality TV. Especially when other Housewives are showing all of their lives — the good, bad, and the ugly. They need to see your life."
Production for the new season has already started -- we hear a cast trip to Miami went down - and there's no sign of Kenya. Well, yet. It's possible they could negotiate the paperwork and she still return.
"They were at a stand still for so long," the source spilled. "Everyone was rooting for her and wanted to see her back, even women like Nene and Porsha who haven't always been on 'Team Kenya.' The cast, producers, Bravo — they all know she's good for the show. But it got messy. She just refused to compromise."
She's still cool with a few of the ladies - Cynthia Bailey, Kandi Burruss& Porsha Williams - and may have hung out with them (at least with Cynthia) last week:
However, Kenya (nor her husband) was in attendance for the couples' night out in Atlanta recently. All the ladies had their "men" with them:
We see you Marlo!
I feel you, as a fan I wholeheartedly agree this would be the pinnacle of my tenure on the show. The fans deserve to see my happy ending... unfortunately, it's not up to me. Maybe I should have committed some crimes https://t.co/U6LK6YxxuV

— KENYA MOORE (@KenyaMoore) July 24, 2018
Nope... was never offered a friend role, just friend to do the same job and show family and baby story. No movement in negotiations but not to worry... a girl has options just in case https://t.co/dGFP1zo5iV

— KENYA MOORE (@KenyaMoore) July 24, 2018
Not too long before this source started talking, another source said something similar to LoveBScott.com as well:
"Bravo execs are demanding Kenya film her pregnancy journey with her husband and stay on a full 'housewife' filming schedule, but punish her by cutting her salary 90% and paying her as a 'friend'. We're told her husband has agreed to film this season only to support Kenya but they won't give her a fair contract. All this because they want to publicly humiliate Kenya for not getting married on TV and her husband for not filming the entire season."
According to the site, Kenya is in talks with three different networks to do a spin-off if BRAVO doesn't meet her money demands. Oh?
Neither Kenya nor her reps have confirmed if she will be back, so it's still up in the air for now.
While she's not giving BRAVO any footage of her pregnancy journey, she is sharing some intimate moments with her fans on social media. The 47-year-old recently shared a video of Baby Daly kicking inside of her belly:
We're sure this was in response to the haters who claim she wasn't actually pregnant.
EXTRAS:
1. Chance The Rapper has acquired local news publication Chicagoist and he made the announcement in a song. STORY
2. Steph Curry covers Variety magazine where he talks about trying his hand at producing in Hollywood and more. STORY
Photos: Kenya's IG