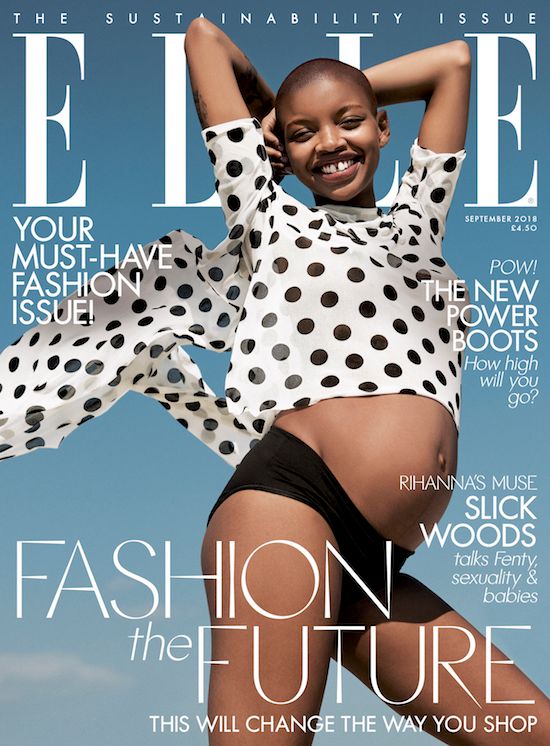 Come thru baby girl!  Our fave new supermodel Slick Woods is bumping all over the September 2018 issue of ELLE UK.  Get into her fab pics, her "grey" sexuality, Erykah Badu being her Doula, and how she met Rihanna to become her muse...
Now THIS is how you go from just being you on Instagram to becoming a full fledged model. 
21-year-old Slick Woods is starring in Rihanna's Fenty cosmetics & lingerie campaigns, Vogue, PUMA and every other brand you come across these days. Now, the free-spirited, bald and uniquely beautiful chick who gives zero f**ks is officially an ELLE cover girl.
She's also a new mom-to-be, and the announcement shocked everybody.  Even her.  But she's here for it all and is thankful her child's father, fellow model Adonis Bosso, is gorgeous himself and just as excited about the baby.
On The Baby's Father Model Adonis Bosso: "My son's going to be gorgeoussss. I hear a lot of sob stories about baby daddy drama. Being 21 and my baby's father being excited is just step one. There are girls that don't even have that."
There's smething super sexy about Slick, and she can play all the roles - the fun girl to editorial supermodel - while modeling it up, which is probably why Rihanna's her biggest fan. And also why folks can't seem to figure out if she dabbles in the lady pool or f she's strictly d---.
On Rihanna: "She saw a photo of me on Instagram, found me, and we hit it off. You ever loved someone so much that every time you see them, you end up in tears somehow? She reminds me of my mother. Like they're the same fuckin' person. And I tell them they remind me of each other all the time."

On Her Sexuality: "When you are a public figure, with sexuality, you have to pick a side, black or white. But I'm grey."
So there you have it.
On Discovering She Was Pregnant: "I was really, really, really, really sick in London, but thought it was because of travel, so a doctor gave me pills for a flu. Went to Paris: more pills for a flu. And then I went to LA, and they tried a sonogram, and I saw my baby's face and heard his heartbeat. Tears of joy."

On Singer Erykah Badu Being Her Doula: "She's a mommy role model. A mother I look up to, who fuckin' kills her shit and is a boss ass bitch."

On Expecting A Boy: "I saw my baby's penis! I'm going to stand up for my son. I want him to feel proud as a black man. Everyone is telling men it's wrong to express your feelings, but I will not let him feel like his feelings are wrong."

On Becoming A Mother: "At 14, 15, I never expected me to ever be giving any type of life. I never expected to be this happy with having a child. Going from a person who fought, to being able to provide for my own family. From not having family, to being able to create your own. Things you lacked, things you missed out on, trauma—you can completely erase those things by creating new life. All those things you didn't get - all those hugs and kisses. I can retract those things with my son's life. In giving him that childhood, it heals you as well. In hugging your son, every hug you give him, it's giving a piece of that back to you, too. I need him as much as he needs me."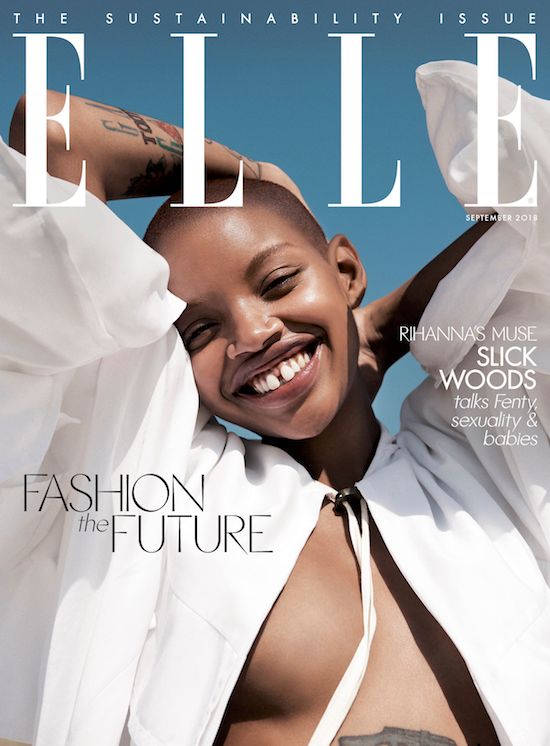 The full interview appears in the July issue of ELLE UK, on sale August 8th.
Photos: Courtesy of ELLE UK/ Paola Kudacki