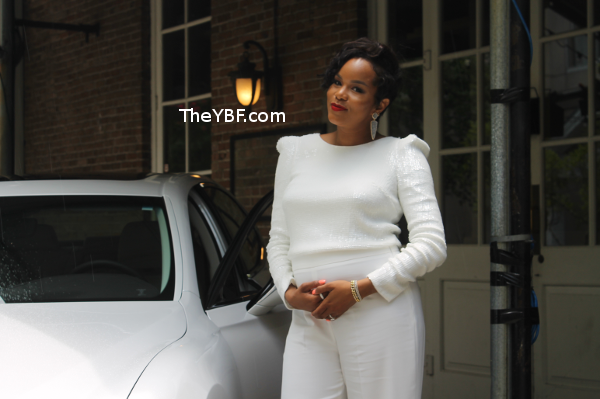 LeToya Luckett-Walker is currently on cloud 9 as some many great things have flourished in her life. TheYBF.com got the chance to chop it up with mom-to-be about her pregnancy, her fine husband and her adorable step-daughter. Get the exclusive inside...
LeToya Luckett is currently living out a real-life fairytale and we're loving every minute of it.
Back in August, the former Destiny's Child singer was surprised with a super sweet proposal by her man/entrepreneur Tommicus Walker. They went out to dinner to celebrate HIS birthday and then he turned the tables by getting down on one knee and asking her to marry him.
When you know what you want, you know. The couple didn't waste any time making it down the aisle either. They got married inside a mansion in Austin, Texas in December 2018 and now, they're expecting their first baby together.
Now, she's giving TheYBF.com one of the very first interviews about her pregnancy and slaying those stepmommy duties.
"It's terrifying," she told YBF correspondent James Terrell about entering into motherhood. "But, it's like God prepares you for everything."
Not only is she gearing up to be a first-time mom, she has been getting in practice with her ridiculously cute 6-year-step-daughter Madison Walker as her "mother-in-love." The new wife gushed over her fine husband, sharing details about what makes their relationship so solid and special.
"It's awesome to have someone who's equally yolked with you," LeToya told TheYBF.com. "Where y'all can pray and go before God and just, you know, have that foundation. And that's what we built our relationship on."
The 37-year-old singer said right after they tied the knot, ish was already trying to come between them. But that devil ain't stopping this show!
"I'm loving that no matter what you go through, you have a life partner there," she explained. "And I feel like within our marriage, especially within the first couple of months, stuff was coming out of no where. Just, you know. It was good stuff, bad stuff, all this stuff. But, through it all, we stayed strong though a lot of it. Then, everything that came out way made us stronger. Everything!"
Sometimes you just have to laugh out loud at the BS!
Before she got pregnant, LeToya was super busy filming "Greeleaf" episodes during the week and hitting the stage to perform in the "Set It Off" stage play on the weekends. She said her pregnancy was a total surprise for her and her husband.
"I don't know how this happened," she jokingly said.
The R&B singer also revealed which Destiny's Child member was the first to know about her pregnancy.
Peep the clip above to find out who!  Because it kinda surprised us too.
Congrats again, LeToya and Tommicus!