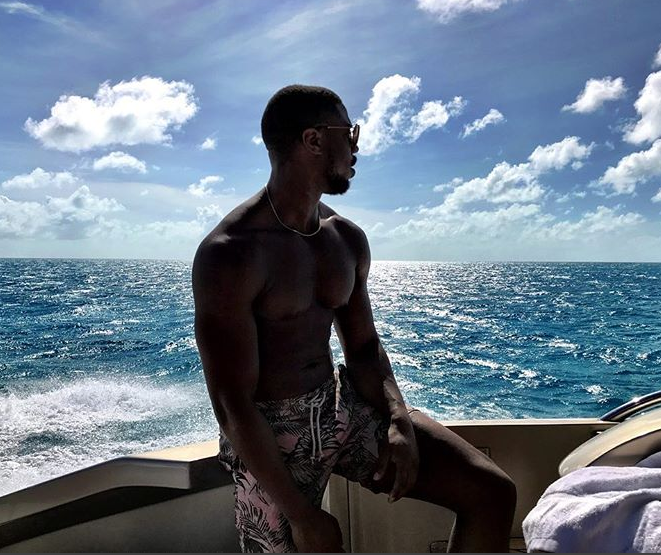 Michael B. Jordan is still on vacay and now he's in Italy living it up on a speedboat with friends. Meanwhile, T.I. just copped his wife Tiny Harris a brand new whip for her birthday. Everything inside...
Just a few days ago, Michael B. Jordan was living his best life on the dance floor inside of a club in St. Tropez. Now, he's soaking up some sun in Italy.
The CREED 2 star is enjoying some downtime off after wrapping up filming the CREED sequel in Philly over the last few months. The YBF hottie and his home/"Ridiculousness" co-host Steelo Brim were spotted having some fun on a speedboat with friends to explore the Positano, Italy coastline.
— CatBJordan (@CatBJordan1) July 15, 2018
Damn he's HOT.
#MichaelBjordan @ Positano Italy pic.twitter.com/vNvBR6yfvR

— CatBJordan (@CatBJordan1) July 14, 2018
— CatBJordan (@CatBJordan1) July 14, 2018
— CatBJordan (@CatBJordan1) July 15, 2018
Apparently, folks aren't feeling Michael's company, specifically the women on the back of the boat. There are pics of MBJ on the boat with the ladies and everyone seems to have something to say about it.
There's a pic of Michael B Jordan on a boat in Italy with 3 white females. Somebody said throw him in the ocean with his ancestors. Lmaooo

— Ve (@Kappaveli) July 15, 2018
Black women so hurt Michael B Jordan on that boat without a black girl in site y'all gotta relaxxxx

— Gawdier (@AdubbDaGawd) July 15, 2018
Yikes.
In other news...
The Black Panther star is reportedly teaming up with Jamie Foxx in the courtroom drama Just Mercy. Jamie is currently in negotiations.
The film adaptation, based on the book "Just Mercy: A Story of Justice and Redemption," tells the true story of Bryan Stevenson (Jordan), a gifted young lawyer fighting for equal justice in a flawed legal system. Jamie would star as the death row inmate Michael's character is defending, according to Variety.
We're here for it.
Since it's Cancer season...
It's Tiny Harris birthday! And to celebrate, her husband T.I. laced her with some lavish gifts.
The Down South rapper copped her a souped up black on black Mercedes Benz with cranberry seats along with several Christian Louboutin bags in the back seat. And Tiny instantly fell in love with the gifts.
"Thank you so much Mr. Harris @troubleman31 for showing up on MY ACTUAL birthday & showing out!," she captioned on Instagram with a video of her receiving her new ride. "I really really love this car & all the other nice gifts & I just wanted to tell u how thankful I am. Regardless of whatever, you have done more for me & showed me more love than most will ever have a man to do/give in a lifetime & I appreciate you for that! By the way I'm having an amazing birthday! Thank you to everyone who made this day a special one!! #CancerSeason #17yrsWorth"
"What's understood requires no explanation!!!," Tip captioned. "I'm always here to show up and show out for mines. Regardless of WHATEVER!!! King ain't never missed a beat!! Happy Gday Mrs H."
After getting her gifts, the Xscape singer hit the Atlanta party scene to celebrate another year of life:
The Harris couple goes from make ups to break ups to make ups again. Looks like they're currently on good terms now...even after that video of him all hugged up backstage with a chick went viral.
Tiny filed for divorce in 2016, but the couple has been seemingly working on their relationship.Kind of.
Around this time last year on an episode of "The Grand Hustle," Tip brought Tiny a new sports car after he said their marriage was a "distraction."
At the time the Us or Else rapper said, "Buying Tameka a new car isn't an apology. It is a gesture as a best friend to show how great of a best friend I can be."
"I appreciate Tip making a big gesture just to show me he didn't mean any disrespect," Tiny said after receiving the new whip. "And you know what, the old me might have fallen for it, but this kind of thing doesn't work on me anymore. I'm going to accept the car, of course. It was a very nice gesture, but it doesn't mean we're back together."
Interesting.
Happy Birthday Tiny!
Photos: Michael's IG