Wondering what Teyana Taylor and Iman Shumpert's first threesome was like? The couple just dropped all the juicy deets...
Married couple Teyana Taylor and Iman Shumpert returned to Power 105's "The Breakfast Club" to chop it up about her K.T.S.E. album and the extended delay.
Tey's "3Way" track had the Internet buzzing because she opened up about her sex life in a major way. On the record, she sings about engaging in threesomes with her husband. Why did she decide to share this with the world?
"I decided to do '3Way' because I just felt like after hearing VII [her debut album] and shit like that, all of our love songs are starting to kind of sound alike. And I just wanted to take it up a notch as far as my lyrical content," she explained.
The couple opened up what their first experience was like. And if we could have been a fly on the wall...
Teyana admitted to bringing up the idea of having a threesome.  And, by the way, she says this experience with her husband was her first ever experience with a girl, despite rumors she's been a longtime lesbian.
Tey apparently pulled a fast one on him their first time. The NBA baller said he was blindsided.
"It's just what she did was...the stunt she pulled...it was very left field. I didn't expect it. We had a great day. We already had something we had going on. We already in the hotel and then this n*gga [Teyana] walks out and then comes back and I'm like...? It was just random."
When asked what he did next, he stopped talking because he felt uncomfortable giving details since Teyana's mother was rightthere in the studio. Ha!
"I am Dora the Explorer and I got poor Diago here with me," she joked.
If you're down for the TMI: She also revealed the third person often is most focused on Teyana, and she doesn't allow Iman to "finish" on anybody but her.
The "Hit The Floor" star said she does whatever she wants to do and she didn't have a threesome with her husband to keep him. She didn't do it to "save her marriage." She said the "10 girls" that were mad need to mind their own business and let her do her.
"I don't do anything sexual to keep my man. The sex is crazy regardless. So, it ain't nothing about sharing a n*gga. Don't compare my marriage to yours. I'm very happy where I am. I don't do anything of this sort to keep my man," she explained.
Since the song dropped, they said women have been trying really hard to get their attention. However, this isn't something they're doing on a regular.
"This ain't no everyday thing. It's a SONG. It's a fantasy she created on a record," Iman explained.
And when they're done, the chick isn't staying around to hang out.
"It wasn't no kiki'n [afterwards]. We wasn't sitting there watching the 'Teyana & Iman' show. We wasn't sitting there watching 'Hit The Floor.' You got to go baby," Tey explained.
Teyana shared how after the threesome, they went out to the club with the chicl. When the night was over, the girl thought she was coming back to their hotel, but that wasn't happening. Bloop.
Oh, and she made it clear her husband is NOT eating anyone else's box. They explained it's more so about Iman watching Teyana with a woman versus him screwing another chick. By the way, Iman kept stopping to apologize to Teyana's mom. Ha!
The 27-year-old mom offered up advice to women who may be contemplating having a threesome with their man.
"Don't do anything you don't want to do. Don't do a threesome to keep yo n*gga," she said.
Sound advice.
In the interview, Teyana also chopped it up about what she didn't like about her album, why she loved the longer version better and more.
Peep the interview below:
In other news...
The Junie Bee nail shop owner was recently honored during the CÎROC Empowered Brunch Series at The JW Marriott in New Orleans, Louisiana to honor dynamic and accomplished women in business, activism, music, fashion and beyond.
The "No Manners" singer was honored with the Empowered Woman of Influencer award.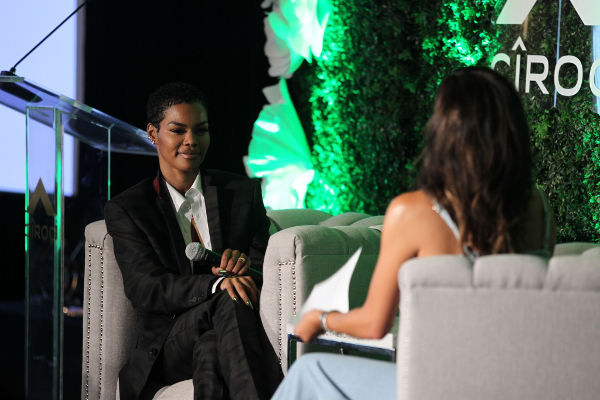 The talented star shared "how she hustles" during the event, sharing, "One thing I don't do is I don't sit down and wait for anybody. I don't sit down and wait for anything to fall in my lap. I don't sit down harping on things, I'm always moving."
Photos: Ciroc