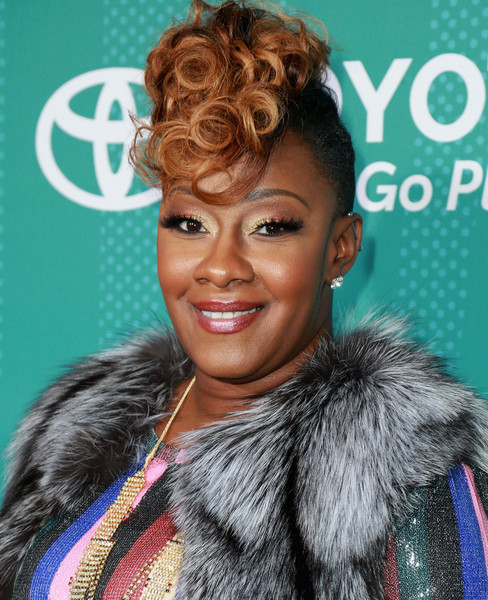 Gospel singer Le'Andria Johnson had a total meltdown where she popped off on the church and fellow gospel singer/pastor Marvin Winans. Now, she's apologizing...kinda. More inside...
Gospel singer Le'Andria Johnson has had enough and she isn't sugar coating not ONE of her thoughts when it comes to the church and religion.
The "Sunday Best" winner, who was signed by Mathew Knowles for his MusicWorld label, went on Facebook Live and unleashed a profanity laced rant against the "church" and gospel singer/pastor Marvin Winans. Le'Andria - who cut all the way up on the "Preachers of Atlanta" show back in 2016 - said she's "tired" of being the "Le'Andria" everyone knows.
She feels she could reach Yolanda Adams and Beyonce type status if she continued to play this industry "game," but she's over it.
"You know what I'm tired of though? … I'm tired of being Le'Andria Johnson that y'all know of," she said in a Facebook Live video. "And Ima tell you like this... I could be on a Kirk Franklin level. I could be on a Mary Mary level. Yolanda Adams, Marvin Sapp, Fred Hammond. All the gospel greats. All the R&B. Beyoncé, Brandy. … If I played the game, I could really be on that level. I could, but I'm not 'bout playin' no games, though."
Chick said she's not going to stop cursing or stop being her self for the sake of protecting her gospel brand. And her "freedom of speech" caused her a spot on the ESSENCE Festival line up. She was supposed to hit the stage for group performance to honor Dottie Peoples. She addressed ESSENCE trying to silence her too.
"I'm not gonna be there because the gospel part of the Essence Festival, apparently, me speaking my right — I have an amendment right … and that's freedom of speech. So my freedom of speech caused me not to be at the gospel part of the Essence Festival. And I'm pretty sure they don't want me to be there because I said 'f*ck Christianity, f*ck the church,' I said that. Maybe that's why they don't want me to go."
Ya think? Still, she does have plenty of fans who agree with her.
As for Marvin Winans, the Bigger Than Me singer said he could never be a spiritual leader in her life because he walked past her as if she was beneath him.
"I don't care whose spiritual father he is. He could have been mine, but no," she said in the clip. "He wanted to go past me like I was a peasant! Walked right past me like I was a peasant … and you ain't even know! I'm a product of you! But it's all good, though. Now you know."
Sheesh! Check out her FB Live below:
Right before posting her rant, she tweeted: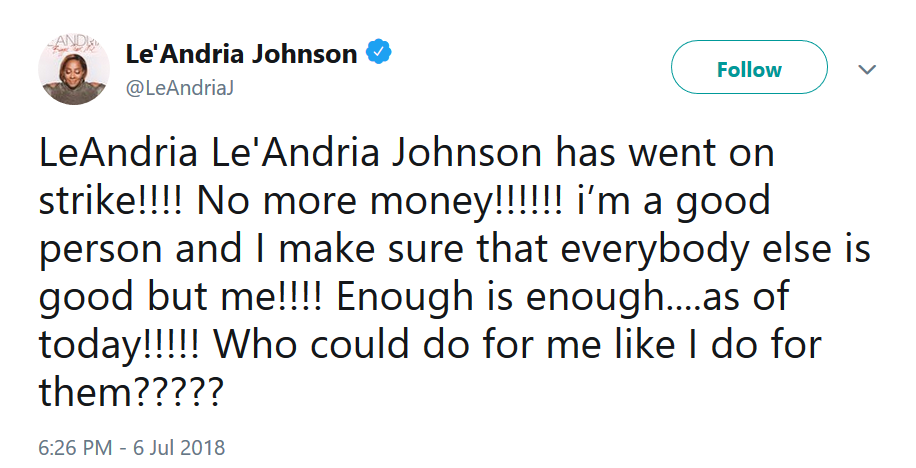 Now, Le'Andria is apologizing to her fans who go to church that she may have offended and she offered up an apology to Marvin Winans. However, she still feels strongly about "church politics."
Hmm...will the Saints accept her apology?
Photos: Getty