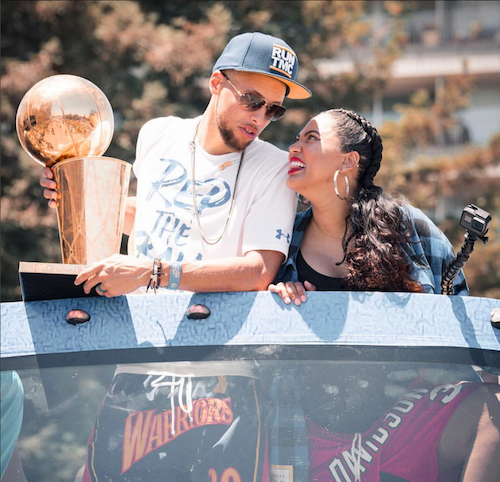 Baby Curry #3 is here, which means Steph is no longer the only King of the house.  Meet little Canon Curry inside...
Steph & Ayesha Curry just switched to a 2-3 zone defense in their own house.  The couple just welcomed their third child, Canon W. (likely for Steph's real first name, Wardell) Jack Curry!
The couple shared the first super sweet pics of the newborn baby, born on July 2nd.  Ayesha posted him cuddling with his new big sisters Riley & Ryan Curry, and papa Steph posted him with a prayer:
Awww!
Ayesha's had a rough pregnancy being sick so often, but it seems to have concluded with lots of good news. The Warriors won the NBA championship once again, she announced her new ABC tv show Family Food Fight, her Cooking TV show "Ayesha's Home Kitchen" is now airing on OWN, and the Curry fam faced off against Chris Paul's family on "Family Feud" a couple weeks ago (but was taped months ago, before the Warriors battled the Rockets).
It looks like Steph and Ayesha didn't let Houston haters get them down either after the Western Conference Championships. Ayesha's opening up a new "International Smoke" restaurant in H-Town, and folks starting filling Yelp with bad reviews on it before it even opened weeks ago. Salty much? Both she and Steph found humor in it though:
That's so gross LMBO, and also hilarious because it's soooooo far from the truth.

— Ayesha Curry (@ayeshacurry) June 21, 2018
It's my third location. The irony of it all. I don't play ball so this has been very entertaining to watch people so wound up. The food will speak for itself once we open and I actually love Houston. I love food, I love bbq and am excited to bring something different to the table

— Ayesha Curry (@ayeshacurry) June 21, 2018
Ughhhh why you so cute thooooooooo!

— Ayesha Curry (@ayeshacurry) June 21, 2018
Dang, chick couldn't even adjust her baby belly on her boppy in peace without foolishness. Congrats to the Currys!
Photos: Instagram