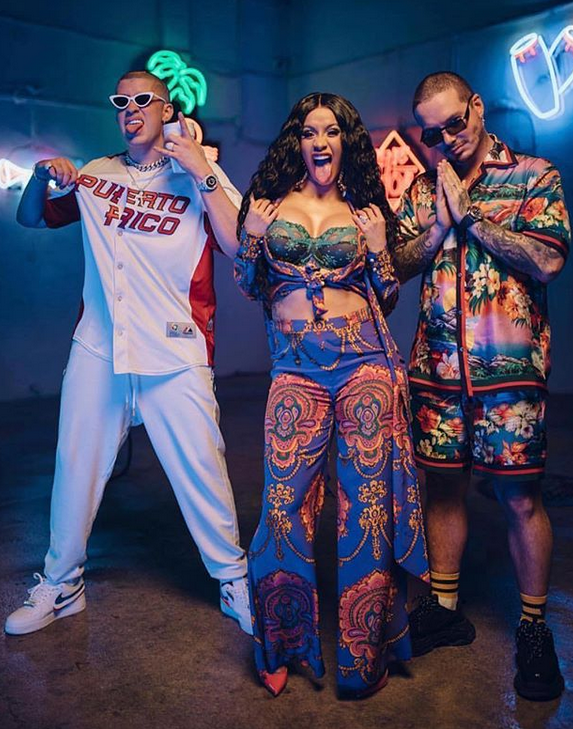 Cardi B is making BIllboard history again, Jeezy is gearing up for his 1st 10K run, and Trina is holding it down for City Girls rapper JT after she went to prison. Everything inside...
It's another twerk celebration for another No 1. on the Billboard charts!
Cardi B is good and pregnant, but that isn't stopping the rapper from celebrating with a quick twerk session for another big feat. The NYC rapper's Spanglish track "I Like It,"featuring Latin stars Bad Bunny and Balvin, jumped to the No. 1 spot on the Billboard Hot 100 List making her the first female rapper to land two No. 1 singles atop the Billboard charts. She copped her first No. 1 with "Bodak Yellow" when it dropped in 2017.
Like all her other accomplishments, she's bigging up her newest feat on social media. And we're not mad. Enjoy this time!
In one clip, she's walking around in what appears to be a hotel bedroom before bending it over on the side of the bed and twerking. Check it:
Also...
Bardi's track "Be Careful" went platinum. Congrats!
In other rapper news...
Rapper Jeezy is taking his health super seriously. And he looks GOODT.
The Atlanta rapper, who turns 41 in September, shredded 60 pounds by recomitting to the gym, cutting out bad foods and falling in love with distance running.
Now, he wants to put his love for running to the test. Today, he'll run alongside Atlanta mayor Keisha Bottoms in the AJC Peachtree Road Race—the largest 10K in the world—to raise money for charities that include the Atlanta Track Club's Kilometer Kids, his own Street Dreamz Foundation, and the city's Youth Scholarship Program, according to GQ.
"Running—sprinting and long-distance running every day," Jeezy told GQ about how he has transformed his body. "I box three times a week, and do some other form of training two times a week. There's the mental part, too—eating right, and keeping hydrated and rested. This is my first 10K, so I just want to make sure that I'm going into it 100 percent."
He's gearing up for his 1st 10K run and he shared how he got ready for it:
"I talked to some people, but to be honest, I've been training for this since the day I decided to get myself in order," he said. "If I hadn't started working six to seven years ago, as far as eating right and getting my body right, I don't think this is a conversation we'd be having. Even back then, I was training for something like this. I like to put myself in a position where I have to produce."
Good luck Jeezy!
In other rap news...
Rapper Trina is showing her support behind City Girls rapper JT after she turned herself in to serve a prison sentence. The Miami rapper was spotted wearing a "Free JT" t-shirt recently.
According to reports, JT turned herself into authorities for fraudulent credit card charges. The up-and-coming Miami rapper was previously out on bond until deciding to finish out her incarceration sentence.
Billboard reports:
The artist, born Jatavia Johnson, posted to her Instagram Story on June 30, confirming that she would be going to prison. "Did more than I thought I could imagine in this short period of time out on bond. Now it's time for me to knock this down and come back strong forever. Hold my baby down y'all," she wrote.

JT is currently being held at Miami's Federal Detention Center, according to documents obtained by Billboard. She is slated to be released from prison on March 21, 2020.
Drake also showed her some love on Instagram commenting, "Damn free my shorty." Miami duo City Girls appeared on Drake's new SCORPION album on the track "In My Feelings."
Drake also voiced his displeasure with JT's incarceration to Instagram. "Damn free my shorty," he wrote. The group made a splash last week when they appeared on Drake's new album Scorpion. The tandem joined Drizzy on his SIDE B standout "In My Feelings."
We guess folks want to support in anyway they can.
Photos: Cardi's IG/Jeezy's IG/Trina's IG