The Lakers King reacts to LeBron James heading to the west coast. Find out what Kobe Bryant said about the trade, details about his denied entry into the Motion Picture Academy, plus the latest in the Jameis Winston vs. Uber driver drama inside...
Everyone has been offering up their commentary about LeBron James' huge $154 million four-year move to the Los Angeles Lakers for the upcoming season.
There's no debate about how's the real King of L.A. when it comes to basketball. That's Kobe Bryant. He's no longer playing in the game after retiring in 2016. But, he's still a major figure in the sport and folks wanted to know what he thought about Bron Bron coming to his former team.
In short, he loves it. And he's welcoming him to the west coast with open arms:
Welcome to the family @KingJames#lakers4life#striveforgreatness@JeanieBuss@MagicJohnson and RP well done!!!

— Kobe Bryant (@kobebryant) July 2, 2018
Aye!
Here's what LeBron's future teammates and several others had to say about King James upcoming arrival:
Y'all really thought he was gonna pass up the greatest city in the world... #TheKingIsHere

— Lonzo Ball (@ZO2_) July 2, 2018
LAKESHOWWWW. @KingJames let's go my brotha let's rock

— kuz (@kylekuzma) July 2, 2018
Wow.....

— Josh Hart (@joshhart) July 2, 2018
It's gone take a while for all the Kobe/Laker fans to have to start cheering for Lebron @THATBOIJB said he ain't doing it he a Warrior fan now

— Jordan Bell (@1jordanbell) July 2, 2018
I am sure the Lakernation is rejoicing The acquisition of LeBron James means that the Lakers are just a smidgen away from being real contenders. Congrats to @MagicJohnson& @LALakersLive et al. Cross your fingers for news from San Antonio.

— Kareem Abdul-Jabbar (@kaj33) July 2, 2018
Congrats again Bron!
In other Kobe news...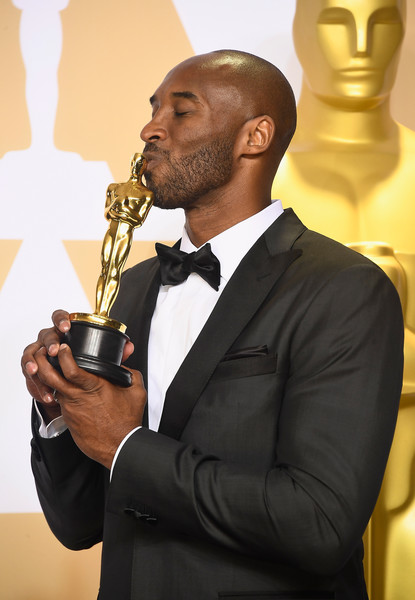 The future Hall of Famer may have won an Oscar, but that isn't enough to get him inducted into the Motion Picture Academy.
The retired NBA star nabbed an Academy Award for his (and director Glen Keane's) animated short film, "Dear Basketball." You would think by winning an Oscar, he would be granted entry into the Academy of Motion Picture Arts and Sciences. But, nope!
According to Variety:
Individuals who win an Academy Award or are nominated for one are often considered for inclusion in the organization, which numbered more than 8,000 members at most recent count. Bryant was considered as well, and the Academy's Short Films and Feature Animation branch actually voted in the affirmative to admit him into the branch.

However, the Academy's governors committee overruled the decision and rescinded the invitation, Variety has confirmed. Though the branch, through governor Bill Kroyer, argued that Bryant has expressed a desire to work in the short films space, the committee felt the Los Angeles Lakers legend needed to show evidence of a larger career in the field before being allowed to represent it as a member of the organization.
Folks suspect it has a little something to do with the backlash he received after winning his Oscar, considering he was previously accused of rape.
Looks like Kobe will have to put in more work before they welcome him with open arms in the prestigious circle.
However, "Dear White People" creator Justin Simien made it in this year:
WOOOOOOWWWWWWWWwwwwwwwwaaaaah
https://t.co/KhicMrYWTn

— Justin Simien (@JSim07) June 25, 2018
Congrats!
In other sports news outside of sports...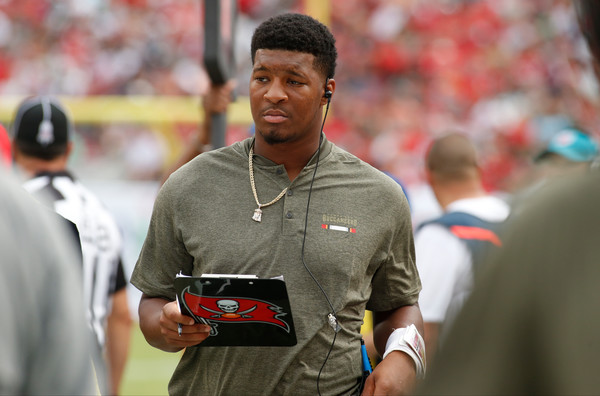 Following his 3-game suspension, Tampa Bay Buccaneers quarterback Jameis Winston has cut ties with his agents, Greg Genske and Kenny Felder (who usually represents baseball players, which Jameis also is).
It's reported Jameis made the move due to the drama, but there are other reports that suggest the change was weeks in the making.
The former No. 1 draft pick was suspended for three regular season games for violating the league's personal conduct policy. He was recently accused of groping an Uber driver named Kate (she withheld her last name to avoid harassment). The alleged incident happened in March 2016. He issued a vague apology shortly after it was announced he would be suspended for 3-games. If you keep up with Jameis, then you know this isn't the first time he has been caught up in somequestionable drama.
He still hasn't flat out admitted to it, he actually flat out denied it months ago.  But things have seemingly changed.
Jameis' contract with the Bucs will end in 2019 and he will enter free agency if he doesn't sign an extension with the Bucs. The real question is, will Tampa Bay offer an extension after all the drama?
Bucs fans aren't feeling Jameis right now. Tampa Bay Times writer Greg Auman posted a Twitter poll asking fans what are they going to do with their Jameis Winston jerseys.
40% of fans said they're still going to wear their Winston jersey "with pride," 34% of fans who have a Winston jersey voted they "can't wear it anymore" and 26% voted they "were not sure what do to."
If you were a Bucs fan and owned a Jameis Winston jersey, how would you feel after news of his 3-game suspension?

— Greg Auman (@gregauman) June 30, 2018
Yikes.
In case you missed, here's Jameis' full apology:
"The NFL informed me today that I will be suspended for the first three games of the season.

"First and foremost, I would like to say I'm sorry to the Uber driver for the position I put you in. It is uncharacteristic of me and I genuinely apologize. In the past 2 1/2 years my life has been filled with experiences, opportunities and events that have helped me grow, mature and learn, including the fact that I have eliminated alcohol from my life.

"I know I have to hold myself to a higher standard on and off the field and that I have a responsibility to my family, community, and teammates to live above the platform with which God has blessed me. I apologize to my teammates, the Buccaneers organization and fans for letting them down and for not being able to be out there for the first three games of the season. Although I am disappointed in the NFL's decision, I understand the NFL's process, and I embrace this as an opportunity to take advantage of the resources available to help me achieve the goals that I have for myself.

"I now look forward to putting this behind me and I will continue to work hard every day to be a positive influence in my community and be the best person, teammate and leader I can be."
Kate isn't pleased with his apology, but she hopes speaking out about her situation will prevent something like this happening to other women:
An exclusive statement from the former Uber driver Kate, after the NFL issued a 3 game suspension for QB Jameis Winston for touching her "in an inappropriate and sexual manner without her consent." pic.twitter.com/mbIcXla4fD

— Talal Ansari (@TalalNAnsari) June 29, 2018
In the meantime, Jameis is gearing up to trek down the aisle to marry his girlfriend Breion Allen and welcome their new baby. We guess he has plenty time to help plan for all that now...
Photos: Getty