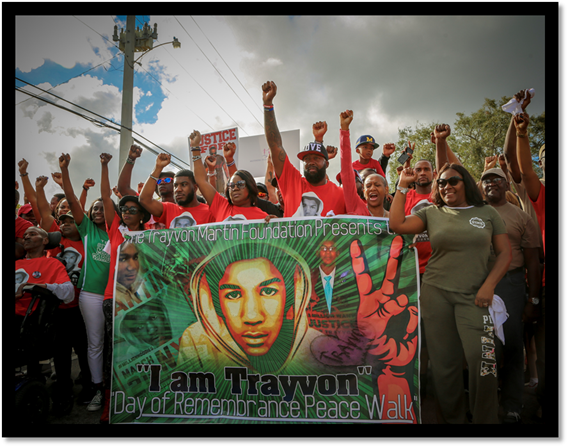 Jay-Z is bringing his Peabody Award-Winning team the story of Trayvon Martin. Watch the first look at the brand new docuseries that is so necessary for the culture.
The life and legacy of Trayvon Martin is coming to life via a new six-part original docuseries, produced by The Cinemart and Shawn "Jay Z" Carter, called "Rest in Power: The Trayvon Martin Story."
Paramount Networks is also backing the project, which tells the story of unarmed 17-year old African American high school student, Trayvon Martin, who was shot and killed by a "neighborhood watch member" in the Sanford, Florida community on February 26, 2012.  The story exploded around the world, as it was a pure case of racism, hatred and "fear" being a legal defense to taking someone's life in Florida.
Trayvon was visiting his father and on a return trip waking home from a convenience store, was confronted by George Zimmerman because of his "suspicious" look and hoodie.  Instead of the state's "Stand Your Ground" law protecting Trayvon who acted to defend himself from Zimmerman's attack, the law protected Zimmerman after he shot and killed Trayvon.  He was acquitted of a second-degree murder charge, claiming he shot Martin in self-defense.
The fatal encounter between Trayvon Martin and George Zimmerman and the subsequent trial polarized the nation, sparking outrage and protests and shined an unforgiving light on issues including race, politics, power, money and, gun control.
Now, the recount of how the horrific tragedy gave rise to the #BlackLivesMatter movement and prejudice as a defense will be shown in the new documentary series.  It premieres Monday, July 30 at 10 PM, ET/PT on the Paramount Network (formerly Spike TV).  It's also co-directed by Jenner Furst and Julia Willoughby Nason, and produced by the Peabody Award-winning team behind last year's critically acclaimed series "TIME: The Kalief Browder Story."
Travon's parents, Tracy Martin and Sybrina Fulton, Angela Rye, Carmelo Anthony, and more will appear.  Interviews combined with home videos, family photos, and news footage will take viewers beyond the news cycle and offer an intimate look inside exactly what happened. 
Check out the first sneak peek below. (CLICK HERE if you can't view below):



/>/>
While some commenters on the series' Youtube page said Jay-Z and others are simply profiting off a child's untimely death, others say continuing to shining a light on this very important time is necessary.  Thoughts?