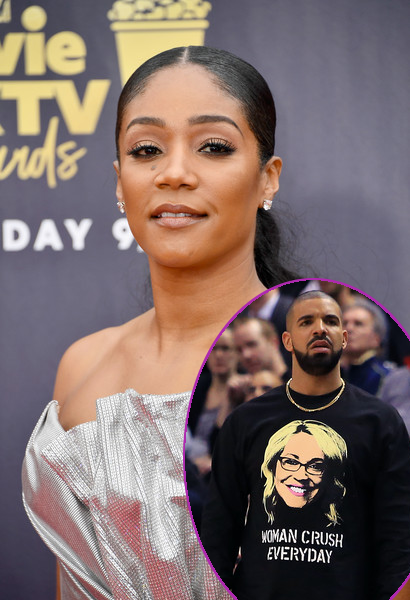 Tiffany Haddish can't hold water and we love it. Find out what she said about Drake standing her up for a date. Plus, see Lena Waithe and Caleb McLaughlin makes us love them even more inside...
Tiffany Haddish is coming through with more tea!
After the Beyonce Bitegate fiasco, the Girls Trip star has more ish to spill. She joined her Girls Trip co-star-turned-bestie Jada Pinkett Smith for a conversation on her Red Table Talk show with Jada's mother Adrienne Banfield Jones via Facebook Watch.
The 38-year-old actress put Drake and his f*ck boi tendencies on BLAST after she revealed he stood her up on a date. Come on, Drizzy!
"I really don't have a lot of time for it, but when somebody asks me out on a date that I'm interested in and like hanging out with, I will clear the schedule. I will make some time," Tiffany explained.
Tiff and Drake met after she starred in his "Nice For What" video, which dropped in April. She said after filming the video they started texting and set a date to get up.
"He's like, 'Man, I'm so excited about the video.' I said, 'Man, I'm excited about the video too,'" she recalled. "He was like, 'We should hang out some time,' and I'm like, 'Yeah, I'm down to hang out. I'm cool to hang out. You let me know.' And he was like, 'Let me take you to dinner.' And I was like, 'That sounds good,' and he was like, 'OK, cool, cool. We'll make it work.'"
So, she's hype! Chick is getting everything in order to link up with the Young Money rapper.
"Shoot, I go get my mustache waxed, you know what I'm saying? Get my armpits waxed, got me a nice little dress," she explained.
Then, ish went left.
"Then I'm like, 'So what time are we heading out? Are you sending a car? Like, where are we going?'" she recounted. "And then he's like, 'Oh, man. My bad, family emergency. I'm in Canada right now.'"
Ahh, hell naw!
"I could have made $100,000 today, but I was trying to see what that D do," she said. "But all right!"
DEAD!
On a more serious note, "The Last O.G." star shared must-see details about her troubled childhood, working on her relationship with her mother, why she wasn't interested in learning how to read and more. Check it:
Love her.
In another celeb-on-celeb interview....
Netflix's Strong Black Lead channel just launched a new Facebook Watch series, dubbed "Did We Just Become Best Friends", where Netflix stars sit down and have a one-on-one convo answering questions and uncovering lesser known facts about themselves.
Kicking off the series, "The Chi" creator Lena Waithe and "Stranger Things"/"The New Edition Story" star Caleb McLaughlin chat about TV girlfriends, how they have crossed over to entertain different audiences (and the "unicorn" black audience who's in the know), and more. Ugh, we love them.
Check it above.
Photos: Getty