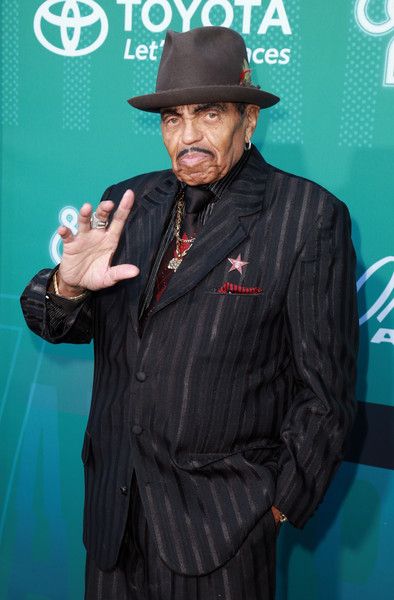 The patriarch of the legendary Jackson family, Joe Jackson, has died after his battle with pancreatic cancer. We have the full story inside.
At age 89, Joe Jackson has succumb to his battle with pancreatic cancer.  Reports state he passed away at an L.A. hospital at 3:30AM Wednesday.
The famous talent manager, credited with creating and giving the world the Jackson 5 and heavily contributing to the development of the solo careers of Michael Jackson and Janet Jackson, has been battling several health issues over the last several years.
Last week, his aggressive cancer diagnosis was revealed as family flocked to be by his side. In 2016, he was hospitalized for a high fever, which he seemingly quickly overcame. A year before that, he suffered a stroke and three heart attacks.  His health has been in a turbulent state ever since.
Joe has been both famous and infamous for his methods in developing the careers of all the Jacksons, who have definitely become musical legends and solidified their place in music history.
The King of Pop himself said in a 2003 interview with ITV that his father often beat him and his siblings and emotionally abused them while growing up, all under the guise of whipping them into star shape.  Joe admitted to the accusations, but never apologized for them.
The family, including both a daughter born outside his marriage to Katherine Jackson and grandkids, has had a sometimes volatile relationship over the years with Joe, amongst themselves, and with the press. He and Katherine have lived apart for years, but remained married. Paris Jackson and others have posted loving messages about Joe and his health after his cancer diagnosis was revealed.
Joe was often by his children's side through adversity - like during Michael's child molestation trial.  MJ's estate issued a statement on Joe's death saying:
"We are deeply saddened by Mr. Jackson's passing and extend our heartfelt condolences to Mrs. Katherine Jackson and the family," the statement read. "Joe was a strong man who acknowledged his own imperfections and heroically delivered his sons and daughters from the steel mills of Gary, Indiana to worldwide pop superstardom."

It continued, "Mr. Jackson's contributions to the history of music are enormous. They were acknowledged by the Rock and Roll Hall of Fame in 2002 in a proclamation naming him as Best Entertainment Manager of All Time; he was inducted into Rhythm & Blues Hall of Fame in 2014 and his son Michael acknowledged him with a Joe Jackson Day at Neverland."
The 9th anniversary of Michael's death was earlier this week on Monday.
Our condolences go out to the entire Jackson family.
Photo: Getty