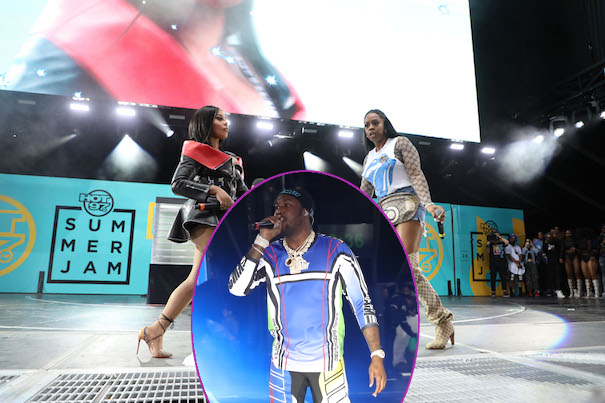 HOT 97's 25th Annual Summer Jam concert went down with a bang! Missed it?  Here's the ish you need to know.   Meek Mill was doing tricks, Remy Ma threw shade and everyone - from Lil Kim to NBA ballers to Weezy to Colin Kaepernick to tons more - was turning up! Pics and videos inside...
Meek Mill made a grand entrance when he popped up onstage to perform at HOT 97's 25 annual Summer Jam concert. It's one of the biggest summer concerts of the year, so the Philly rapper had to do it big when he came out on stage at New Jersey's Metlife stadium.
The MMG rapper surprised fans when he rolled out on stage on a 4-wheeler He popped a wheelie right before he was handed a microphone and went straight to performing his hit "Dreams & Nightmares."
During his set, he shared some inspirational words, saying, "Nothing is impossible. If you come from the bottom, chase your dreams."
Ironic he popped a wheelie on a 4-wheeler being that he was arrested for violating his probation for doing the exact same thing on a dirt bike on the streets of NYC.
Check out his full performance below:
If you can't view it above, check it out here.
But wait Meek....not so fast.
The Dreamchaser (and his legal team) still have to deal with Judge Genece Brinkley.
Apparently, the Pennsylvania Supreme Court has denied Meek's request to have Judge Brinkley taken off his case...at least, for now.
According to TMZ, Brinkley will stay on the case at least until after his next hearing. Y'all know Meek and his team have been trying to get her off his case with claims that she's bias. They have also made claims that she isn't mentally stable enough to preside over the case.
The site reports:
The state's Supreme Court justices were split on the matter -- 3 denied it, 3 supported it ... but there's a twist. Justice Wecht denied it, but left the door open for Meek and his team to raise the issue again after his June 18 hearing in front of Judge Brinkley.

The justices who supported Meek's motion agreed Brinkley should have recused herself because "her continued involvement has created an appearance of impropriety that tends to undermine public confidence in the judiciary."

As for the 3-3 split, there could have been a tie-breaker but, for some reason, Justice Kevin Dougherty did not participate in the decision.
There's that. However, Meek and his team remain optimistic that they'll get her off the case. The rapper's lawyer Joe Tacopina said, "We remain hopeful that the overwhelming amount of evidence in this case – and the Philadelphia District Attorney's backing – will prompt Judge Brinkley to grant Meek a new trial, failing which we will promptly pursue all appellate remedies available to right this terrible injustice."
Good luck with that.
Back at Summer Jam...
Remy Ma kicked off her performance with a medley of her hits including, "All The Way Up," "Company" and "Melanin Magic." She also performed her hit single with Ne-Yo"So Good," and he came out on stage to help her perform it.
After running through tracks, "Ante Up," "Lean Back" and "Conceited," Rem brought out Lil Kim again during her Summer Jam set. The ladies represented female rap empowerment as they performed their joint track "Wake Me Up."
At the end of the track, Remy issued a warning, saying "And I'm here all night in case anybody's wants to come through." Oop!
Peep their performance below:
If you can't view above, click here.
Speaking of Young Money....
Lil Wayne is all smiles after finally settling his legal battle with his "dad" Birdman.
When he hit the stage he had three things he wanted to share with concertgoers.
1. "We all ain't shit without the eyes above."
2. "I know that I ain't shit without you."
3. "Number three is a very important thing and if you don't remember shit about tonight, please remember that I ain't shit without you."
He ran threw some of his hits, including "Ride for my N*ggas (The Sky Is the Limit)," "John," "6 Foot 7 Foot," "Got Money," "Lollipop," "Pop That" before performing "A Milli" and "Steady Mobbin."
Check it:
Weezy celebrated the 10 anniversary of his classic album Tha Carter III. Oh and guess what? Since Wayne and Birdman have reunited, The Carter V will be released. Woot!
Swizz Beatz, Bell Biv DeVoe and more acts hit the stage, including Kendrick Lamar, Timbaland, Tory Lanez, ASAP Ferg and more. You can check out their performances on TIDAL. 
Backstage....
Activist Colin Kaepernick and his girlfriend/HOT 97 personality Nessa were in the mix.
Swizz linked up with Bel Biv DeVoe backstage.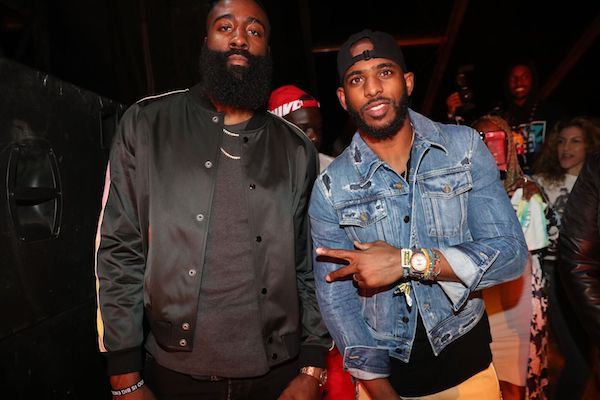 The NBA was in the building! Hey, James Harden & Chris Paul.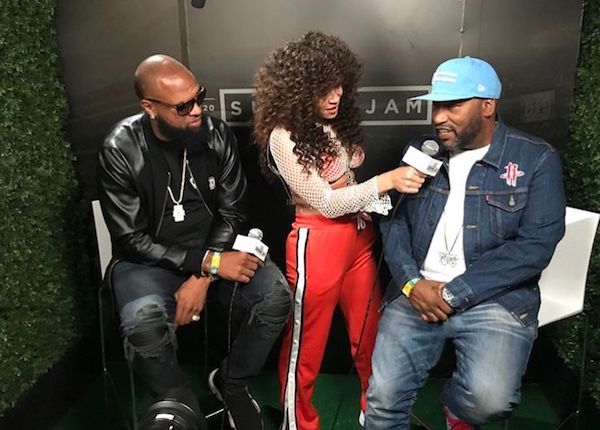 Rapper Bun B was spotted backstage doing interviews.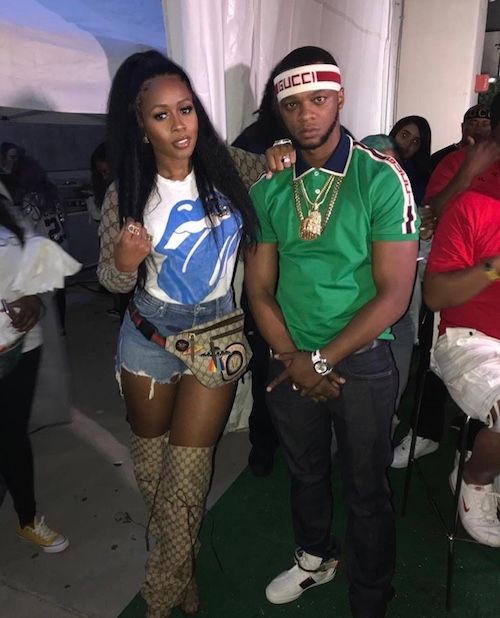 Rapper Young Ma, The Mackies and HOT 97's "Ebro In The Morning" crew were also backstage making rounds.
Peep a few more clips from the concert below: 
Fun times.
Photos: HOT 97