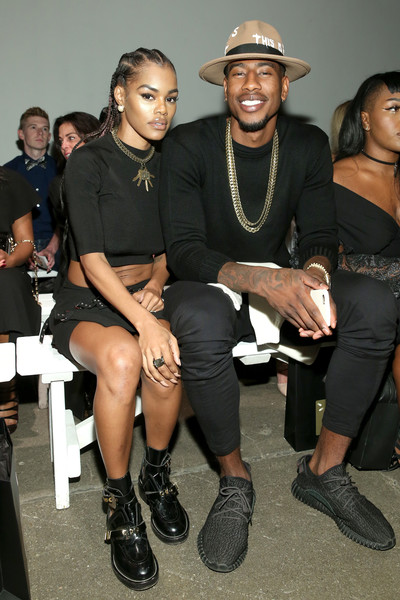 Teyana Taylor doesn't play when it comes to her man Iman Shumpert. Watch her crash his interview as he talks about his ties to Drake's baby mama. Plus, the NBA baller reveals he gave Tey his "hit list" to avoid her being embarrassed. Get it all inside...
The love between Teyana Taylor and Iman Shumpert is real. Extra real.  They've become one of fave examples of #BlackLove on screen as they raise their adorable daughter, Iman "Junie" Shumpert Jr.
What we love the most about them is that they love to have a good time. And that time Teyana crashed his interview is funny AF.
Iman Shumpert stopped by Power 105's "The Breakfast Club" this week and Charlamagne didn't waste any time to ask him what everyone was thinking. Did he smash Drake's alleged baby mama Sophie Brussaux? Do they have a secret child together? Since Pusha T bodied Drake in his diss track "The Story of Adidon," there have been rumors swirling that Iman used to mess with the former porn star back in the day.
"My interactions with her were a long time ago," Iman explained. "I ain't saying I smashed, I'm saying that my interactions with her were a long time ago. She was deported. I don't how that work."
Dead at "interactions."
The Sacramento Kings player said he knows her, said she's a painter and that she's cool. He also said he didn't think she was an actual porn star. Moreso like a chick who likes to show off her body. Oh.
Iman started talking about doing "soft porn" in the "FADE" video and that's when Teyana popped up on the scene.  She hasn't seen her hubby in a week and we ALL know how she gets when that happens.  Gotta love her!
For the record, she let everyone know he only has one "muthaf*ckin' baby mama" and that's her. Let 'em know, Tey.
Peep the clip below:
The moment @TEYANATAYLOR walks in the room right when @imanshumpert is answering an awkward question... pic.twitter.com/mUTJi1dDbY

— The Breakfast Club (@breakfastclubam) June 6, 2018
During his interview, Iman also addressed one of the biggest flubs in NBA history by his ex Cavs/Knicks teammate J.R. Smith. He said J.R. made a mistake when he started thinking rather than just shooting the ball. Check it:
Of course @breakfastclubam had to ask @imanshumpert about his thoughts on the #NBAPlatoffspic.twitter.com/qX0hnXuOsu

— JAM'N 94.5 (@JAMN945) June 6, 2018
In another interview...
THe NBA baller sat down with Angela Yee and her "Lip Service" podcast crew where he revealed he gave Teyana a list of all the chicks he hit/dealt with. He said he did it because he didn't want his wife to be embarrassed in the future. We can respect that. Would you do the same for your significant other? Peep the clip above and tell us in the comments.
You can check out his full interview below:
Photo: Getty