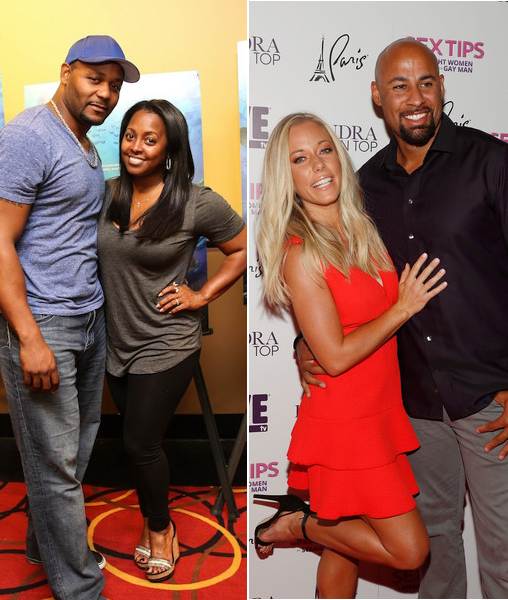 Ed Hartwell is letting the world know he has a new woman in his life and she's pregnant with his baby. Meanwhile, his ex-wife Keshia Knight Pulliam is reportedly requesting he pay her attorney fees. Get those deets, plus catch up on why Kendra Wilkinson aired out her dirty laundry via social media inside...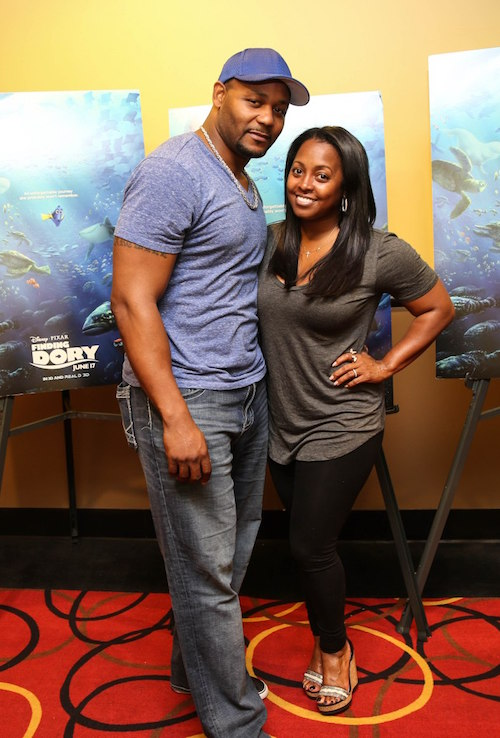 Now that his divorce from Keshia Knight Pulliam has been finalized, Ed Hartwell is free to post his new main chick on his social media accounts.
The former NFL player posted up a series of flicks of his new woman, named Tonya Carroll, professing his love in the caption.
And get this, chick is PREGNANT with his baby. This will be his 3rd kid after fathering a baby girl with ex-wife Keshia Knight Pulliam and a son with his ex-wife Lisa Wu. We noticed in one of his hashtags, he gives a shoutout to his daughter Ella Grace. It appears he put his kids and her kids' names in a hashtag right after the "#usandourbabies" hashtag.
"My Baby, My Life, My Love, My True Queen #lifepartner #nothingwillbreakus #myrib #usandourbabies #EJCYLAHELLASEVYNN #foreverandalways #michasbeendropped," he captioned. 
Check it: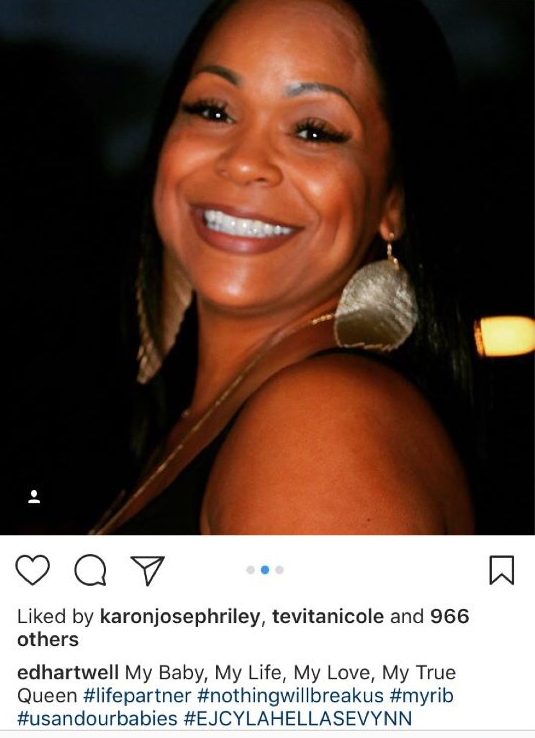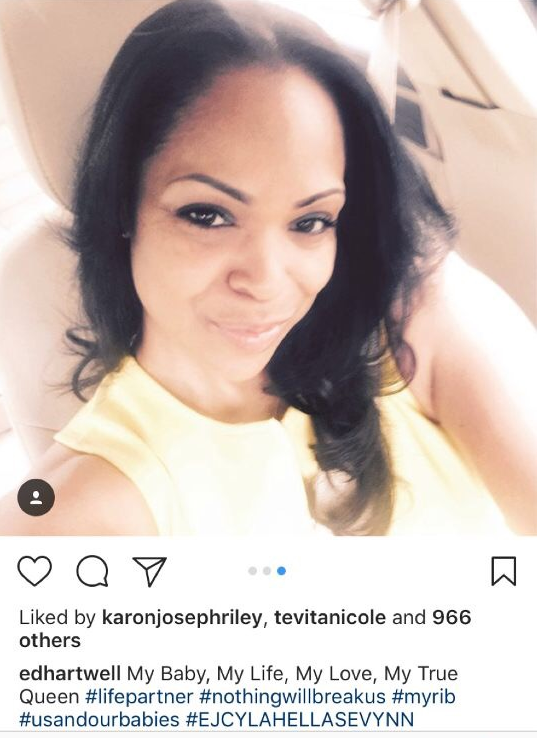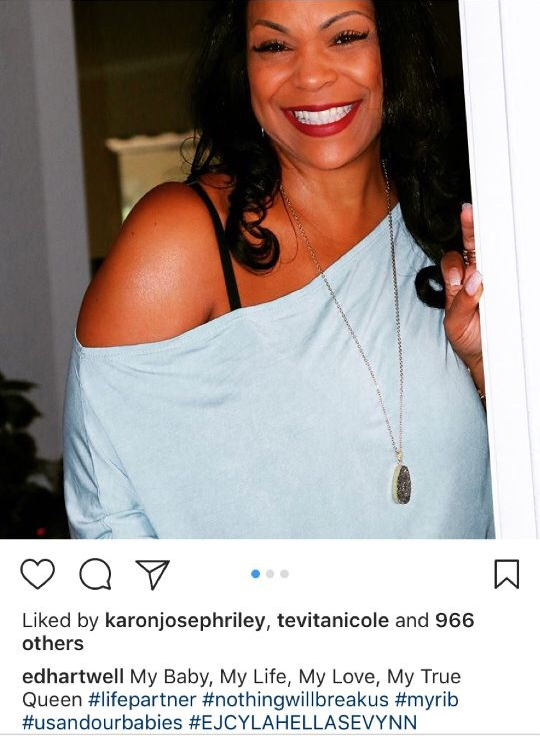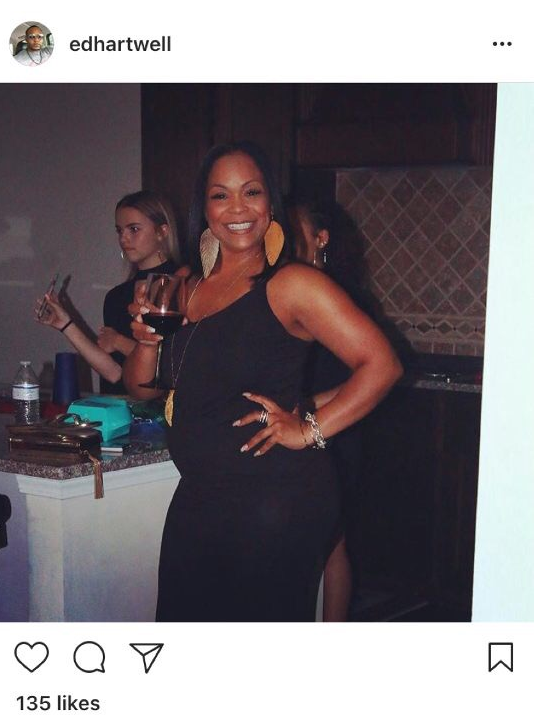 Tonya also posted an intimate shot of Ed holding her stomach while they were laying down, chilling: 
It's unclear how many months along she is, but it dosn't look like she has much longer.
While Ed is all boo'd up with his new chick, his ex-wife is preparing to head back to court.
According to the Jasmine Brand, Keshia has filed paperwork requesting that Ed pay for her attorney fees that resulted from the divorce. And she's asking for a boat load of cash.
Her attorney fees almost total $100,000. Sheesh!
The site reports:
As of the last billing cycle in her counsel's office, Ms. Pulliam incurred ninety-four thousand, three hundred, twenty-three and 04/100 dollars ($94,323.40) in attorney fees and expenses of litigation through March 28, 2018…Mr. Hartwell should be ordered to pay all of Ms. Pulliam's attorney fees and expenses of litigation incurred in this case…
Yikes.
You'll recall, the couple shocked everyone when they announced they were engaged on New Year's Eve 2015. Weeks later, they were sharing flicks from their wedding ceremony that went down New Year's Day.
Their fairytale didn't last long though.
By July 2016, TheYBF.com exclusively reported Ed had filed for divorce from his then pregnant wife Keshia. The former "Cosby" actress gave birth to their daughter Ella Grace in January 2017. Their divorce was finalized in April 2018 and Keshia was granted primary custody of their daughter Ella. 
It's been quite a roller coaster ride for these two in the last two years. Now, Ed is gearing up for fatherhood again.
Congrats to the couple...
Speaking of uncoupling...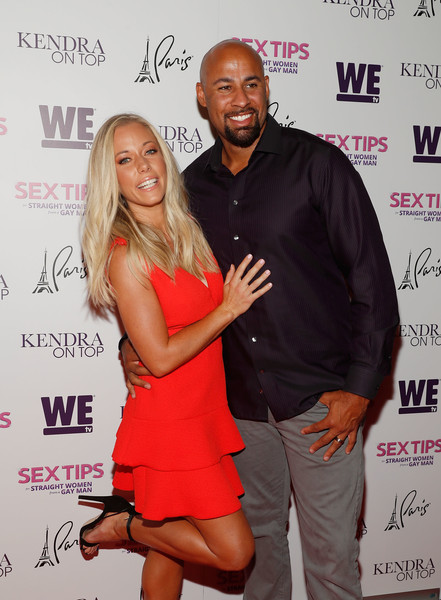 Back in April, Kendra Wilkinson announced she was divorcing her husband of 10-years Hank Baskett. The former Playboy model cited "irreconcilable differences" and listed their separation date as January 1st. Nope, "Marriage Bootcamp Reality Stars" couldn't save their fragile union.
Now, ish is getting ugly.
After posting (then deleting) real-time tweets during an argument with her estranged husband, the 32-year-old mom is now explaining what caused her to air out her dirty laundry in the first place. She also issued an apology.
Apparently, lack of "D" can make you a bit unstable. She tweeted: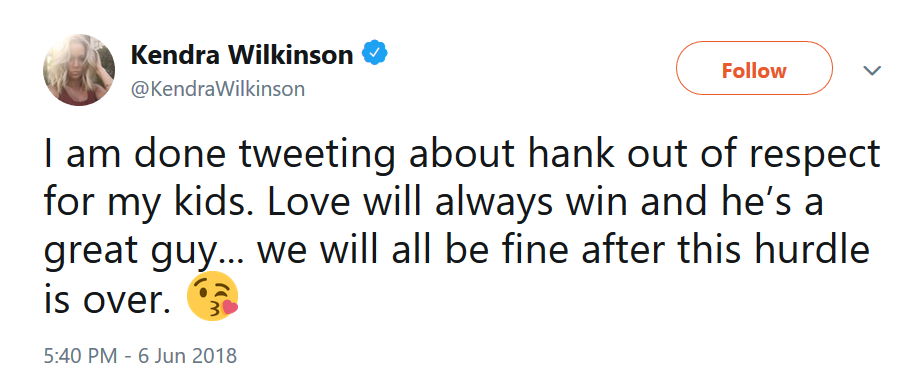 Oh?
Earlier this week, Kendra hopped on Instagram Live and Twitter to share a fight between herself and Hank publicly.
"He's blaming me for his football career ending. He's blaming me for cheating on me while pregnant," Kendra tweeted, referring to the alleged affair Hank had with a transgender model while she was pregnant with their daughter.
She said she felt threatened that her estranged husband was recording her, so that's why she hopped on social media.
"I tried so hard," she wrote. "I did everything by the book and loved and i get s--- on. I'm so sorry for u all to feel awkward [right] now. When i was being recorded i felt threatened. Have a good day."
She deleted all of the tweets, but you can see the emotional video of her talking to her friends about the break up below:
Hank hasn't addressed any of this on his social media...yet.
Photos: Getty/Instagram