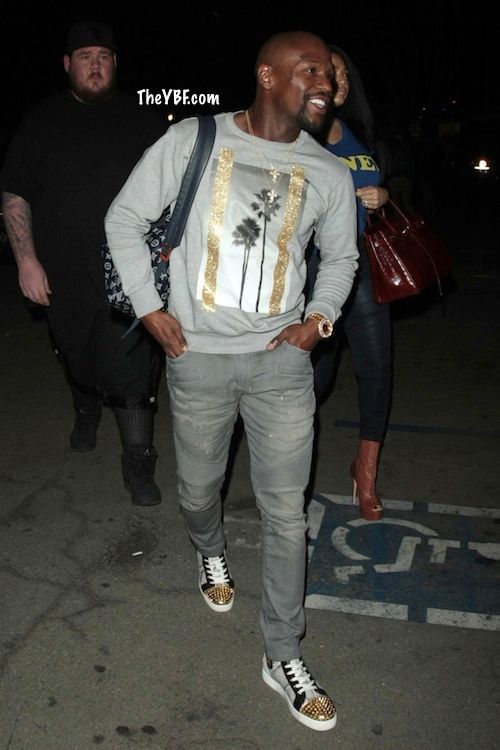 No surprise here. Floyd Mayweather is still the world's highest-paid athlete. Deets on how his coinage adds plus and more inside....
They don't call him Floyd "Money" Mayweather for nothing.
The undefeated boxing champion ranks as the world's highest paid athlete for the FOURTH time in seven years.
Thanks to his highly successful fight against Conor McGregor in Las Vegas in August 2017, Floyd was able to bypass all of the world's athletes when it comes to financial gains. The fight landed him his 50th win and a LOT of cash.
Forbes breaks down how Floyd Mayweather continues to make bank:
 It only took 36 minutes in the ring against Conor McGregor for Mayweather to earn $275 million (he added $10 million more outside the ring). The fight, pitting the biggest stars in boxing and UFC, generated 4.3 million pay-per-view buys and more than $550 million in total revenue from all sources. Mayweather earned three times as much as McGregor as the "A" side and his role as promoter, while McGregor was forced to share his cut with the UFC where he is under contract. The fight pushed Mayweather's career earnings to $1 billion, joining Michael Jordan and Tiger Woods as the only athletes to reach 10-figures in earnings. Mayweather padded his 2017 earnings with endorsement deals with Hublot and Tequila Avion ahead of the McGregor bout. Hublot released a limited edition of 100 watches, priced at $28,300, as well as 10 numbered editions of the Mayweather timepiece set entirely in yellow gold and adorned with more than 400 diamonds. The numbered edition cost $93,700 and both watches came with a boxing glove signed by Mayweather.
And we all know Floyd doesn't shy away from showing off just how much money he has:
#mood
video credit: @moneyyaya
Music by: @otgenasispic.twitter.com/snEsqseex5

— Floyd Mayweather (@FloydMayweather) June 2, 2018
Oh, Floyd.
Other YBFers making the Top 10 include NBA players LeBron James and Steph Curry, who are currently battling it out in the 2018 NBA Finals. Peep the Top 10 list below:
1. Floyd Mayweather Jr. ($285 million)
2. Lionel Messi ($111 million)
3.Cristiano Ronaldo ($108 million)
4.Conor McGregor ($99 million)
5.Neymar ($90 million)
6.LeBron James ($85.5 million)
7.Roger Federer ($77.2 million)
8.Stephen Curry ($76.9 million)
9.Matt Ryan ($67.3 million)
10.Matthew Stafford ($59.5 million)
We'd like to note, not one woman made the Top 100 of the world's highest paid athletes list. Not.One. The gender pay gap is real across the board. 
Tennis star Serena Williams almost made the cut, raking in an estimated $18 million in earnings. With her new clothing line and her other endeavors, we're sure she'll nab a spot next year.
Photo: Backgrid