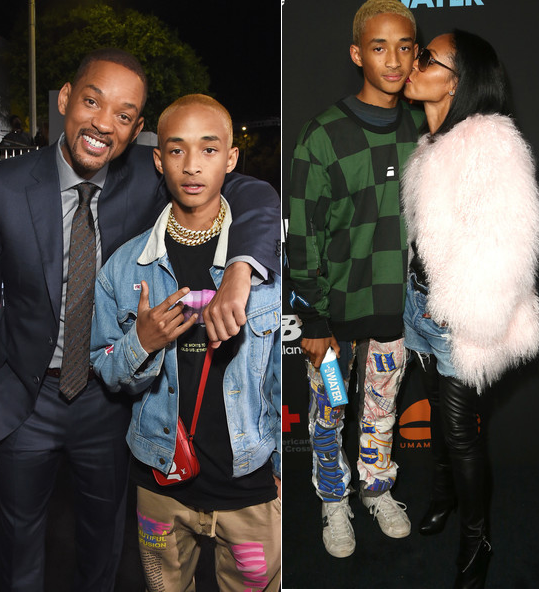 Will Smith is back for another round of hot lyrics. This time, he hopped on his son Jaden Smith's "Icon" remix and he killed it...in Spanish too. Take a listen to it, plus Jada Pinkett Smith opens up about how devastating it was for her when Jaden said he wanted to move out at 15 inside...
We told y'all Will Smith was back in the studio. And now, he's hopping on his son Jaden Smith's "Icon" remix.
The 49-year-old actor has released his own version of his son's track for the Reggaeton remix. And he killed it! He even rapped in Spanish, thanks to help from Nicky Jam, who appears on the original song with Jaden.
A few months ago, Will celebrated his son's song "Icon" reaching 100,000,000 streams on Spotify with a parody video. Check it:
Now, he's back with his own bars to liven up the track. And he learned a little español to work into the mix.
Take a listen below:
Will is also working with Nicky Jam on the FIFA World Cup song.
Yep. Big Will is ready for his music takeover.
By the way, "Icon" went gold last month and the 19-year-old rapper/actor brought the gold plaque he earned with him during the 2018 Met Gala.
In other Smith Family news...
Jada Pinkett Smith, her mother Adrienne Banfield-Jones, and her daughter Willow Smith welcome Jaden Smith for the lastest Red Table Talk discussion.
This week's topic was parenting. And Adrienne said Jada and Will's parenting style was very different from what she was used to. She mentioned Jada allowed Jaden to tell Adrienne what time he was going to sleep...and he was 8!
Since Jaden was born, Jada said she felt Jaden, her firstborn, was very mature for his age. So much so, she allowed him to move out of the house at the age of 15.
"At 15 years old, Jaden. I remember this day specifically. It was probably one of the most heartbreaking moments of my life," she said. "You got to a point here. You told me straight up—you were like, 'Mom, I have to leave here to live my life.'"

"I remember thinking to myself, as devastated as I was, I was like, 'He's right. The time is now. He's 15. It's time for him to leave the house," Jada continued.
Grandma Adrienne said she would have never agreed to Jaden moving out at 15.
Jada said she feels like every child is different and need different things. She said she understood Jaden needed to get out of the "bubble" he was living in.
"I knew. I told Will when Jaden was smaller," Jada said. "I said, 'We'll be lucky to keep him in the house 'til he's 16 because he was so mature," she recalled. "He could really manage his own life."

"Being in this lifestyle, in this world is a bubble and he wanted out and I understood that," the actress continued. "I knew that the sooner I let him go, the faster he was gonna come back."
Interesting. Peep the episode below:
Thoughts?
Photo: Getty