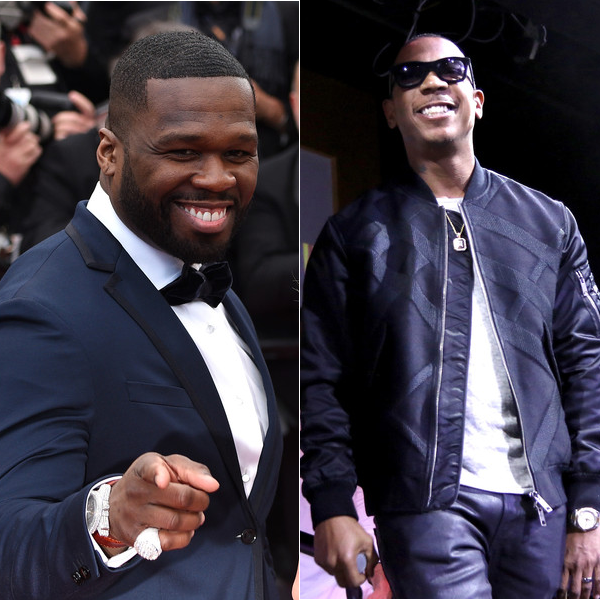 The Pusha T vs. Drake rap beef just reignited an old rap beef between Ja Rule and 50 Cent. Get into their recent insults, plus deets on Childish Gambino copping a platinum plaque for "This Is America" inside...
Here we go again!
The age old rap beef between 50 Cent and Ja Rule has just been reignited. What started as insults on wax has now turned into a battle of the memes between the two.
It all started when Ja hopped on Twitter to address thePusha T vs. Drake rap beef. He tweeted that his diss track aimed at 50, "Loose Change," was the most disrespectful diss record of all time. Now why'd he have to go and do that?
Fif clapped back by taking a jab at Ja over that tragic Fyre Festival catastrophe.
Ja isn't showing any signs of slowing down just yet, popping back at Fif with a meme of him as a cancer patient in the Things Fall Apart movie accompanied by a snarky caption. He said,"50 thought he was winning an Oscar when he took this role. Shit went straight to BET Blackbuster cinema."
He also posted a picture of himself and his wife saying they're just there for the comments. Peep his tweets (read from the bottom up) and his IG posts below: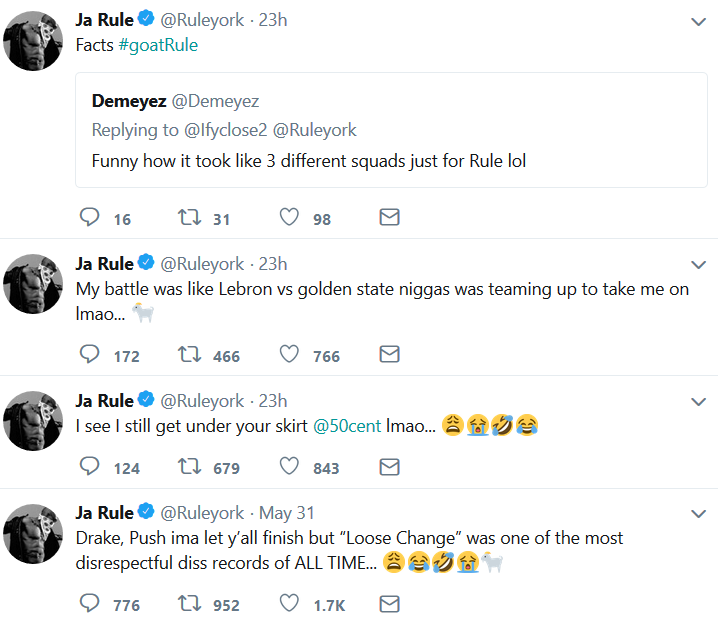 And here's Fif's receipts: 
This is what you get for going to anything with this bum involved. pic.twitter.com/nAziOqj2Hx

— 50cent (@50cent) May 31, 2018
These two...
In music news...
Childish Gambino is doing it big on the music scene.
His track "This Is America," which he debuted during his "SNL" gig, is certified platinum.
The Recording Industry Association of America gives the song its certified platinum stamp of approval, recognizing 1 million equivalent song units earned in the U.S.
Billboard reports:
One equivalent song unit, as recognized by the RIAA, is equal to: one digital song sale, or 150 on-demand audio and/or video streams. The RIAA changed its Gold & Platinum Awards Program on Feb. 1, 2016, growing from a strictly sales certification process to one that includes tracks and streams.

The certification follows a series of No. 1s for the hard-hitting track, including a debut at No. 1 on the Hot 100. Since then, "This Is America" has been streamed over 147 million times, with its much-lauded video topping it at over 216 million streams.
Congrats CG!
By the way, you can peep Donald Glover in the new Solo: A Star Wars Story in theaters now.
Photos: Getty