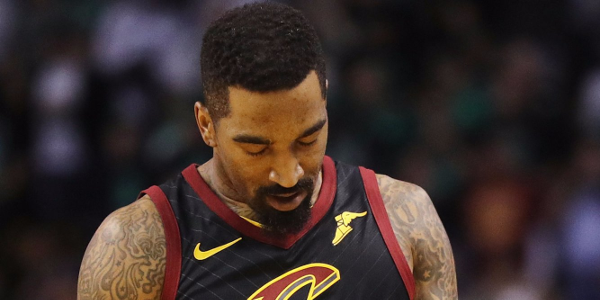 J.R. Smith likely just played the worst game of his career last night and he's catching hell. More inside...
J.R. Smith likely just wants to crawl into a hole and put on O.T. Genasis' "Everybody Mad" for a few days while all this dies down. He likely made the worst lapse-of-judgment mistake of his career last night, which ultimately cost the Cleveland Cavaliers the Game 1 win in the NBA Finals against the Golden State Warriors, 124-114.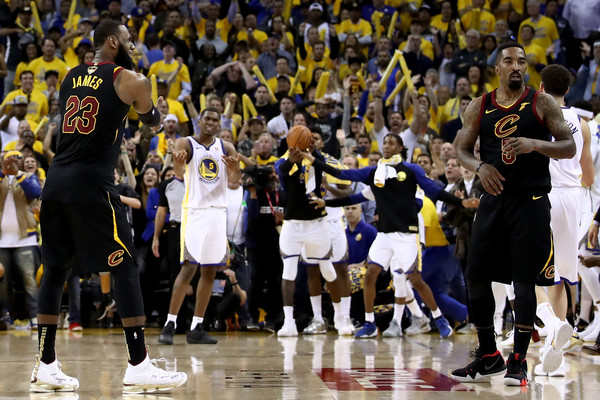 It wasn't supposed to go down like that. LeBron James put up 51 points...51 points! It looked like the Cavs were set to win, but that just wasn't enough...thanks to J.R.  But it's not solely J.R.'s fault.  There were a few other mishaps from others throughout the game.
First, George Hill - who just copped his college degree - missed one of two free v-Important throws. The game was tied, 107 - 107, with four seconds left in the 4th quarter. After the missed free throw, Smith gets the ball, but he dribbles the ball out instead of trying to make a basket to win the game. They go into overtime and the Warriors ended up beating the Cavs.
Check it: 
Cavs head coach Tyronn Lue said Smith thought the game was over. He thought they were up one and had won the game.
"He thought it was over," Lue said. "He thought we were up one."
Sports analysts also said you can read J.R.'s lips after the play and he told LeBron he thought they were up as Bron spazzed on him after the play.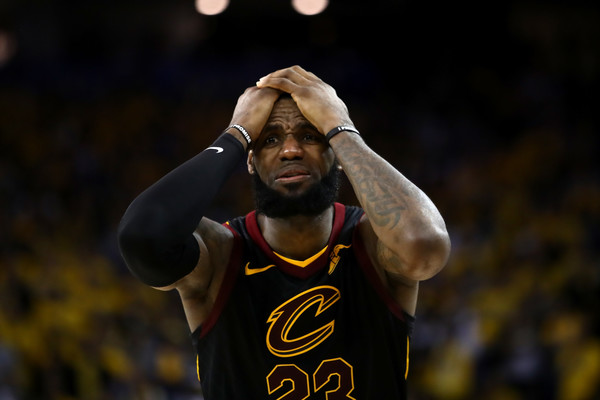 After the game, Smith tried to change his tune. Here's what he said:
"I was trying to get enough to bring it out to get a shot off," Smith told reporters. "I knew we were tied. I thought we were going to call timeout."
Just take this "L" J.R. It happens to the best of them. But that doesn't mean it's going to be easy...
"ESPN First Take" host Stephen A. Smith ripped into J.R. for one of the biggest flubs in NBA history:
.@stephenasmith WENT IN on JR Smith. pic.twitter.com/KlZBZUQBhz

— SportsCenter (@SportsCenter) June 1, 2018
"Breakfast Club" radio personality Charlamagne tha God was even trolling him on social media:
The Warriors. https://t.co/SV12N9iHRO

— Charlamagne Tha God (@cthagod) June 1, 2018
JR Smith had a side bet on the game. Gotta be. Weed and Hennessy don't make you do that.

— Charlamagne Tha God (@cthagod) June 1, 2018
And y'all KNOW he gave him "Donkey of the Day" and it will have you in tears:
And best believe the draggings on social media are brutal:
Drop 50 points just for J.R Smith to lose it for you pic.twitter.com/WQMssj036k

— Horchata Activist (@Mike__Bravo) June 1, 2018
J.R. Smith I hate you

— AJ Evans (@asa_evans41) June 1, 2018
J.R. Smith is a seasoned basketball player to be doing stupid shit. Who else feels someone slipped a few dollars into his pocket to make some FOOLISH ass plays. SUS. SUS AS FUCK.

— David So (@davidsocomedy) June 1, 2018
Warriors baller Draymond Green threw shade after the game:
Draymond Green reacts to a reporter's question about J.R. Smith at the end of regulation. #NBAFinals (via @TheAthleticSF) pic.twitter.com/jcfa9HGlDS

— NBA on TNT (@NBAonTNT) June 1, 2018
This tweet perfectly sums up Game 1 in this year's NBA Finals:
Imagine dropping 51 points on the greatest team in NBA history... in an NBA Finals game... only to have 10-year NBA Veteran George Hill miss the biggest free throw of his life followed immediately by an abrupt 4.7 second LSD flashback from JR Smith shit all over your performance.

— LeBruv James (@JosephPVicente) June 1, 2018
Damn J.R.  At least he's got 3-6 more games to get his ish together. We're sure he will.  Keep ya head up!
It was a good night for ABC though since the ratings were basically the same from their Game 1 match up in 2017 that pulled in 18.7 million viewers.
Photos: Getty