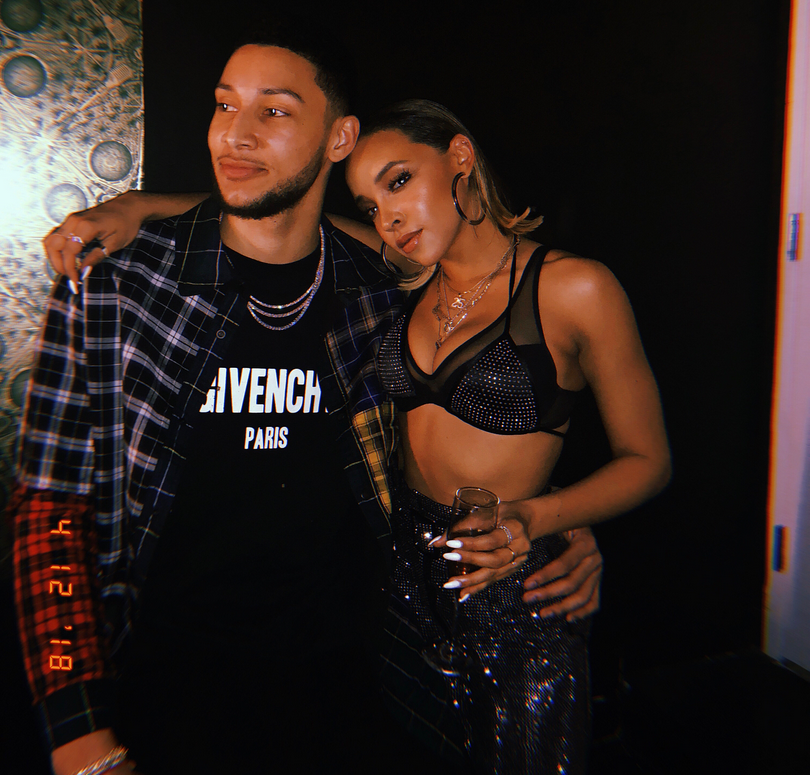 One of Tinashe's younger brothers is coming after NBA baller Ben Simmons for allegedly dumping his sister for Kendall Jenner. And he's letting him HAVE IT. Peep his savagetry inside...
Hollywood relationships change faster than we change our underwear sometimes.
A few days ago there was a rumor that Philadelphia 76ers player Ben Simmons had called it quits with his R&B singing girlfriend Tinashe. Now, word on the curb is that he's rebounding with "Keeping Up With The Kardashians" star/model Kendall Jenner. Tinashe and Ben literally announced they were dating in March and now...they're dunzo.
Following rumors that Ben broke up with Tinashe because she was doing "Karashian sh*t," such as "calling the paparazzi" to let them know their whereabouts, Page Six is reporting the 21-year-old NBA baller is now dating Kendall Jenner. The irony of it all.
A source told the site that Ben has been seeing Kendall "for a few weeks now." If that's true, he either was playing both ladies at the same time at one point, OR, as soon he called it quits with Tinashe he rebounded with the quickness.
It's reported Ben and Kendall, who broke up with NBA player Blake Griffin following his trade to the Pistons, were spotted dining together with friends at the Bowery restaurant Vandal in Manhattan last week.
"Security measures seemed to have been taken to ensure Kendall and Ben enjoyed their night hassle free," a witness told Page Six about their date last week. "They were smiling the night away with their friends."
After that, it's said Ben and Kendall enjoyed a lunch together at the Beverly Hills Hotel sometime this week. 
Kendall spent Memorial Day weekend with her sister Kourtney Kardashian before meeting up with Ben for lunch on Tuesday.
Well, one of Tinashe's brothers caught wind about Ben's new "girlfriend" and took to Twitter to defend his sister. And he let Ben HAVE it.
Peep the tweet: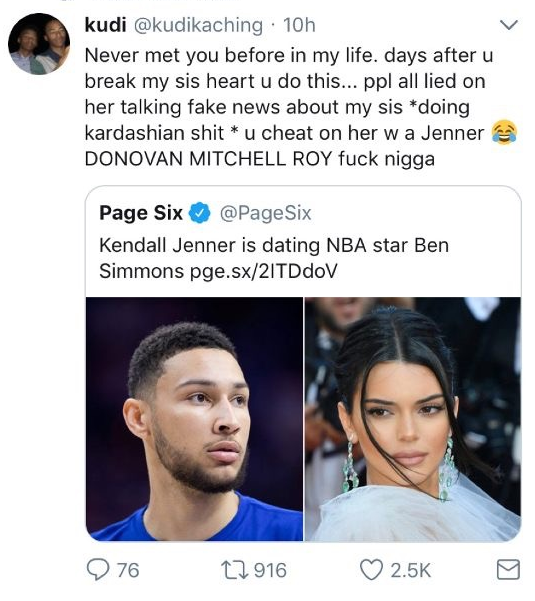 Sheesh.
Then, he said:
Sorry for blowing up y'all twitter everyone. it was actually the only way to defend my sister against all this bullshit. and i'm prolly gonna be fighting some niggas from philly for another couple hours so if y'all mute me don't worry, it's all good

— kudi (@kudikaching) May 30, 2018
Lordt.
And here's a throwback pic of the Joyride singer and her two younger brothers: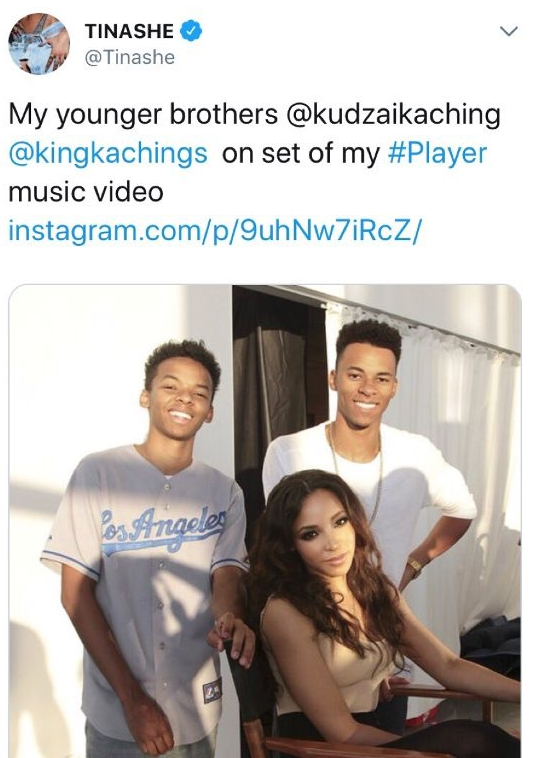 Not even mad at her brother for taking up for his sister.
There's also a Twitter account that claims to be ran by Tinashe's grandmother. She also tweeted about the break up:
Dear twitter fans and fans of Tinashe, I have decided to leave Twitter because of all the hate and lies about Tinashe. You must realize that I love her very much but as a family member I really can't call out all the lies and hate because some things should not be shared.

— TinasheGramma (@TinasheGramma) May 29, 2018
The last picture Tinashe posted of herself and Ben was on April 20th:
However, Ben has erased all pics he posted of Tinashe on his IG. Guess he has officially moved on.
Photos: Tinashe's IG & Twitter