With their new "Red Table Talk" show, we're learning that Jada Pinkett Smith, her daughter Willow Smith and her mother Adrienne Banfield-Jones are just like us. More inside...
Even with money and fame, insecurities can still creep in one's mind and try to wreak havoc. And growing up in the limelight is even harder.
Willow Smith is a teenager and she's dealing with most of the same issues her peers are going through, such as body image and body acceptance.
During the latest episode of "Red Table Talk," the 17-year-old singer opened up about being jealous of girls who have curvier bodies. All women and girls can relate to that. Willow revealed she had a hard time accepting her slim figure because "curvier" girls would get more attention from the boys she liked.
"I, in my own life, struggled with curvier women and curvier girls have always gotten more attention from the boys that I've liked and have ended up dating the boys that I've liked," Willow shared with her mother and grandmother.
The "Whip My Hair" singer said she didn't have a problem being "friends" with boys, but it felt like they never looked at her in any other way other than like "a little sister." She said those interactions started to make her question if she was beautiful.
"You start to wonder, 'Dang am I just not desirable? Is my body just not what society likes?' So, it does just get really hard for a lot of girls." We know that struggle. Growing up is hard as hell.

"I hear my friends that are curvy, they are telling me, 'It's so great that you can wear some shorts and a tank top and not feel overexposed or feel like people are looking at you differently.' Everyone wants what they don't have."
Ain't that the truth. We always want what we don't have. And like Jada said, there are TONS of women who would KILL for Willow's model-esque body.
By the way, Willow said her dad Will Smith said he was "so happy" she didn't have a curvy body so boys won't be all up in her face. Typical dad response.
The Girls Trip actress also got candid about her body.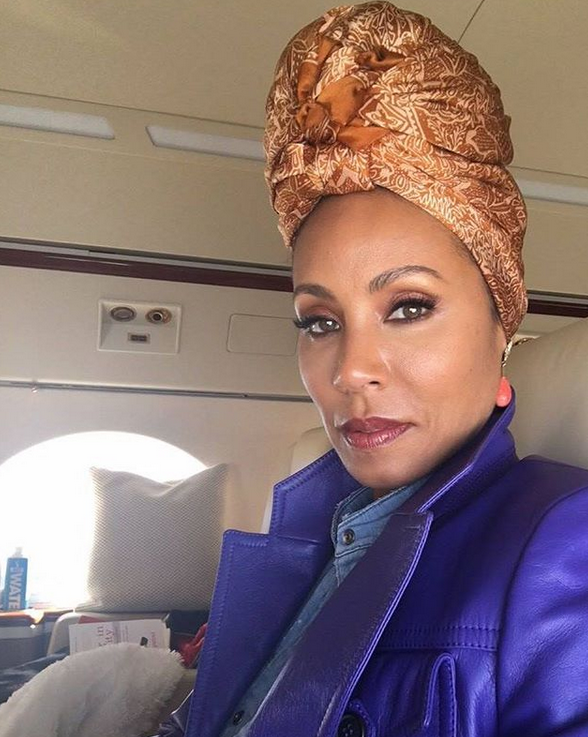 The Bad Moms actress is just like us as well.  She  opened up about her biggest insecurity: her hair.
The 46-year-old actress gave the real reason why we've been seeing her cover her head with turbans and headwraps lately.
"A lot of people have been asking why I've been wearing turbans," she said. "Well, I haven't talked about it. It's not easy to talk about, but I am going to talk about it."
Jada's hair is falling out and she (nor doctors) know why.
"I've been having issues with hair loss. It was terrifying when it first started. I was in the shower one day and had just handfuls of hair in my hands and I was just like, 'Oh my god, am I going bald?' It was one of those times in my life where I was literally shaking in fear. That's why I cut my hair, and why I continue to cut it," she added.
The YBF actress debuted an asymmetrical cut in early 2018. She shared her hair was her crowning glory and is one of the things about herself that she took pride in.
"I've gotten every kind of test there is to have. They don't know why," she said.
However, she said having her hair wrapped makes her "feel like a queen."
Also, Jada's mother Adrienne even said SHE has body image issues. WHET?! Yes, the 64-year-old with the BANGING bod said she struggles with loving everything about her body.
Peep the new episode below:
BONUS:
Looks who's BACK in the studio!
Will Smith hopped in the booth to record a new track and the song is better than 90% of what's being played on the radio these days. No lie. His bars are fire! And get this, Will is making a musical comeback! New music will be coming soon from the award winning actor.
Listen to his new song (which he uploaded to his own YouTube account) above and tell us what you think in the comments!
Photos: Getty/Backgrid/Jada's IG