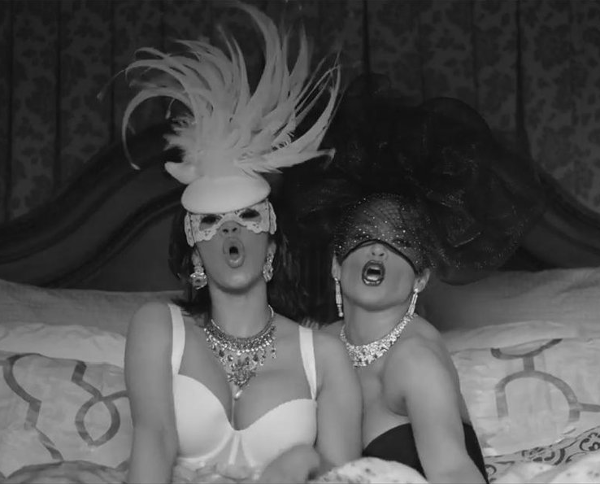 The visuals for Jennifer Lopez's new "Dinero" video have finally dropped. See JLo, Cardi B and DJ Khaled on their bougie steez inside...
Finally, the "Dinero" visuals have arrived.
Jennifer Lopez has been teasing the upbeat, dance-heavy track and video treatment for a hot minute on social media. And now, it's here.
Jenny From The Block called up her Bronx sis Cardi B and superproducer DJ Khaled for the Spanglish banger. It's clear nothing maters but the "Dinero," which means money in Spanish. And when you're laced with endless dollar bills, you do bougie things...like walk an ostrich.
In the Joseph Kahn-directed clip, the Bronx babes participate in the bougiest activities, like cook ribs on the grill in lingerie. Yes, the "World of Dance" judge did that. She also roasted marshmallows over a fire of burning cash, spray painted her Lamborghini with dollar signs, and she ate a Jersey Mike's sub on a staircase in an extravagant evening gown. Meanwhile, preggo Cardi lounged in bed with JLo as they both read their TIME magazine covers and she played croquet with money. Of course.
The 48-year-old entertainer also showed her man/former New York Yankees player Alex Rodriguez some love, rocking a sparkly, oversized jersey outfit with his number 13 on the front. Cute.
Peep the video treatment below:
Oh, to be this rich!
JLo performed "Dinero" for the first time during the 2018 Billboard Music Awards, sans Cardi, who's at home awaiting her baby's arrival.
Photo: Screenshot