Oh?! Late NFL star Aaron Hernandez's fiancé just announced she's pregnant, 13 months after his death.  So, who's the father?  Deets inside...
Well this was unexpected.  Shay Hernandez was Aaron Hernandez's #1 supporter during his murder trial for a 2012 double murder conviction. He was indicted in 2014 and aquitted in April 2017, but shockingly killed himself days later by hanging himself in his Massachussets jail cell.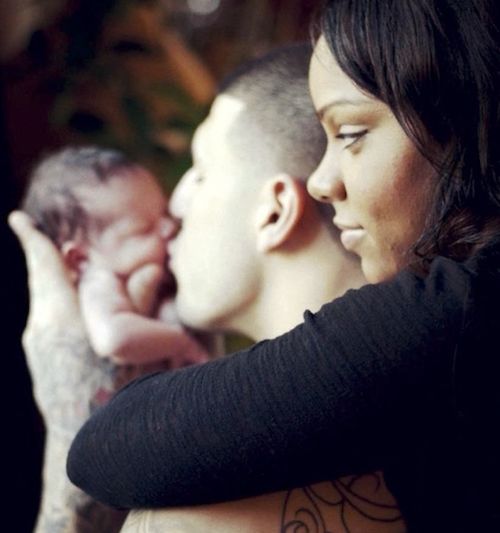 Aaron and Shay had been dating for years and shared a daughter together. Shay was called to the witness stand during the trial since she was seen on home surveillance camera fetching a box for Aaron (that prosecution believed was the murder weapon) and throwing it into their outdoor trash.  Shay always maintained his innocence and was very much still his other half throughout the trial appearing almost daily in court.
Shay even legally changed her last name to his in 2015 while Aaron was incarcerated, despite them never getting legally married. During Aaron's defense attorney Jose Baez's recent four-hour Oxygen docuseries about the life and trials of his client, Shay continued to defend him.
Now, 13 months after Aaron's death, Shay is pregnant.  Seeing that they were still a couple at that time, the pregnancy - she looks pretty far along - does seem sudden.  She says while she needed a minute to prcess the news, she's blessed and excited to welcome a new baby:
Many of you have had speculated that I may be expecting another miracle which is very accurate , I wanted to take time and process and post when I was ready to. I wanted to have a moment for myself alone with my daughter ... we are beyond excited about the new addition and chapter we will soon begin . I couldn't be a luckier woman to have such a perfect little girl that's prepared to become the best big sister , and even more blessed to welcome another babygirl to our home . BabyG we are very excited to meet you !!! Mommy and sissy will continue to wait patiently for your arrival. I thank everyone for the continued support and appreciate the respect for our privacy that has been shown .
Her comments are turned off, because, understandably, folks have questions.  Did she start a relationship with a new man months after Aaron's death?  Is the father someone she's known, or a new person? Or is there another intersting explanation?
Hernandez had just signed a seven-year, $40 million contract with the Patriots prior to the 2012 season, one of the biggest contracts in the league at the time.
Shay, on behalf of her 5-year-old daughter, recently sued the estates of three men the former New England Patriots player was charged with killing.  She reportedly did so to ensure their daughter benefits from the sale of their home.  She also "requested a trial to determine whether Hernandez's declaration of homestead remains in effect."
Yesterday, she spoke about encouraging herself:
She shared new pics with her and Aaron's daughter on Mother's Day as well:
Congrats to her.