Host Kelly Clarkson pulled out a medley during her Billboard Music Awards opener that had everybody boppin', but no one was as excited as singer Khalid. See his reaction, plus his BBMA speech inside...
"American Idol" winner and singer Kelly Clarkson was tapped to host this year's Billboard Music Awards.
After pausing for a moment of silence in honor of the lives lost in the Sante Fe high school shooting, the singer launched a medley of Billboard Hot 100 hits during her monologue. She put her own spin on several tracks climbing the charts. When she started to perform Kendrick Lamar's "Humble," folks started to turn up in the audience, especially Khalid.
Then, she did a clip of Khalid's "Young, Dumb and Broke" and he really got hype. She also covered Bruno Mars & Cardi B's "Finesse," Ed Sheeran's "Shape Of You," Sam Smith's "Too Good At Goodbyes" and more.
Peep a clip of her performance and Khalid's reaction below:
It's true. @thegreatkhalid is too pure for this world. #BBMAspic.twitter.com/AePb8VnDp4

— Sony Music Global (@SonyMusicGlobal) May 21, 2018
The "Location" singer didn't leave the awards show empty handed...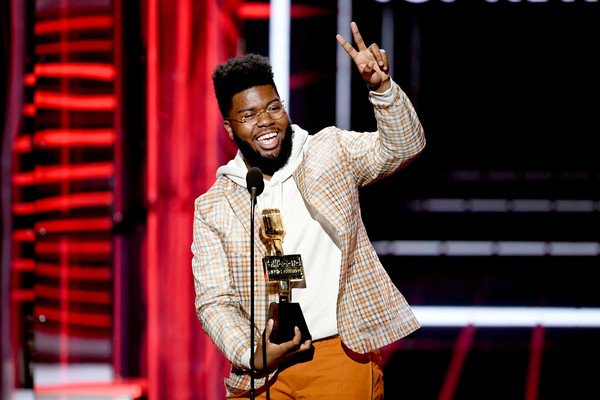 The "Love Lies" singer copped the Best New Artist Award. Peep his acceptance speech below:
And here's Khalid chatting it up on the red carpet:
It's lit! Congrats Khalid!
Photos: Getty