Rapper Offset was involved in a really bad car crash and he's showing the aftermath photos. Thankfully, he's OK. See the bloody flicks, plus a video of Cardi B and Offset together in Atlanta following the accident inside...
In unfortunate news, Migos rapper Offset was involved in a serious car crash that could have taken his life.
According to reports, the "Motor Sport" rapper wrecked his green Dodge Challenger in Atlanta Wednesday night. He was taken to the hospital with minor injuries and later released.
The details about what happened are a bit sketchy, but Offset's pregnant fiancee Cardi B offered up some details about the crash before deleting her tweet.
"Crazy how Set had to swerve and hit a tree cause a crackhead was in the middle of the road trying to get hit or kill himself," Cardi tweeted, "but God do unexplainable things! Luckily a man was walking by, walked him home and just vanished. The Lord is real."
Yesterday, Offset hopped on Instagram to share photos of his badly damaged car and his bloody injuries. He thanked God for sparing his life in an Instagram post with pictures of the aftermath.
"This is why I thank God Every day I could have been dead from this accident thank you all for you prayers all I can say is (G O D I S R E A L G E T W I T H H I M ) H E S A V E S L I V E S," he wrote.
Brace yourself before scrolling down on these pics: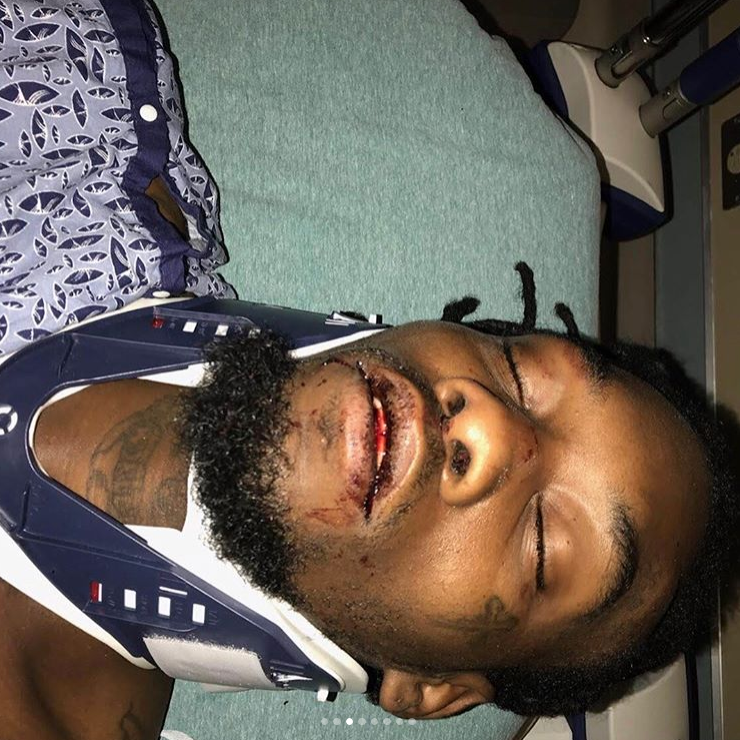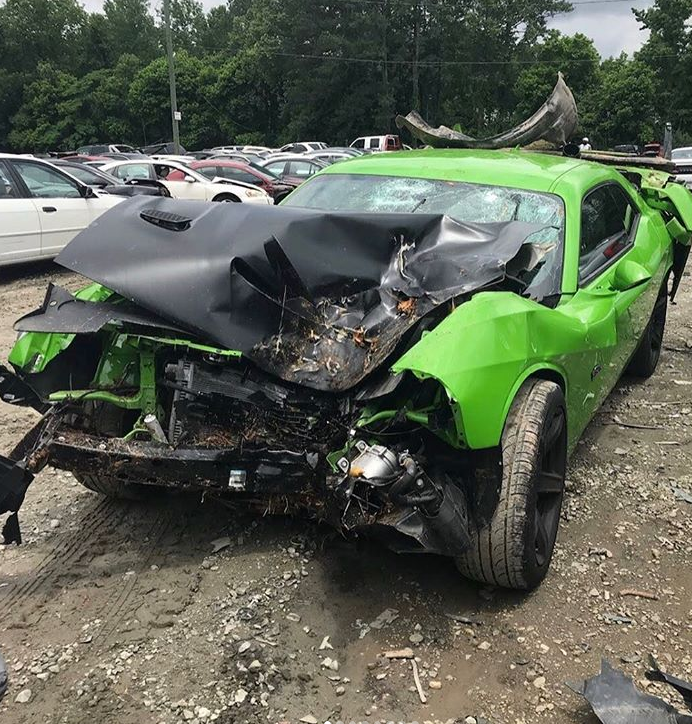 Swipe through all of the photos below:
After getting news about Offset's accident, Cardi jetted to Atlanta to be by her man's side. Fans spotted the couple in the Cumberland Mall in Atlanta:
Cardi B and Offset spotted in Atlanta today! pic.twitter.com/dCZXb5wfSC

— Cardi Gang (@WeAreCardiB) May 19, 2018
Glad he's OK! Cardi is reportedly due to give birth to their kid in June.
The guy who allegedly got beat up for asking Cardi for a autograph at the Met Gala is now suing them both.
TMZ reports:
Giovanni Arnold claims he was at The Mark Hotel just after 2 AM on May 8 -- outside a Met Gala after-party -- when Cardi walked out and shouted at him, "F*** outta here n****, I will slap the s*** out of you." He says he "expressed disappointment with being ignored."

Arnold says shortly after Offset, who was trailing behind his fiancee, said, "Shut up, bro, before a n**** beat you out here."

According to the lawsuit, filed by Daniel Szalkiewicz, Arnold says he tried de-escalating the situation, but within seconds 3 bodyguards attacked him. He says he didn't fight back. All he did was lie on the ground and try to protect his body.

He went to a hospital and says he suffered injuries to his face, neck, back and body.

Cardi's team claims Arnold was super aggressive and obnoxious
Dude is thirsty for a come up.
Also, Offset and the Migos are gearing up to head out on tour with Drake for his "Aubrey and the Amigos" Tour, which is set to kick off July 26th in Salt Lake City, Utah.
Photos: Offset's IG