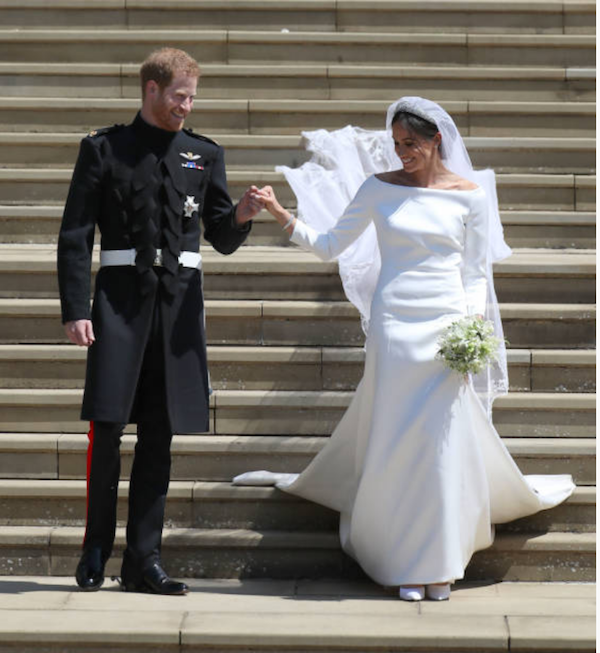 There's nothing like a fairytale that you make totally your own.  We've got every highlight you need from what will likely be the blackest, most romantic and most symbolic Royal Wedding you'll ever see in you lifetime.  Celebrate with your new fave Duke & Duchess inside...
Meghan Markle, Duchess of Sussex, and Prince Harry, Duke of Sussex, just turned out the most relatable Royal Wedding, and we couldn't look away.
The head-over-heels in love (like, seriously, we're mad jealous and mad tearful at the same time) newlyweds brought their personal passions into their gorgeous wedding today at St. George's Chapel in Windsor Castle.
Every part of the 22-page program, which surprisingly only took an hour to get through, had symbolism or a message attached.  And that is precisely how we expect Harry & Meghan to continue to live out their new duties as the new Duke & Duchess.
Everything had a purpose - from Meghan's choice of gown designer to the performers chosen for the big day to the type of flowers in Meghan's bouquet, even the song selections had a bigger message.  When the couple broke protocol and tradition the few times they did, it was definitely for good reason.  And we love it.
In a much smaller venue than their newest double date buddies Duke & Duchess Kate & Will got married in, the couple got to live out their "People's Duke & Duchess" personalities and keep things intimate, meaningful, subtle, and about the bigger message at hand: Love.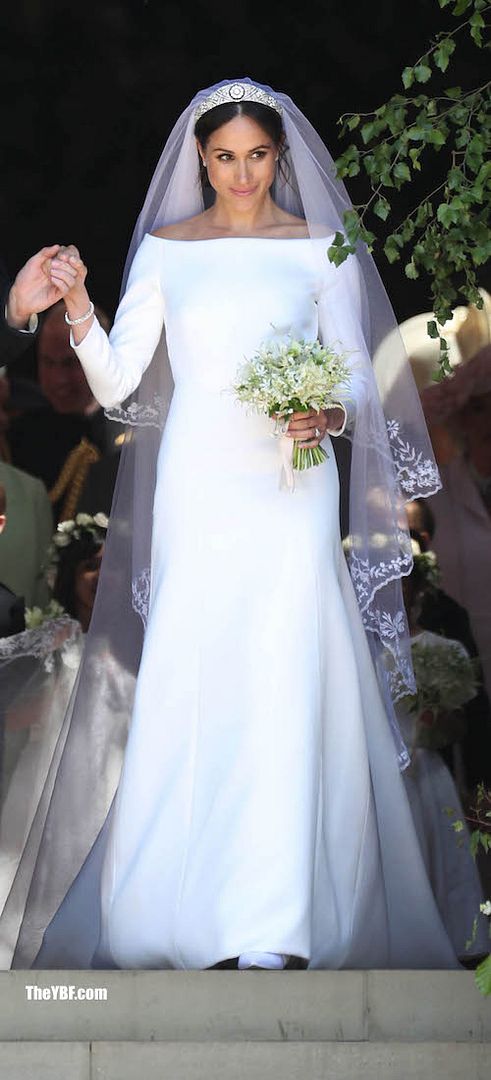 Meghan chose Clare Waight Keller, the first woman to lead the House of Givenchy, to create her wedding dress and veil.  Meghan is a feminist, and is outspoken about supporting women and mothers who work and break barriers, just like Clare who is a mom of three.  She is the first self made Duchess, after all.
Her entire look - which was far more understated than damn near everyone expected - was created with tons of meaning, from each of 50+ flowers incorporated into her look, to each of the flowers in her bouquet (there were salutes to America, California, Prince Harry and the late Princess Diana). We will say, Meghan made simple look stunning. All those details HERE.
Meghan will be the very first Duchess of Sussex. The first and only former Duke of Sussex campaigned for the abolition of slavery. #royalwedding#positiveandexcellentchoice

— Victoria Arbiter (@victoriaarbiter) May 19, 2018
Even the names, Duke and Duchess of Sussex, have historical meaning rooted in civil rights.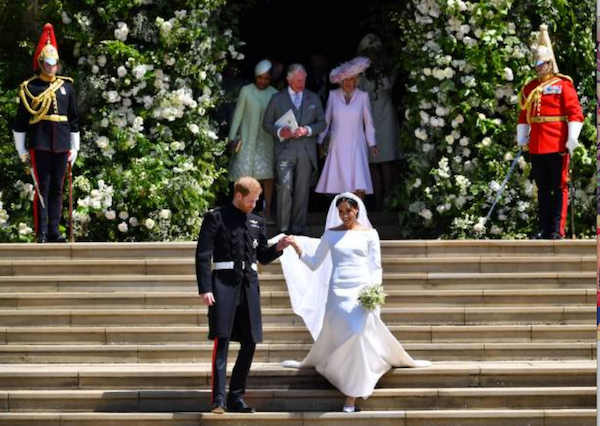 Harry chose a blue military uniform not traditionally worn at a Royal Wedding, but he wanted to make his own mark.
"It just blew the place open!" – Passionate preacher Bishop Michael Curry and Archbishop Justin Welby talk about THAT sermon, and about speaking to the newly weds after the #RoyalWeddingpic.twitter.com/ieZtiwoCsJ

— Sky News (@SkyNews) May 19, 2018
The couple had a Chicago Episcopal leader enter the pulpit to give a word, which is completely not in line with protocol that says only British ministers may preside over affairs such as these.  But a nod to Meghan's black culture and upbringing was a must, and Bishop Michael Curry almost stole the show.  Preach Bishop!
It didn't hurt that the ceremony was pretty star studded, and right on theme with being more humanitarian than political, dignitaries were not invited.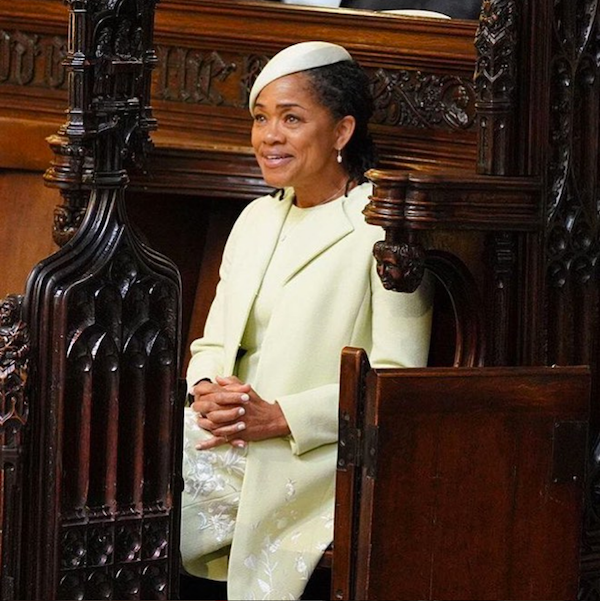 Meghan's sole family member in attendance, her mother Doria, wore Oscar de la Renta - and almost that same color as the Queen - as she watched her daughter marry into Royalty.  She was seen taking several deep breaths and fighting back tears. Aww!
And it's clear where Meghan gets her passion for helping others from - her mother is a social worker who brought Meghan along on trips to Jamaica and domestically to see there are less fortunate people around us.  Similar to how Prince Harry's mother Princess Di did for him.  It was imperative that Doria was in attendance.
The moment when Karen Gibson and the Kingdom Choir sang Ben E. King's classic "Stand By Me" at the #royalwedding.pic.twitter.com/Re40Js60Gc

— Keith Boykin (@keithboykin) May 19, 2018
The song selections were intentional, like the message Bishop Curry preached.  They were rooted in love, peace and used as a comfort too during the civil rights era.  They had a black choir singing a beautiful rendition of Etta James' "This Little Light of Mine," and Stand By Me," as well as black instrument players, like British teen award winning cellist Sheku Kanneh-Mason, who were handpicked by Meghan herself.
"I wouldn't say I was nervous, I was just excited to play" - Sky News catches up with #RoyalWedding cellist @ShekuKM after his standout performance pic.twitter.com/GhVqSzu9QZ

— Sky News (@SkyNews) May 19, 2018
The cake is a gorgeous lemon cake concoction that mixes British ingredients with the American pastry chef who created the work of art.  See the cake and all the details HERE.
The most noticeable break in protocol was Prince Charles, her new father-in-law, walking Meghan down the aisle after she walked halfway down by herself.  The Royal family was more than happy to oblige, and show they have a united front in keeping Meghan above the rift raft her father's side of the family is causing.  This explains why they weren't invited. Her father allegedly was, and suddenly had heart surgery that prevented him from attending.  So her mother sat alone.
Vesta - Congratulations.mp3 https://t.co/mWS1F8zrgN

— Barbra Streisand stan account (@XavierDLeau) May 19, 2018
A little tea: Harry's ex Chelsey was invited to the wedding (but not the super private reception), and she came.  She also came with a date.  Awkward, or nah?
Probably not, because Prince Harry was too busy biting his lip and plotting on his new wife in the sexiest way:
That lip bite!
Jesus. I'm done #royalwedding
pic.twitter.com/bhTFG3Soq9

— Jasmyn Lawson (@JasmynBeKnowing) May 19, 2018
NOT.EVEN.MAD. Neither is Prince Will. We see you smirking in the background sir.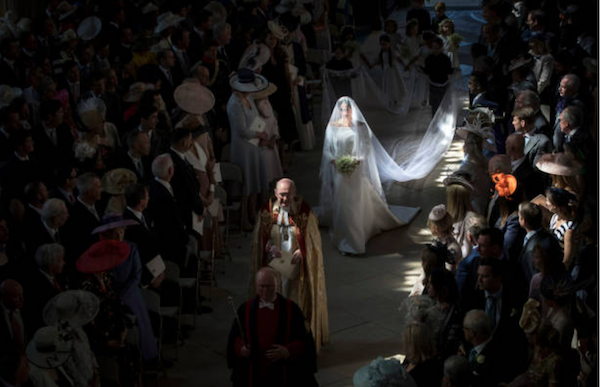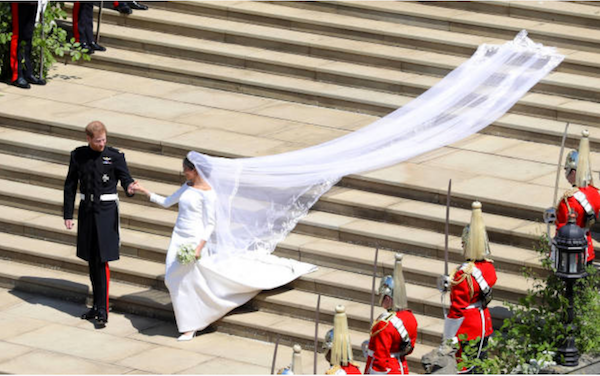 Meghan opted for low key everything, and the simplicity actually made a stunning statement.  Like in her everyday life, she kept her hair and makeup extremely natural, and still she was not overpowered by the dramatic, Gothic chapel.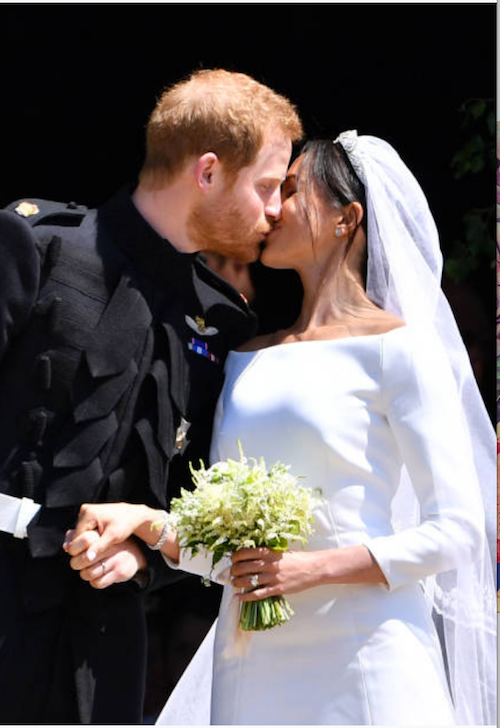 The couple's first kiss on the stairs of the Chapel was absolutely magical, even though they didn't give in to the crowd's chant to do it again.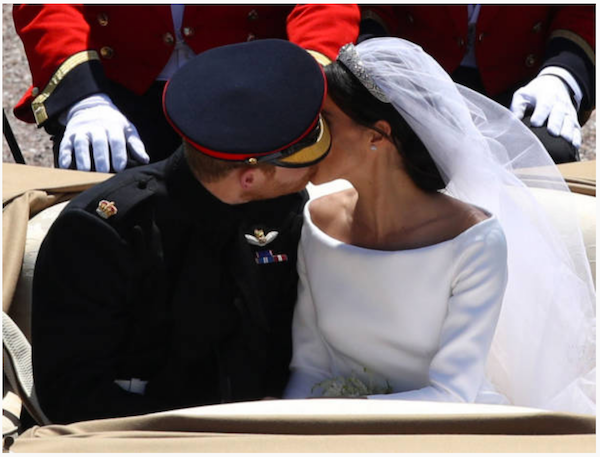 Until that carriage ride from the Chapel to the Queen's reception. Cute!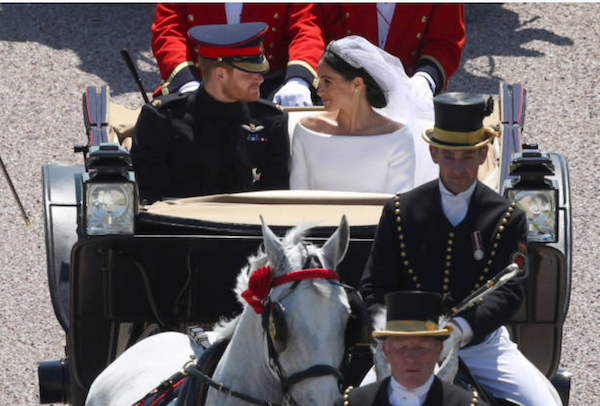 Y'all know Harry can't WAIT to get her home after all of today's hoopla.  By the way, they're postponing their honeymoon so they can attend Prince Charles' 70th birthday party next week.
Correction from Kensington Palace: the new Duchess of Sussex will make a speech at tonight's reception but did not speak and was not due to speak at the lunchtime reception.

— Richard Palmer (@RoyalReporter) May 19, 2018
At tonight's reception, Meghan is braking away from protocol once again and giving her own speech.  She said she wants to commend the Royal Family on embracing her and her mother and her own family, and especially has some heartfelt words for her new husband.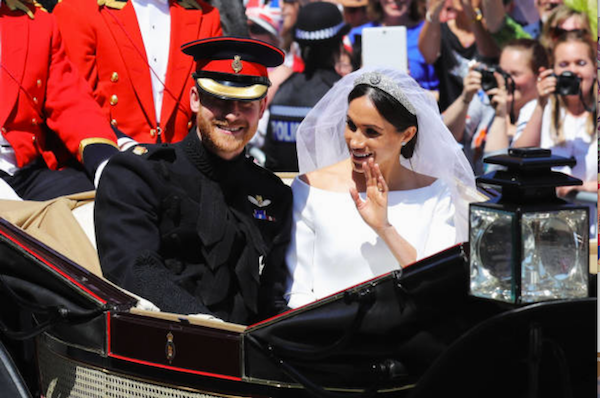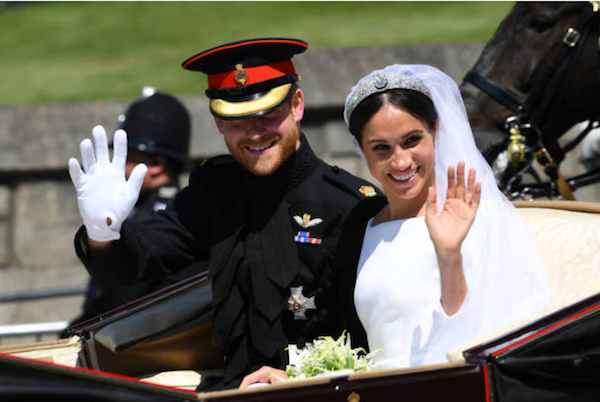 charities:
The Duke and Duchess of Sussex have asked that anyone who might wish to mark the #RoyalWedding considers making a donation to charity, rather than sending a wedding gift.

Take a look at the seven charities chosen by Their Royal Highnesses: https://t.co/K9bgolanZ4pic.twitter.com/yWtujm9V5R

— Kensington Palace (@KensingtonRoyal) May 19, 2018
---
Just Married: Introducing The Duke and Duchess of Sussex #RoyalWeddingpic.twitter.com/AJbqgiCNFR

— Kensington Palace (@KensingtonRoyal) May 19, 2018
A first kiss #RoyalWeddingpic.twitter.com/EWJO22iWLh

— Kensington Palace (@KensingtonRoyal) May 19, 2018
Congrats!