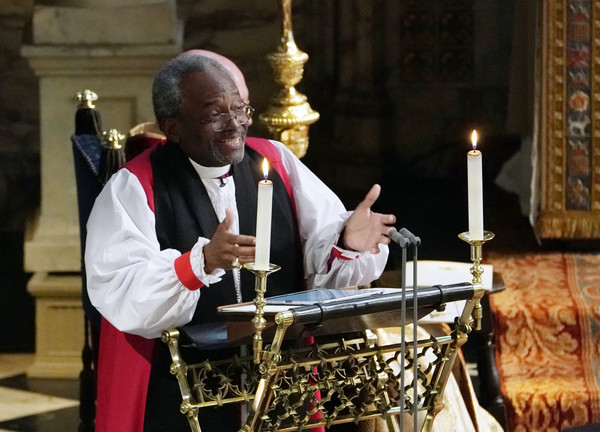 Bishop Michael Curry was handpicked to speak during Meghan Markle and Prince Harry's royal wedding. And we're so glad he was. He totally stole the show with his fiery message, but some of the royals in the building were not ready for him. More inside...
Meghan Markle and Prince Harry's wedding was the blackest royal engagement ever. And we're not just saying that because her mom and some black celebs were in attendance.
The former "Suits" star made sure to incorporate black excellence all up and through the nuptials. And we were loving every minute of if. From the all-black "The Kingdom Choir" filling our ears with their powerful voices as they sand "Stand By Me" and black cellist Sheku Kanneh-Mason serving soft melodies to fill St George's Chapel in Windsor Castle.
But it was Bishop Michael Curry who stole the show. He def brought the black church in the building, preaching about the powr of love, and some of the royals in attendance just were NOT ready. Their faces said it all. Ha!
Bishop Curry, the 65-year-old leader of the Episcopal Church from Chicago, opened and ended his speech with Martin Luther King Jr., quotes. He also referenced slavery throughout his address. And he did all from his iPad.
"Dr. Martin Luther King, Jr. once said: 'We must discover the power of love, the redemptive power of love. And when we discover that, we will be able to make of this old world a new world. Love is the only way,' he recited. "There's power in love. Do not underestimate it. Anyone who has ever fallen in love, knows what I mean."
There wasn't a "Come on, Bishop!" hollered out, but there should have been.
His speech breaks royal wedding tradition as usually only British priests from the Church of England preside over royal events. In 2015, Bishop Curry became the first black presiding bishop of the predominantly white Episcopal Church. Episcopalianism is the American branch of the worldwide Anglican community; the Queen is the head of the Anglican church.
"There's power in love. Love can help and heal when nothing else can," he continued. "Love can lift up and liberate for living when nothing else will. And the love that brings two people together is the same love that can bind them together, Whether on mountaintops of happiness and through valleys of hardship."
It's clear the couple used their big day to amplify those who are breaking barriers to making the world more inclusive. 
Read his full speech here.
Here are some of the tweets about Bishop Curry's address:
Bishop Michael Curry thinks this is a black church. Beautiful passion but he's scaring the white folks. #RoyalWeddingpic.twitter.com/KcE1LJ3Tnw

— Mutaz Elnour (@MutazElnour) May 19, 2018
The Reverend Curry shut it down! HE WAS THE BEST PART!

This Black Choir and Cellist gave me LIFE! The Wakanda Salute outside too.

PERFECT TOUCHES

Meghan said y'all gonna get this Black Church Experience TODAY!!!!!

Well done sis! Well done! #RoualWeddingpic.twitter.com/6mqNWyCiFC

— AshleyJAE.com (@AshleyJAE_) May 19, 2018
#RoyalWedding the way people are still shooketh by what reverend Curry had to say he sure spoke the truth

— Dumakude (@D_umakude_) May 19, 2018
Black people at the #RoyalWedding2018 more than usually on British TV. Reverend Curry who runs an #LGBTQ inclusive church referenced the translatlantic slave trade, MLK, Songs of Solomon, fire and the power of love. The gospel choir. The ululation. Sheku Kanneh-Mason cellist.

— Campbell X (@CampbellX) May 19, 2018
I'm cackling because the Americans are listening to this sermon like, "Oh yeah, this is how this works" and all the camera shots of the Brits have them looking around at each other like ??????? #RoyalWedding

— Lily Herman (@lkherman) May 19, 2018
HA!
Peep his full sermon below:
And listen to The Kingdom Choir slay "Stand By Me" and cellist Sheku Kanneh-Mason perform below:
Karen Gibson and @TheKingdomChoir sing "Stand by me" from the West End of the Chapel #RoyalWeddingpic.twitter.com/4V1avJlY3K

— Kensington Palace (@KensingtonRoyal) May 19, 2018
During the Signing of the Register @ShekuKM and the Orchestra perform #RoyalWeddingpic.twitter.com/AVpGngrfBv

— Kensington Palace (@KensingtonRoyal) May 19, 2018
Photos: Getty